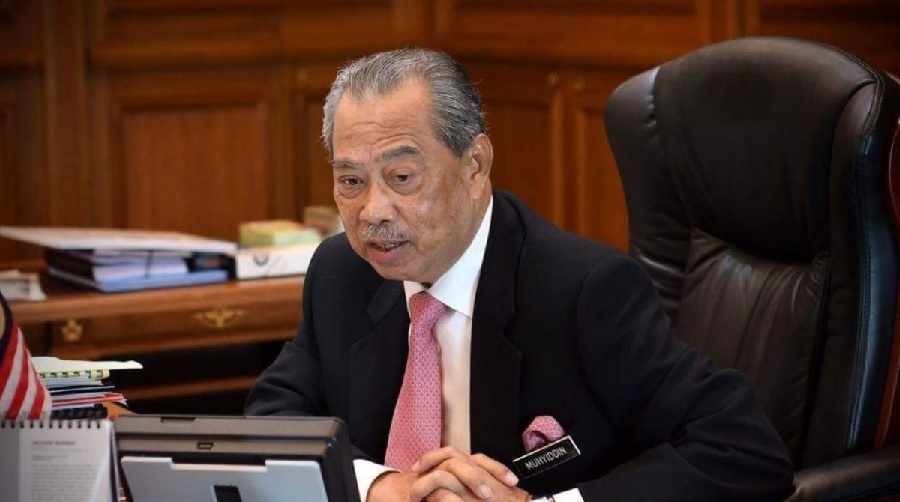 KUALA LUMPUR (Aug 6): Prime Minister Tan Sri Muhyiddin Yassin (pictured) expressed his gratitude to all Barisan Nasional (BN) Members of Parliament (MPs), including Deputy Prime Minister Datuk Seri Ismail Sabri Yaakob, for their support for the Perikatan Nasional (PN) government.
In a statement today, Muhyiddin also indicated that Yang di-Pertuan Agong had granted a decree for him to affirm his legitimacy as the prime minister through a vote of confidence in Dewan Rakyat next month.
"I thank them (the BN MPs) for their stance where it is agreed that my legitimacy as the prime minister be determined in Parliament in September through a motion for a vote of confidence, and not through other means.
"This is in line with the decree granted by Seri Paduka Baginda Yang di-Pertuan Agong, which was given to me during the visit to Istana Negara on Wednesday," Muhyiddin said.
"I hope the stand of these BN MPs will end the political polemics that are happening currently, and provide space for the government to put full focus towards efforts to overcome Covid-19, speed up the vaccination process and recover the nation's economy.
"The interest of the rakyat and the country should be prioritised as we face this pandemic," he added.
Earlier this afternoon, Ismail Sabri, who is also an Umno MP, chaired a press conference declaring the support of 31 MPs from BN towards Muhyiddin as the prime minister. BN is a component coalition of PN.
This was decided in the BN Supreme Council meeting earlier, Ismail Sabri said. He, however, did not comment on the possible implications of the decision, which is opposed to Umno's prior decision to retract support for PN.
Yesterday, Umno president Datuk Seri Dr Ahmad Zahid Hamidi said "more than eight Umno MPs" had signed statutory declarations confirming that they had pulled out of the PN coalition, letters of which will be delivered to the King soon.
It is understood that before the clash between Umno and PN came out into the open last month, Muhyiddin's PN coalition comprised some 115 out of the 220 sitting MPs, including 41 from BN.
BN's 41 MPs comprise 38 from Umno, followed by two from MCA and one from MIC. However, Umno strongman Tengku Razaleigh Hamzah last month asked not to be seated with the federal coalition.
The 14th Parliament session is set to convene on Sept 6.
Get the latest news @ www.EdgeProp.my
Subscribe to our Telegram channel for the latest stories and updates