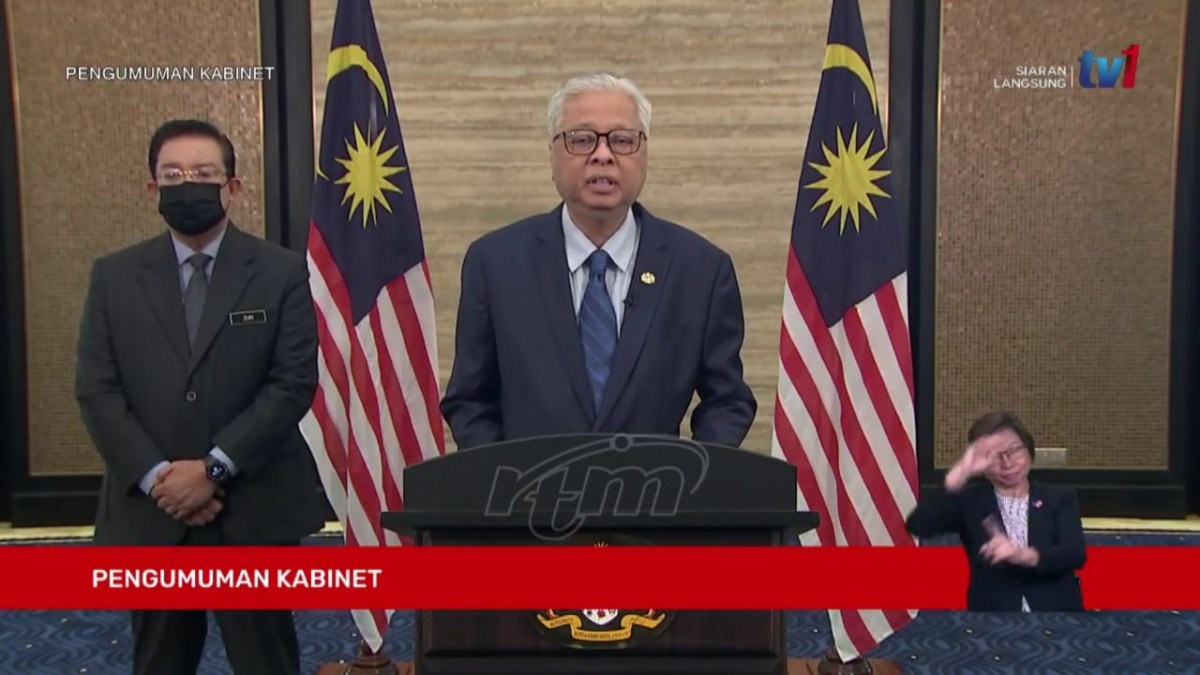 KUALA LUMPUR (Aug 27): Prime Minister Datuk Seri Ismail Sabri Yaakob has continued the practice of his predecessor Tan Sri Muhyiddin Yassin to not appoint a deputy prime minister, and instead has four senior ministers, namely the minister of international trade and industry, minister of defence, minister of works and minister of education, in his Cabinet.
Notably, Ismail Sabri has decided to maintain the ministers in three of the senior portfolios — Datuk Seri Mohamed Azmin Ali as the international trade and industry minister, Datuk Seri Fadillah Yusof as the works minister and Datuk Dr Mohd Radzi Md Jidin as the education minister.
Meanwhile, taking over Ismail Sabri's defence portfolio is his Umno comrade Datuk Seri Hishammuddin Tun Hussein.
Besides that, Senator Tengku Datuk Seri Zafrul Tengku Abdul Aziz has also been maintained as the finance minister.
Other notable ministers who are keeping their portfolios in Ismail Sabri's administration are Datuk Seri Mustapa Mohamed as the minister in the Prime Minister's Department in charge of economics, Datuk Seri Dr Wee Ka Siong as the transport minister, Datuk Seri M Saravanan as the human resources minister, Datuk Seri Rina Mohd Harun as the women, family and community development minister, Datuk Seri Dr Noraini Ahmad as the higher education minister, Datuk Seri Hamzah Zainudin as the home minister, Datuk Seri Alexander Nanta Linggi as the domestic trade and consumer affairs minister, Datuk Seri Nancy Shukri as the tourism minister and Datuk Halimah Mohamed Sadique as the national unity minister.
Interestingly, Khairy Jamaluddin has swapped portfolios with Datuk Seri Dr Adham Baba as they are now the health minister and the science, technology and innovation minister respectively.
Ministries have 100 days to hit initial targets
Earlier in his speech, Ismail Sabri said that he will ensure his Cabinet line-up is committed to achieving the national agenda through cross-party cooperation in order to drive economic recovery for the well-being of the people.
"The Cabinet line-up was selected from a combination of those who are experienced, believed to be able to help the country revive the economy by supporting entrepreneurs, facilitating business, and reviving economic activity as well as increasing investor confidence," he said.
In order to face the current challenging economic, health and political environment, Ismail Sabri said the Cabinet will be results-oriented and will work based on three principles, namely being attentive to current needs, responsible and trustworthy, and restoring the confidence of the rakyat.
As such, Ismail Sabri has committed that ministries will need to come up with their short-term and long-term plans within the first 100 days in office in order to ensure a high-performance work culture.
"I hope the appointment of this Cabinet will give a new sense of confidence for the country to rise up and unite in the fight against Covid-19 as well as for the Malaysian Family to come out of this pandemic," he said.
The prime minister added that the ministers will be taking their oaths at the palace next Monday (Aug 30) at 2.30pm.
Below is the full list of ministers and deputy ministers:
Senior Minister - Ministry of International Trade and Industry (MITI)
Minister - YB Datuk Seri Mohamed Azmin Ali (Bersatu)
Deputy Minister - YB Datuk Lim Ban Hong (MCA)
Senior Minister - Ministry of Defence
Minister - YB Datuk Seri Hishammuddin Tun Hussein (Umno)
Deputy Minister - YB Datuk Seri Ikhmal Hisham bin Abdul Aziz (Umno)
Ministry of Finance
Minister - YB Tengku Datuk Seri Zafrul Tengku Abdul Aziz (Senator)
Deputy Minister I - YB Mohd Shahar Abdullah (Umno)
Deputy Minister II - YB Tuan Haji Yamani Hafez Musa (Bersatu)
Senior Minister - Minister of Works
Minister - YB Datuk Seri Haji Fadillah Yusof (GPS)
Deputy Minister - YB Datuk Arthur Joseph Kurup (PBRS)
Senior Minister - Minister of Education
Minister - YB Senator Datuk Dr. Mohd Radzi Md Jidin (Senator - Bersatu)
Deputy Minister I - YB Senator Dato' Dr Mah Hang Soon (Senator)
Deputy Minister II - YB Datuk Mohamad Alamin (Umno)
Minister in Prime Minister's Department (Economy)
Minister - YB Datuk Seri Mustapa Mohamed (Bersatu)
Deputy Minister - YB Eddin Syazlee Shith (Bersatu)
Minister in Prime Minister's Department (Special Functions)
Minister - YB Datuk Dr Hj Abdul Latiff Ahmad (Bersatu)
Deputy Minister - YB Datuk Mastura Tan Sri Dato' Mohd Yazid (Umno)
Minister in Prime Minister's Department (Parliament and Law)
Minister - YB Datuk Seri Dr Haji Wan Junaidi Tuanku Jaafar (GPS)
Deputy Minister - YB Datuk Wira Hajjah Mas Ermieyati Samsuddin (Bersatu)
Minister in Prime Minister's Department (Religious Affairs)
Minister - YB Senator Tuan Idris Ahmad (Senator)
Deputy Minister - YB Datuk Haji Ahmad Marzuk Shaary (PAS)
Minister in Prime Minister's Department (Sabah and Sarawak Affairs)
Minister - YB Datuk Seri Panglima Dr. Maximus Johnity Ongkili (PBS)
Deputy Minister - YB Dato' Hajah Hanifah Hajar Taib (GPS)
Ministry of Transportation
Minister - YB Datuk Seri Ir. Dr. Wee Ka Siong (MCA)
Deputy Minister - YB Dato' Henry Sum Agong (GPS)
Ministry of Environment
Minister - YB Datuk Seri Tuan Ibrahim Tuan Man (PAS)
Deputy Minister - YB Dato' Dr Mansor Othman (Bersatu)
Ministry of Human Resources
Minister - YB Datuk Seri Saravanan Murugan (MIC)
Deputy Minister - YB Datuk Haji Awang Hashim (PAS)
Ministry of Federal Territories
Minister - YB Datuk Seri Shahidan Kassim (Umno)
Deputy Minister - YB Datuk Seri Jalaluddin Alias (Umno)
Ministry of Women, Family and Community Development
Minister - YB Datuk Seri Rina Harun (Bersatu)
Deputy Minister - YB Dato' Hajah Siti Zailah Mohd Yusoff (PAS)
Ministry of Higher Education
Minister - YB. Dato' Dr Noraini Ahmad (Umno)
Deputy Minister - YB Senator Datuk Dr. Ahmad Masrizal Muhammad (Senator)
Ministry of Energy and Natural Resources
Minister - YB Datuk Seri Takiyuddin Hassan (PAS)
Deputy Minister - YB Datuk Ali Anak Biju (Bersatu)
Ministry of Home Affairs
Minister - YB Datuk Seri Hamzah Zainuddin (Bersatu)
Deputy Minister I - YB Datuk Seri Dr Haji Ismail Haji Mohamed Said (Umno)
Deputy Minister II - YB Jonathan Yassin (Bersatu)
Ministry of Health
Minister - YB Tuan Khairy Jamaluddin Abu Bakar (Umno)
Deputy Minister I - YB Dato' Dr Noor Azmi Ghazali (Bersatu)
Deputy Minister II - YB Datuk Aaron Ago Dagang (GPS)
Ministry of Agriculture and Food Industries
Minister - YB Datuk Seri Dr Ronald Kiandee (Bersatu)
Deputy Minister I - YB Datuk Seri Hj Ahmad Hamzah (Umno)
Deputy Minister II - YB Dr. Nik Muhammad Zawawi Salleh (PAS)
Ministry of Rural Development
Minister - YB Datuk Seri Mahdzir Khalid (Umno)
Deputy Minister I - YB Datuk Seri Abdul Rahman Mohamad (Umno)
Deputy Minister II - YB Datuk Haji Hasbi Habibollah (GPS)
Ministry of Foreign Affairs
Minister - YB Dato' Saifuddin Abdullah (Bersatu)
Deputy Minister - YB Haji Kamarudin Jaffar (Bersatu)

Ministry of Domestic Trade and Consumer Affairs
Minister - YB Datuk Alexander Nanta Linggi (GPS)
Deputy Minister - YB Dato' Rosol Wahid (Bersatu)

Ministry of Communication and Multimedia
Minister - YB Tan Sri Datuk Seri Panglima Haji Annuar Haji Musa (Umno)
Deputy Minister - YB Datuk Zahidi Zainul Abidin (Umno)
Ministry of Housing and Local Government
Minister - YB Datuk Seri Reezal Merican Naina Merican (Umno)
Deputy Minister - YB Datuk Sri Ismail Abdul Mutalib (Umno)
Ministry of Science, Technology and Innovation
Minister - YB Datuk Seri Dr Adham Baba (Umno)
Deputy Minister - YB Datuk Haji Amzad Mohamed @ Hashim (PAS)

Ministry of Entrepreneur Development and Cooperatives
Minister - YB Tan Sri Noh Haji Omar (Umno)
Deputy Minister - YB Tuan Muslimin Yahaya (Bersatu)
Ministry of Plantation Industries and Commodities
Minister - YB Datuk Dr Hajah Zuraidah binti Kamaruddin (Bersatu)
Deputy Minister I - YB Datuk Seri Wee Jeck Seng (MCA)
Deputy Minister II - YB Willie Mongin (Bersatu)
Ministry of Tourism, Arts and Culture
Minister - YB Datuk Seri Hajah Nancy Shukri (GPS)
Deputy Minister - YB Datuk Seri Dr Santhara Kumar Ramanaidu (Bersatu)
Ministry of National Unity
Minister - YB Datuk Halimah Mohamed Sadique (Umno)
Deputy Minister - YB Senator Tuan Wan Ahmad Fayshal Wan Ahmad Kamal (Senator - Bersatu)
Ministry of Youth and Sports
Minister - YB Datuk Seri Ahmad Faizal Datuk Azumu (Bersatu)
Deputy Minister - YB Senator Datuk Seri Ti Lian Ker (Senator - MCA)
Get the latest news @ www.EdgeProp.my
Subscribe to our Telegram channel for the latest stories and updates