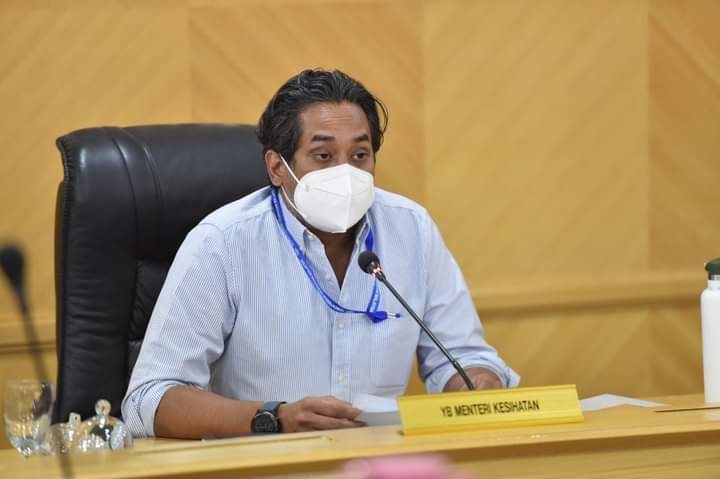 KUALA LUMPUR (Sept 2): The government will accelerate Covid-19 vaccination and medical operations in five states soon, namely Sabah, Johor, Penang, Kedah and Kelantan that are currently experiencing a spike of Covid-19 cases, as well as slow vaccination rates, according to newly minted Health Minister Khairy Jamaluddin (pictured).
He said the sense of urgency seen when the Greater Klang Valley Task Force accelerated Covid-19 vaccination roll-out under Operation Surge Capacity in Selangor and Kuala Lumpur, needs to be replicated in these five states as soon as possible to curb the spread of infections there.
"We will bring the same sense of focus and intensity seen in the Greater Klang Valley Task Force to these few states that are facing high Covid-19 infections. These states will not only receive more vaccine doses, but we have also started the process of transferring clinical manpower and some medical assets to those states.
"This is to ensure daily Covid-19 cases and the number of Malaysians who need to be hospitalized from experiencing serious symptoms of Covid-19, death cases can be reduced," Khairy told a media briefing yesterday.
This, he said, will help to reduce overall Covid-19 infections in the country.
The minister also announced the breakdown of additional vaccine doses to be sent to these states: Johor will receive 1.9 million doses, Kedah will get 1.3 million, Kelantan will be given 1.2 million, while one million will be sent to Penang, and 2.9 million to Sabah.
Today, Malaysia reported 18,762 new infections — its lowest daily figure in nine days. This brought the country's coronavirus tally to 1,765,016.
Sabah is the second worst hit state after Selangor, reporting 2,430 daily cases that raised the state's to-date tally to 150,273. Johor came in fourth with 1,993 cases, followed by Kedah (1,585), Penang (1,762), and Kelantan (1,504).
In terms of vaccination rate, 40% of Sabah's adult population were fully inoculated as of Aug 31. The figure stands at 47.8% for Johor; 45.9% for Kedah, 56.6% for Penang and 45.3% for Kelantan.
"In the Klang Valley, Selangor, Labuan, and Negeri Sembilan, we saw the effectiveness of the vaccination programme after more than 50% of the adult population received their second doses, where hospitalisation rates showed a significant reduction," said Khairy.
Get the latest news @ www.EdgeProp.my
Subscribe to our Telegram channel for the latest stories and updates