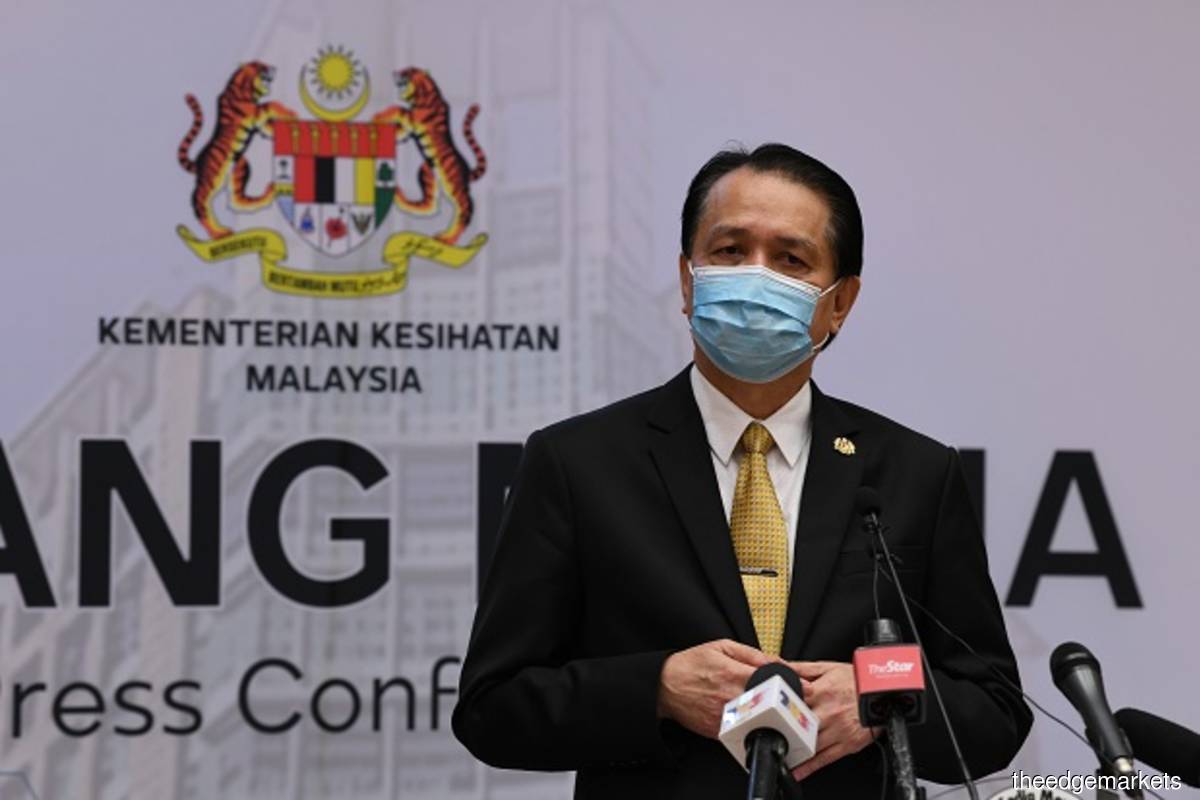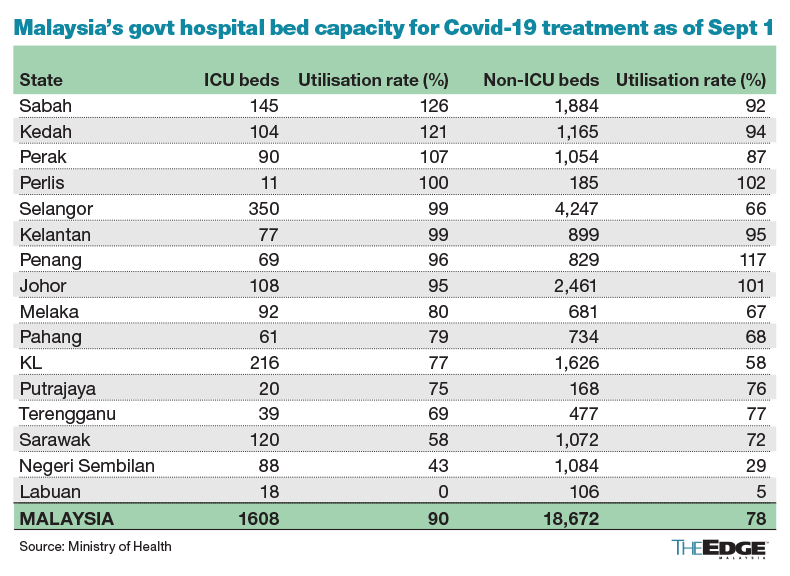 KUALA LUMPUR (Sept 3): Three months after the number of active Covid-19 cases climbed above 100,000, Health director-general Tan Sri Dr Noor Hisham Abdullah yesterday acknowledged there is a severe shortage of beds in the intensive care units (ICU) at public hospitals.
The overall utilisation rate of 1,608 ICU beds in public hospitals has hit 90%, according to Noor Hisham. He highlighted that Sabah, Kedah and Perak are currently operating beyond their full capacity.
However, he did not explain the reason for the acute ICU bed shortage despite the country having been able to ramp up the speed of vaccination. Furthermore, the statistics that Noor Hisham reveals daily show that more than 90% of new infections are categories 1 and 2 with mild symptoms.
The DG did not also reveal the measures that the Ministry of Health will take to resolve the shortage.
Based on the latest data as of 5pm on Sept 1, Sabah's ICU bed occupancy rate hit a dangerously high of 126% versus 145 beds provided; Kedah hit 121% (104 beds) and Perak hit 107% (90 beds).
In Perlis, the State that has the lowest number of infections, ICU bed occupancy is already at full capacity, out of 11 beds provided.
Operating close to full capacity with 99% usage were Selangor and Kelantan. Selangor currently has 350 ICU beds while Kelantan has 77.
Penang's ICU usage was at 96% (out of 69 beds), Johor had utilised 95% (out of 108 beds).
Among other States, Melaka (80% out of 92 beds); Pahang (79% out of 61 beds); Kuala Lumpur (77% out of 216 beds); Putrajaya (75% out of 20 beds); Terengganu (69% out of 39 beds); Sarawak (58% out of 120 beds); and Negeri Sembilan (43% out of 88 beds).
Labuan, where 94.5% of the population has been fully inoculated, is the only State that has no patient in ICU. There are 18 ICU beds available there.
Meanwhile, a total of 18,672 beds across the country provided for Covid-19 patients had a utilisation rate of 78%.
Noor Hisham's tweet came after the newly appointed Health Minister Khairy Jamaluddin said the Ministry of Health will be transparent in providing more detailed Covid-19 data and information to the public — a move to to change the public's perception of and accusations against the Ministry for being secretive and selective with Covid-19 data.
As of Wednesday, 35.15 million doses of Covid-19 vaccines had been administered in Malaysia. A total of 19.93 million individuals or 85.1% of the nation's adult population had at least received their first dose including 15.24 million individuals or 65.1% who were fully inoculated.
Labuan hit the highest vaccination rates, with 94.5% of its adult population fully inoculated, followed by the Klang Valley (93.3%); Sarawak (87.2%), Negeri Sembilan (79.9%); Perlis (68.5%); Melaka (59.2%); Penang (57.9%); Pahang (52.2%); Terengganu (50.8%); Johor (48.8%); Perak (48.4%); Kedah (47.1%); Kelantan (46.7%) and Sabah (40.8%).
Malaysia's new Covid-19 cases rose to 20,988 yesterday — after falling to a nine-day low of 18,762 on Wednesday — bringing cumulative cases to 1.79 million.
However, active cases which carry high transmission risks fell for two straight days to 262,540 as daily recoveries exceeded infections at 23,473.
Among the latest cases, the asymptomatic or those with mild symptoms continued to make up the bulk of new cases, with 20,647 or 98.4% being in Categories 1 (no symptoms) or 2 (mild symptoms).
Those with more severe symptoms totalled 341 or 1.6%, spread across Categories 3 (patients with pneumonia), 4 (with pneumonia requiring oxygen therapy) and 5 (critical cases needing assisted ventilation).
Get the latest news @ www.EdgeProp.my
Subscribe to our Telegram channel for the latest stories and updates