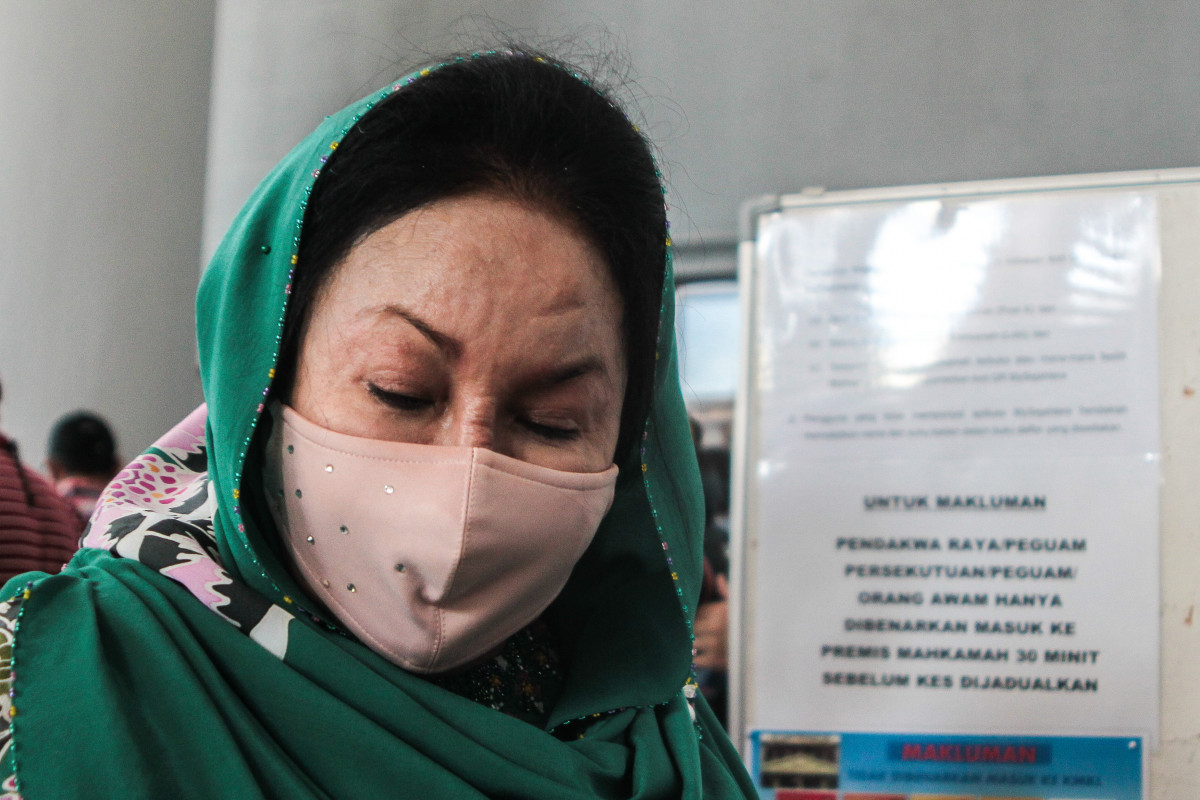 KUALA LUMPUR (Oct 6): Datin Seri Rosmah Mansor cried on the witness stand in the High Court on Wednesday as she neared the conclusion of her testimony in her defence, reiterating that the corruption charges against her were malicious and selective prosecution against her.
Rosmah, 69, wearing a turquoise-coloured baju kurung with matching selendang, said the prosecution should have taken action against the fifth prosecution witness (former education minister Datuk Seri Mahdzir Khalid), sixth prosecution witness (former education ministry secretary-general and ex-auditor general Tan Sri Dr Madinah Mohamad) and 12th prosecution witness (Datuk Seri Alias Ahmad, who succeeded Madinah in the Ministry of Education).
Rosmah added that action should also have been taken on her former aide Datuk Rizal Mansor and Jepak Holdings Sdn Bhd's former managing director Saidi Abang Samsudin over their roles and offences, but the prosecution preferred to call them as witnesses instead of prosecuting them.
"This was so that they could point their finger at me, a person who had no position in the government, someone who had no power to approve any government project. This was done in order to cover their faults from being displayed in public.
"This is 'zalim and kejam' (cruel) to me and my family. This is a malicious and selective prosecution against me," Rosmah added.
As soon as she said this, she could not contain her emotion and broke down on the witness stand.
"I am sorry, your honour," she apologised as she stopped testifying in her defence.
Justice Mohamed Zaini Mazlan replied that it was alright and gave her a short moment to regain her composure as she wiped her face with a tissue.
After Rosmah pulled herself together, she continued reading out the final two pages of her written testimony.
Her examination-in-chief by counsel Datuk Akberdin Abdul Kader was concluded on the same day.
Mahdzir, who is now the rural development minister, along with Madinah and Alias had testified as prosecution witnesses against Rosmah, saying that she approached them to hasten the approval for the solar hybrid project for 369 rural schools in Sarawak for Jepak.
Meanwhile, through her lawyers, Rosmah had accused Mahdzir, when he was under cross-examination, of being "on the take" by attempting to solicit RM60 million from Jepak when he was the education minister, a claim which the Umno vice-president had denied.
It was reported that Mahdzir, who is the Padang Terap Member of Parliament, was detained by the Malaysian Anti-Corruption Commission (MACC) over this and some dailies reported the possibility that he could be charged.
Rosmah says illogical for her to ask witnesses to hasten project approval
Rosmah, while answering allegations that she pestered Mahdzir, Madinah and Alias to hasten the approval for the project, said it was illogical that she would have requested the assistance of the three of them to expedite the approval for Jepak.
"The answer is simple. If it is true that I had interest or require assistance in the approval for the project, I would not have sought their assistance, which I strongly deny, as I could seek it directly from my husband Datuk Seri Najib Razak who was the prime minister, and also the finance minister at that time.
"However, that situation did not happen. Najib had the power to approve or hasten the approval or payment for anything, including the solar hybrid project. The fact is, I did not do any of that sort because of the principle that I held that I should not interfere in the government administration, including its revenue," she added.
"I did not know anything about this project and did not involve myself in it. As you can see when Madinah and others accused me, they could not specify when I asked them to do so (hasten the approval for Jepak)," she said.
Throughout her defence, Rosmah pinned the blame on her former media officer Rizal, who was initially charged with her for the graft offences but was given a discharge in order to testify against her as a crown witness.
She repeated that Rizal was the one who solicited the bribe from Jepak and pocketed the RM6.5 million, and called him a liar.
Earlier on Wednesday, Rosmah accused Rizal of using her name to ask for money and special treatment.
The hearing continues on Thursday, with her cross-examination by the prosecution led by senior Deputy Public Prosecutor Datuk Seri Gopal Sri Ram, a former Federal Court judge.
Get the latest news @ www.EdgeProp.my
Subscribe to our Telegram channel for the latest stories and updates