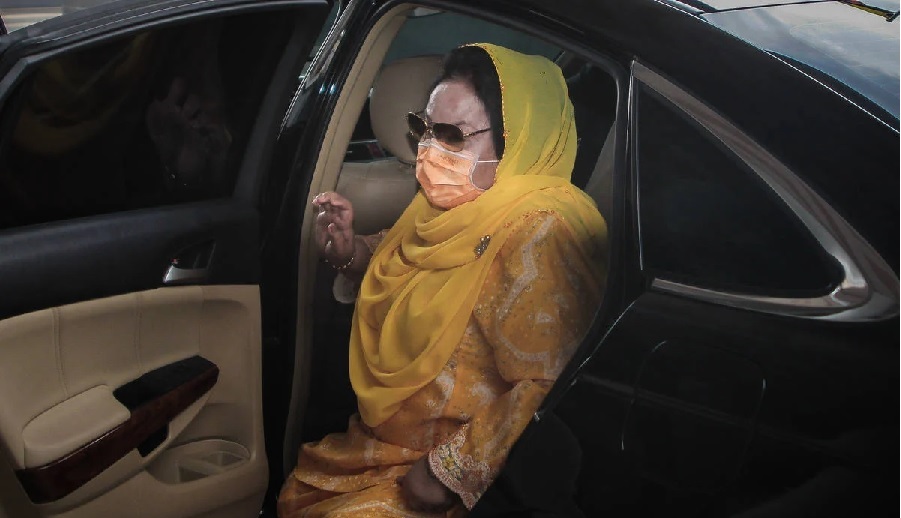 KUALA LUMPUR (Oct 7): Datin Seri Rosmah Mansor (pictured) told the High Court on Thursday she did not know if the wives of previous prime ministers — including her mother-in-law Tun Rahah Mohd Noah — had used the title of First Lady of Malaysia.
Testifying in her graft trial, Rosmah rejected the suggestion by Deputy Public Prosecutor Datuk Seri Gopal Sri Ram that she had given herself that title when her husband, Datuk Seri Najib Razak, was the prime minister.
Sri Ram: Before your husband, there was no title of First Lady of Malaysia?
Rosmah: I do not know.
Sri Ram: Their (past prime ministers') wives were not known as First Ladies of Malaysia?
Rosmah: I did not notice.
Sri Ram: Before Pak Lah (Tun Abdullah Ahmad Badawi) became the PM, even Dr M's (Tun Dr Mahathir Mohamad) wife [Tun Dr Siti Hasmah Mohd Ali] was never known as First Lady of Malaysia.
Rosmah: I do not know.
Sri Ram: Your mother in-law was never known as First Lady of Malaysia.
Rosmah: At that time [when Rahah's husband and Najib's father Tun Abdul Razak Hussein was the premier], I was not married to Najib, so I do not know.
Sri Ram: The title of First Lady of Malaysia, you assumed yourself?
Rosmah: No.
Sri Ram went on to ask about the setting up of the First Lady of Malaysia (FLOM) division within the Prime Minister's Department, and Rosmah replied that she did not play any role in the administration of the department.
"I did not interfere in the administration of the PM's office," she said.
Rosmah said the setting up of the FLOM division when her husband was the prime minister was for administrative purposes, adding that the wives of the previous prime ministers were allegedly not active in welfare and other projects like her.
"I had the Permata Negara (gifted children) project. I was called at times to give keynote addresses. I led a very, very busy life," she said.
Rosmah, clad in a yellow baju kurung with matching tudung and handbag, was testifying in her defence against three graft charges that include soliciting for a RM187.5 million bribe in relation to a RM1.25 billion solar hybrid project for 369 rural schools in Sarawak that was awarded to Jepak Holdings Sdn Bhd.
She also faces two charges of receiving a total of RM6.5 million from Jepak's former managing director Saidi Abang Samsudin between Dec 20, 2016 and Sept 7, 2017 at her official residence in Putrajaya and her private residence in Jalan Langgak Duta, Kuala Lumpur.
Dealing with allegations
Rosmah was also questioned about Datuk Rizal Mansor, a former special officer with the prime minister who was assigned as a media officer for her, as there were many allegations and slander made against her and her husband.
She maintained that she did not communicate much with Rizal but would let FLOM special officer Datuk Seri Siti Azizah Sheikh Abod communicate with him.
"I do not deal with Rizal. However, when at times Azizah could be late in responding, Rizal would at times deal with me, especially on issues regarding Bakti and the Girl Guides Association (where she was a patron).
"It was part of his job to issue statements defending me," she added.
When asked by Sri Ram how she knew there were attacks against her, Rosmah said it was through her friends.
"Sometimes we responded but sometimes we let it be with no answer given, because sometimes when we gave a reply the other side continued to bash me. So sometimes, I would let it be, and stopped there as some of these people had already made up their mind to condemn me," she said.
Sri Ram then asked her about a statement prepared by Rizal on criticism against her by Dr Mahathir, Tan Sri Abdul Hamid Bador (the then Special Branch deputy director who later became the inspector-general of police) and former New Straits Times Sdn Bhd group editor Datuk A Kadir Jasin regarding a purported expensive ring.
Rosmah replied that she did not know about the matter.
Sri Ram: Witness, were you concerned the attack had a reverberating effect on your husband?
Rosmah: Yes, and I told my husband that it was not you that they wanted to attack. He replied that because I was a soft target (being the premier's wife). For these reasons, I was willing to make the sacrifice.
Sri Ram: Was this something that you did not want?
Rosmah: This is politics, Datuk Seri, the wife of a politician has to take it all.
Najib's wife further said that she was certainly concerned about attacks against her, but being married to a well-known politician and for whatever reason, they will attack Najib and her.
Sri Ram: You were attacked much more than your husband's predecessors because you came into the limelight compared to his predecessors?
Rosmah: Yes.
Rosmah then got into an argument with Sri Ram, when she disagreed with the former senior judge's line of questioning that unlike other prime ministers' wives, she played a much more active role.
"I only agree that I was active as the wife of the PM. I do not know whether it brought me [under the limelight]," she added.
Asking others to do the work
Rosmah disagreed when Sri Ram suggested that she had a habit of getting someone else to do things for her, like instructing Rizal to make a request to Saidi and his former partner Rayyan Radzwill Abdullah.
Sri Ram: Madam witness, do you agree that it was your habit to ask someone to do it for you?
Rosmah: It depends.
Sri Ram: Instead of asking Saidi and Rayyan, did you get Rizal to make the request [for the bribe]?
Rosmah: No.
Sri Ram: That was the style, the way you put it?
Rosmah: I disagree.
The trial before Justice Mohamed Zaini Mazlan resumes on Oct 21.
Get the latest news @ www.EdgeProp.my
Subscribe to our Telegram channel for the latest stories and updates