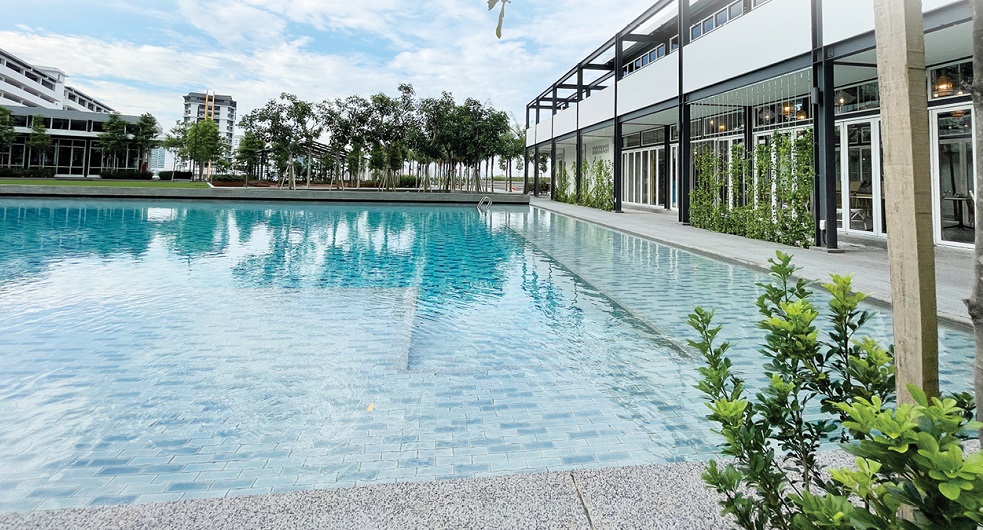 Quality and affordability hand in hand? That is often seen as counter-intuitive, especially in the real estate market. The challenge escalates when the already rising cost of doing business is further pressured by operations in the new normal.
How then could a developer sell premium-quality homes located in highly accessible and matured localities, yet price them attractively for the middle-income group?
Read also
OSK Property: Building high-quality, value-added affordable homes for the people
OSK Property's solution is to keep the home design simple and practical, and leverage the OSK Group's strength of diversified portfolios to cap costs.
"Our business model is based on the property and construction or 'Prop-Con' collaboration that sees our integration with the group's construction arm, OSK Construction Sdn Bhd. This was made possible in 2016 after the merger of PJD Holdings and OSK Property Holdings into the OSK Group," OSK Property chief executive officer Ong Ghee Bin tells EdgeProp.my via an exclusive virtual interview.
"During the past four years, we have managed to bring down prices further by removing [frivolous] features or those that are difficult to build but which do not add much value to the project.
"We also enjoy bulk discount for construction materials," says Ong, adding that Ryan & Miho was one of the early beneficiaries of this approach of building essential homes.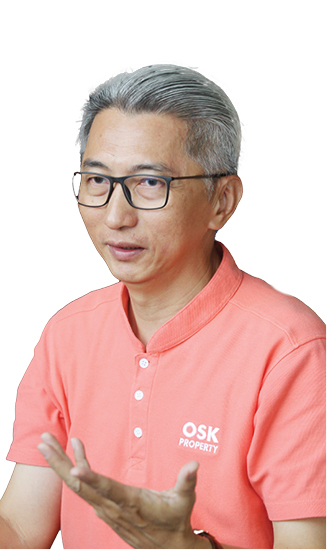 Launched in 2018, the construction team was involved right from the design stage of the project. This, Ong explains, helps keep costs low.
The Turkish and Japanese-inspired Ryan & Miho serviced residence is situated in Section 13 of Petaling Jaya, Selangor (right next to Jaya One) on 5.94 acres of leasehold tract. It comprises 1,084 units housed within two 30-storey towers. Units between 678 sq ft and 990 sq ft were priced from RM550,000 or about RM800 psf upon launch.
"The first tower was launched in Dec 2017, while the second tower was in Aug 2018. We handed over vacant possession for the first tower in early Sept 2021, with Nov 2021 being the targeted date for the second tower," says Ong. (Ryan & Miho received an Extension of Time from Housing Ministry due to the stop work orders to curb the Covid-19 pandemic, giving the project another one year plus 167 days for delivery of vacant possession.)
Meanwhile, OSK Property chief operating officer (COO) Seth Lim, who was also present during the interview, says that all 1,084 units of Ryan & Miho have been snapped up.
"How do we do it? OSK has a serious and concerted direction, coupled with a company culture inculcated by the chairman. It is not something that has happened by accident but by design. We are not just chasing the numbers, we are cost-conscious as well," says Lim.
Lower cost aside, the property-construction collaboration also ensures better quality, Ong stresses.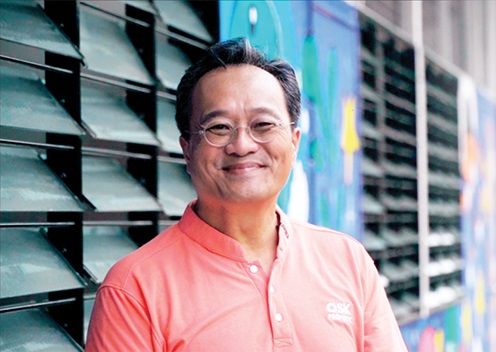 As a testament to that, he says OSK Property has been delivering homes with high QLASSIC (Quality Assessment System in Construction) scores ranging around 70% and 80% since 2016.
For example, Ryan & Miho scored 80%, while Emira Residences and Urban Retail in Shah Alam, Selangor hit 80.28%.
QLASSIC is a system used to evaluate the workmanship quality of a building construction based on Construction Industry Standard (CIS 7:2006). According to the Construction Industry Development Board (CIDB), QLASSIC enables the quality of workmanship between construction projects to be objectively compared through a scoring system.
"With the high QLASSIC scores, we are confident that we are on the right track. Not only does Prop-Con allow greater control of quality but it ensures timelines are met as well. In these 20-over years, all of OSK's projects have been delivered ahead of schedule," enthuses Ong.
One example that stands out is OSK's Luminari serviced residence project in Harbour Place, Butterworth, which was completed 10 months ahead of schedule in Dec 2019 – with a QLASSIC score of 80%. It was also a product of the Prop-Con initiative.
Another area that OSK Property is particular about is to work with subcontractors with good track records, and to reward them by, for example, with early payment.
"Moving forward, the Prop-Con model remains our key strength. Our focus is clear – we deliver quality and value-added homes. There is even a committee consisting of Ong Ju Xing (OSK Group deputy group managing director), John Ng (OSK Construction COO) and myself, to resolve conflicts and make decisions," shares Ong.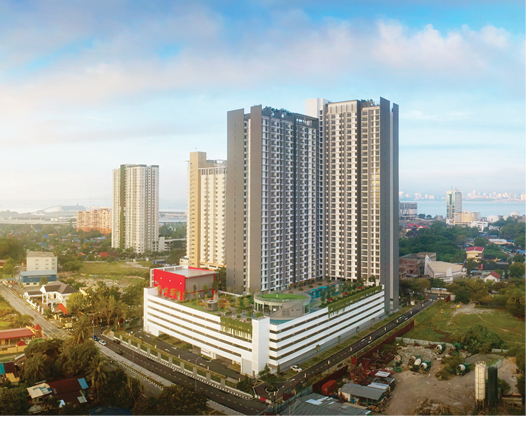 No bells and whistles
In March 2021, OSK Property introduced the Essential Homes Series 2021 Campaign, with products focusing on affordability, location and amenities. The campaign ends this December.
Ong says currently, demand is very high for homes in the affordable range and this will be its focus for the landbank acquired in the last three years.
OSK Property, he says, wants to be known as a developer that caters to the young and first-time homebuyers.
The Essential Homes are anchored on the concept of being the best in value in their respective locations, he adds.
Furthermore, Lim notes that the Essential Homes will not offer any bells and whistles.
"They are meant to be affordable, where owners can grow with them. They are carefully designed to meet the essential needs," adds Lim.
Built for easy maintenance
Recently, OSK Property has launched its master-planned development, Shorea Park in Puchong South, Selangor. Located on a freehold 27-acre tract, Shorea Park has a gross development value (GDV) of RM1.76 billion and will comprise serviced apartments and a commercial development.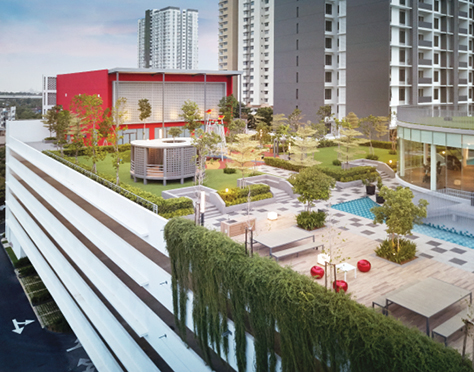 The project will offer five phases, with each phase featuring a design inspired by a natural element, namely water, wood, flora, stone and air.
The first phase, MIRA at Shorea Park, was launched on Sept 25, 2021 and consists of two 31-storey blocks housing 908 units of serviced apartments priced from RM250,000 to RM517,000 with an average price of RM450 psf.
The maintenance fee is set at RM0.33 psf including the sinking fund.
There are five layouts: Type A with 1+1 bedrooms (550 sq ft); Type B with two bedrooms (748 sq ft); Type B1 with two bedrooms (788 sq ft), Type C with three bedrooms (910 sq ft); and Type D with four bedrooms (1,011 sq ft).
Tower A consists of 479 units while Tower B has 429 units. All units are either north or south-facing.
"MIRA's key selling point is its strategic location in a matured and well-connected neighbourhood, and it is surrounded by beautiful lakes. The facilities strike a balance between usability and low-cost maintenance. As a water-themed concept, there are several water-based features such as canals, floating gyms and a 60m swimming pool," says Ong.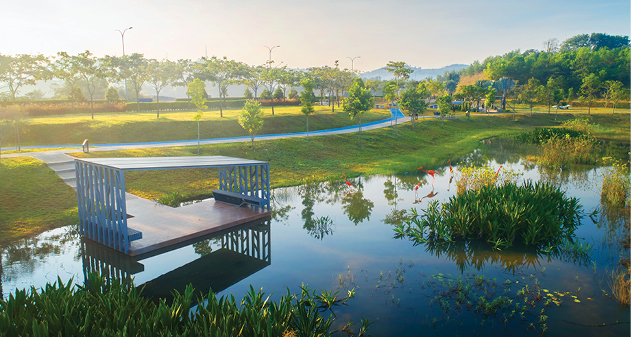 "We put in a lot of effort during the planning stage. As much as possible, areas are to be naturally lighted and ventilated to save electricity costs. The minimalist design and open areas do not require a lot of utilities," shares Ong.
Furthermore, Ong adds that the five-storey car park is semi-attached to the five lower floors of the two residential towers. "This encourages people to opt for the lower floors units for the added convenience."
Response since launch has been very encouraging, which leads OSK Property to decide launching Tower B a few days after Tower A, slightly ahead of its 4Q2021 targeted date.
According to Ong, Tower A has achieved 80% bookings, of which 40% have signed the sale and purchase agreements (SPA) with the rest awaiting loan approvals, while Tower B has obtained 50% bookings.
He adds that Type A units, priced at RM250,000, made up 15% of the demand, and buyers are subject to terms and conditions laid out under the Affordable Commercial (Serviced Apartment) category stipulated by the Selangor Housing and Property Board.
"As the market is still in challenging times, we are careful with the pricing of this product. Nevertheless, we are pleased with the SPA signings within two months of launching – slightly ahead of the targeted date of 4Q2021, " says Ong.
He attributes the uptick of interest to the reopening of the economy. "We are being cautious still. I foresee a slight demand increase in the next two to three moments and stabilising thereafter. We should expect to see greater results next year as demand catches up," he says.
Meanwhile, the company notes that some 70% of purchasers for MIRA (thus far) are those located in the vicinity of Puchong and its surrounding neighbourhood such as Bandar Sunway and Subang Jaya. "There are some buyers from as far as Cheras, Kuala Lumpur opting to get a unit in Puchong," Ong shares, adding that MIRA's proximity to Cyberjaya also entices workers from there.
As for the age bracket, the buyers are mainly in the 20-35 range – first-time homebuyers, those planning to start a family and those wanting to be near their parents.
"There is a nice, balanced buyers' profile," adds Ong.
Future plans
OSK Property has been actively expanding its landbank over the past two to three years. "Next year, we have projects lined up for Shah Alam, Selangor and Sentul, KL in addition to other new phases for current projects in Iringan Bayu (Seremban, Negeri Sembilan), Bandar Puteri Jaya (Sungai Petani, Kedah) and Harbour Place (Butterworth, Penang)," shares Ong.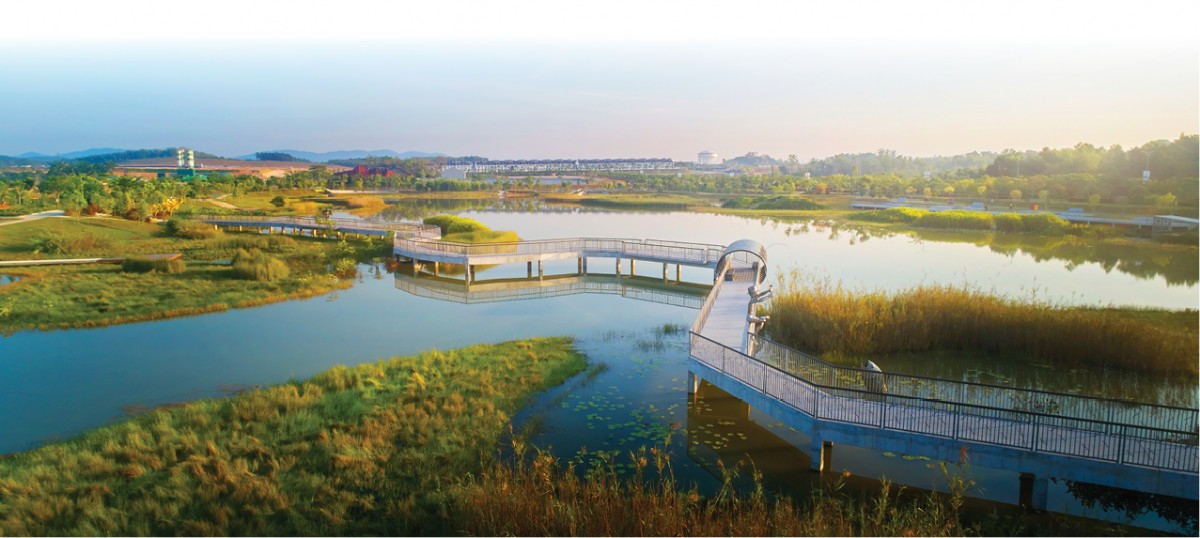 Meanwhile, a lesson learned during the Covid-19 pandemic is the greater adoption of digital marketing platforms. "This, we will carry on. Virtual presentations and virtual handovers are the few extra mediums of reaching out to our customers. [Covid-19] has definitely accelerated our digital thrust," says Ong.
Speaking of digital marketing, OSK Property joins the ranks of developers which have ventured into e-commerce platforms such as Lazada and Shopee since Feb 2021.
Meanwhile, the Group intends to focus on the home front at the moment. "We are not aggressively looking at expanding overseas for now. [For now], Melbourne Square is a large project, and it will keep us occupied for some time," notes Ong.
Launched in 2017, Melbourne Square is OSK Property's maiden Australian project. "The first two towers were handed over in the last two years with about 85% sold currently. There are plans to open a hotel by Hilton, a commercial office tower and two more residential towers. Recently, the Woolworths supermarket and a childcare centre have begun their operations. It is going to be a huge development," says Ong.
This story first appeared in the EdgeProp.my E-weekly on Oct 22, 2021. You can access back issues here.
Get the latest news @ www.EdgeProp.my
Subscribe to our Telegram channel for the latest stories and updates