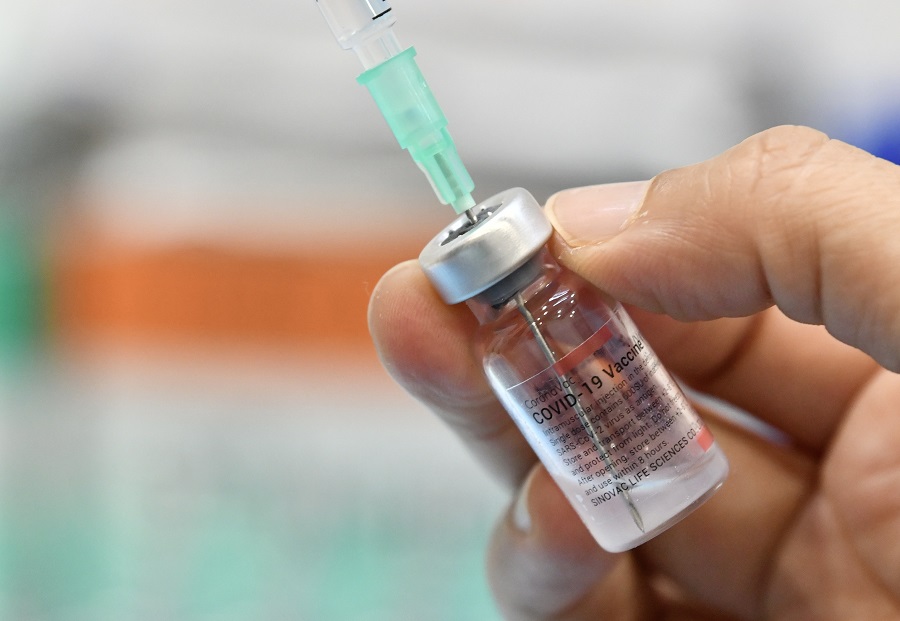 KUALA LUMPUR (Nov 24): The Sinovac vaccine efficacy drops to 28% against both Covid-19 infection and ICU admission in three to five months after completing vaccination.
Health news portal CodeBlue on Wednesday (Nov 24) said the two-dose Sinovac vaccine's efficacy against Covid-19 infection also fell to 28% from 76% over the same period, citing studies by the Real-World Evaluation of Covid-19 Vaccines Under the Malaysia National Covid-19 Immunisation Programme (RECoVaM) and the National Medical Research Register (NMRR).
It said that in contrast, Pfizer's two-dose Covid-19 vaccine remains 79% effective at preventing ICU admission after three to five months from 86% after the primary vaccination.
In terms of protecting against Covid-19 infection, however, Pfizer's vaccine efficacy declined from a peak of 89% to 68% over the same time frame.
The study further found that Sinovac's Covid-19 vaccine was only 76% effective against breakthrough deaths after three to five months, falling from 79% two months after the primary series.
In comparison, Pfizer's Covid-19 vaccine remained 91% effective against breakthrough deaths after five months.
CodeBlue said Sinovac had a weekly adult death average of two per 100,000 population between June 7 and Nov 15, 2021, versus Pfizer's weekly adult death average of 0.667 per 100,000 population, and AstraZeneca's weekly adult death average of 0.25 per 100,000 population.
It said unvaccinated deaths, however, dominated, with weekly adult deaths averaging at 22.354 per 100,000 population over the same 24-week period.
It said Covid-19 death data from Nov 1 to 20, 2021, collated by consultant paediatrician Dr Amar-Singh HSS showed that unvaccinated adults are 14.5 times more likely to die from the virus compared to those fully vaccinated.
CodeBlue said Dr Amar arrived at the conclusion after tallying the 827 Covid-19 adult deaths reported over the 20-day period — 315 unvaccinated, 41 partially vaccinated, and 471 fully vaccinated — against the number of unvaccinated (1.03 million), partially vaccinated (526,632), and fully vaccinated (22.38 million) adult population.
It said the sum showed that the death rate among unvaccinated adults from Nov 1 to 20 is at a high of 305.2 per million population compared to a death rate of 77.9 per million people and 21.1 per million people among the partially and fully vaccinated population, respectively.
Among the 471 fully vaccinated adult deaths recorded over the period, 332 were Sinovac recipients, 127 were double vaccinated with Pfizer, and 12 received two shots of AstraZeneca.
When compared against the population size by vaccine type, Dr Amar found that Sinovac's breakthrough death risk is the highest among the three Covid-19 vaccines at 34 per million people, compared to Pfizer at 9.8 per million people and AstraZeneca at six per million people.
Get the latest news @ www.EdgeProp.my
Subscribe to our Telegram channel for the latest stories and updates