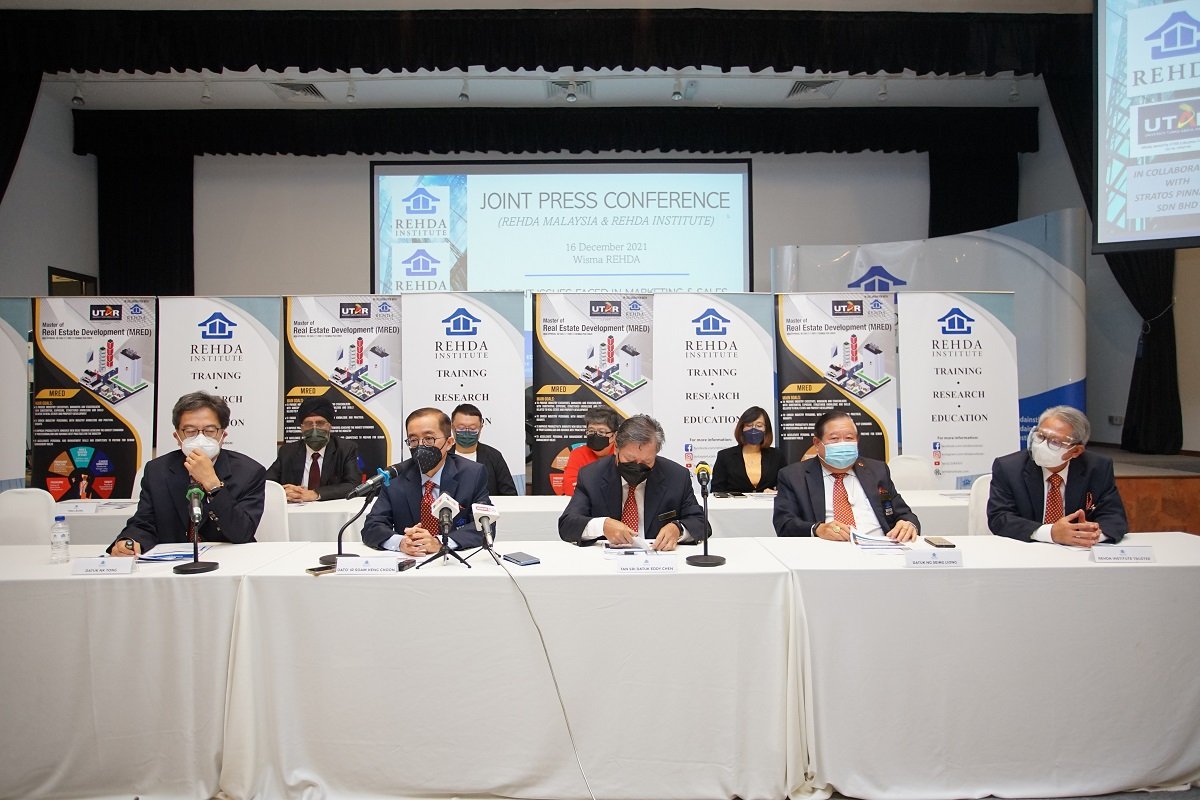 PETALING JAYA (Dec 16): The economy will take another year or two to recover, according to Real Estate and Housing Developers' Association (Rehda) Malaysia president Datuk Soam Heng Choon.
At a joint press conference by Rehda and Rehda Institute on Thursday (Dec 16) titled "Current issues facing the marketing and sales of properties in Malaysia", he said: "In 2022, we still wouldn't be back to that level. So, given that the economic scenario is challenging, one of our major requests is to extend the Home Ownership Campaign (HOC), so that economic growth can continue and the sector can be supported in the coming year."
Rehda also presented the results of a survey that involved 180 respondents (heads of marketing and sales of developers throughout Malaysia) at the press conference attended by Rehda Institute trustees Tan Sri Eddy Chen, Datuk Ng Seing Liong and Datuk Muztaza Mohamad.
The survey was done in collaboration with Universiti Tunku Abdul Rahman (UTAR) and Stratos Pinnacle Sdn Bhd, whose representatives were also present.
Presented by Rehda deputy president Datuk N K Tong, the survey highlighted three key issues, namely: end-financing challenges relating to financial institutions in Malaysia; slow and lack of digital technology adoption by property developers in Malaysia; as well as negative buyer and market sentiment, and pressure from external market forces.
"Financial institutions are still very risk-averse and too stringent in their assessment criteria ... There is demand to buy homes but buyers are challenged in how they can get a loan. So, for those whose income is affected because of the pandemic, they have to go to the gig economy and often that makes it even more challenging for them to apply for a loan. That's also reflected in the property industry survey that we have twice a year, where 88% of developers still continued to find challenges getting end-financing for their customers," Tong said.
He stated that this might also happen as the risk committee of financial institutions imposes more stringent valuation of new and secondary sub-sale markets.
On the issue of digital technology, Tong said that small- and medium-sized developers are slow in adapting to it.
"The challenge varies depending on the location as well as size of the developer, so slow or lack of digital technology adoption by property developers in Malaysia [is] particularly [evident] for small- and medium-sized developers. It also depends a lot on the geographical area because for developers in more rural or suburban settings, it's harder for them to figure out how to target their audiences, [unlike for those in the Klang Valley with a denser population]," he added.
About 1% of the survey respondents said that they are unlikely to utilise digital marketing and a high 27% indicated that the barrier of adapting to digital technology is due to lack of competent manpower in conducting and maintaining digital marketing activities. Another 26% said that the challenge comes from the high cost of software and hardware needed for digital marketing.
As for the third key issue, it was said that the Covid-19-induced lockdowns had impacted homebuyers' sentiment as they are less optimistic with a "wait and see" approach. Homebuyers are waiting for more certainty in terms of an improved economic trajectory and growth in 2022.
"This could be due to the uncertainty in terms of Malaysia's path to an economic recovery. There might be a high growth number this year but it may not even hitch back to the level of 2019, so high growth is a good start, but the key is actually to get back to 2019 and beyond, so that we can really say that things have really improved. Buyers will then have the confidence to invest," Tong opined.
Improving access to home financing, digitalisation and government's role
In accordance with the issues, Tong also presented proposals and recommendations to curb the problems.
"The first is to improve access to home financing for homebuyers. The government in 2022 will be providing guarantees of up to RM2 billion to banks via Skim Jaminan Kredit Perumahan to individuals who don't have proof of fixed income," he said.
He also mentioned initiatives under the 12th Malaysia Plan (12MP), which include a rent-to-own programme that will be expanded to cover houses priced up to RM500,000 each with an option to purchase the property within five years of renting, the continuation of the Fund for Affordable Homes and Youth Housing Scheme, the strengthening of Skim Pinjaman Perumahan to assist households that own land to build affordable houses, and the introduction of a new financial model with more attractive loan packages to increase the take-up rate.
My First Home Scheme under Cagamas Bhd is also a government initiative aimed at assisting first-time house buyers. "The scheme allows eligible first-time house buyers to obtain up to 110% financing from participating financial institutions, enabling homeownership without a down payment," Tong explained.
To upskill and improve the digital marketing capability of property developers, Rehda Institute, partnering with relevant universities and pernerts, will also be looking into developing a suitable Digital Marketing Transformation Initiative (DMTI) through a certification programme in 2022.
"We hope that more incentives will be made available by the government and relevant agencies for the digitalisation initiatives of companies, including SMEs (small and medium enterprises) ... we have trust in the government [to] do what's necessary to improve the broader economy [by reducing underemployment and unemployment]," Tong added.
Soam, meanwhile, stated that there seems to be a mismatch between what was announced in the 12MP and what came out in Budget 2022, but they believe the government will solve the issue.
"[We also] have a lot of other challenges, especially related to shortages of labour and rising costs of raw materials, which I think need to be better supported by better sales, so that the sector does not face stress going forward in the coming months," Soam said.
Soam also mentioned that the publicity for Cagamas had not been great, hence there is a need for developers to bring forth this information to first-time homebuyers.
During the question-and-answer session, Tong also addressed the question of rising construction cost. "Construction cost is a global phenomenon. In a way, affordable housing around the world is an oxymoron …but here is where we want to support and encourage the government to continue to improve the economy, so that the people can continue to benefit from it ... that's why we are seeking for the government to extend the HOC.
We were appreciative that the HOC was extended for six months and we were going to leave it at that but the feedback from developers — because of their lockdown performance — brought us [back] to re-evaluate it and put [forward] that request (to extend the HOC) on their behalf," Tong added.
Soam, on the other hand, stated that rising construction prices are due to increases in commodity prices. Changes in logistics also caused prices of raw materials to increase. "But there is a bigger concern for our supply chain — there have been claims of anti-competition and also severe profiteering from certain people from the supply chain. So, we are hoping that the government can work on monitoring and enforcement if there is any [anti-competition or severe profiteering happening].
"As we mentioned in our statement, construction cost has gone up by 20% to 30% … ultimately, the buyers are the ones who are going to suffer because the business people cannot absorb any more of this. I think currently, this increase in cost is being absorbed by the various people — contractors and developers. But there will come a time when they will not be able to absorb this cost, so this cost will then be passed on [to the buyers]," Soam explained.
On another note, when asked about the outlook for the property market in 2022, Tong said: "It's quite clear that if there is robust economic growth, there will be a vibrant property market ... the question is how quickly can we get back to the 2019 level of activity and beyond."
Get the latest news @ www.EdgeProp.my
Subscribe to our Telegram channel for the latest stories and updates