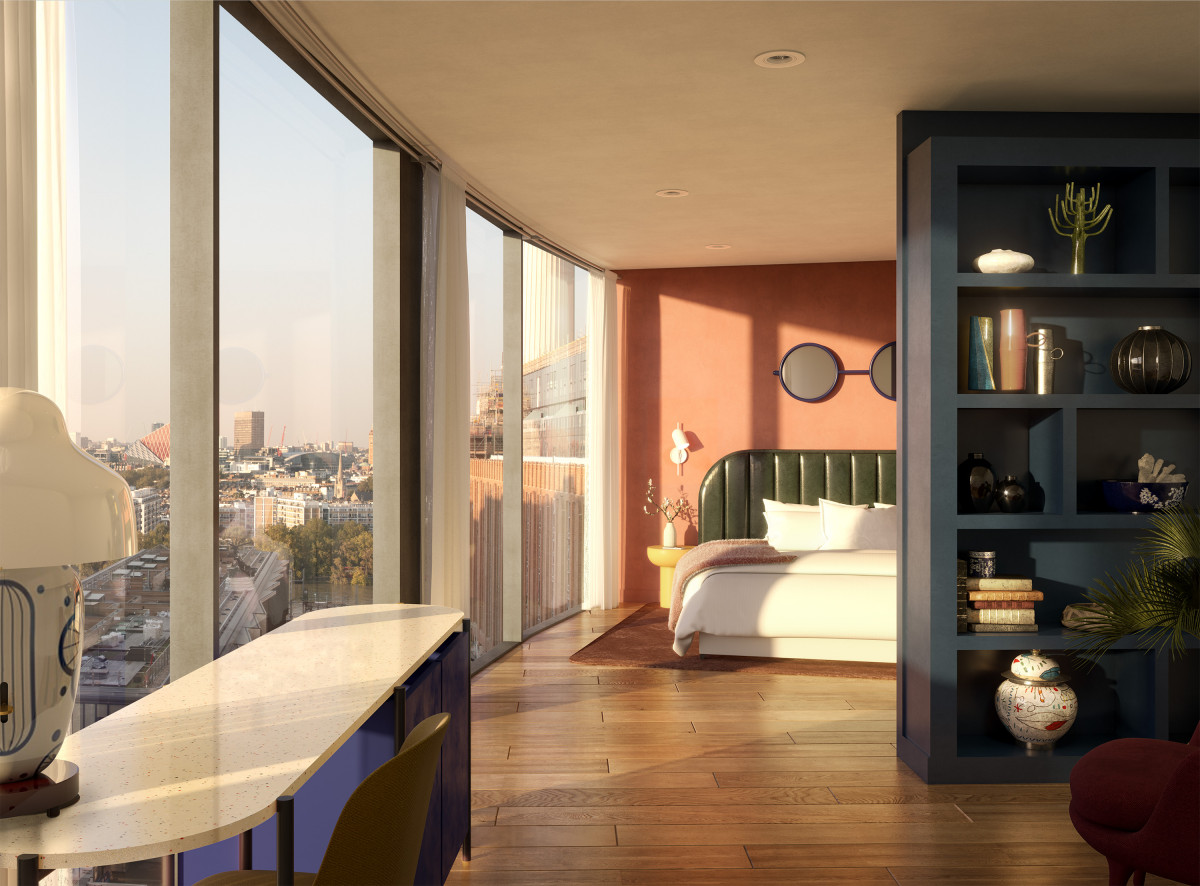 PETALING JAYA (June 15): The first art'otel at the London Battersea Power Station in the UK will open its doors later this year, with the interior images of the hotel unveiled on June 14.
In a statement, Battersea Power Station Development Company (BPSDC) chief executive officer Simon Murphy said, "The art'otel plays an integral role in the vibrant new riverside neighbourhood we're creating. Once the hotel is open later this year, it will be a unique place to stay and dine with its stunning rooftop swimming pool overlooking the Power Station's famous four chimneys and art-inspired Hayon interiors."
Hayon Studio founder Jaime Hayon said, "I was very excited to develop the interior design for a London hotel project at Battersea Power Station, which is set to become a new hub for art and creativity. The leading role of art at art'otel London Battersea Power Station makes this a unique prospect to explore the interaction between art, product and interior design and I look forward to creating something truly special in this iconic central London location."
The first art'otel to open in the UK will be located within Battersea Roof Gardens, a new building designed by Foster + Partners forming a key part of Electric Boulevard, a collection of buildings comprising homes, offices and a new pedestrianised high street, which sits to the south of the iconic Power Station.
The 164-bedroom hotel will feature a new skyline destination restaurant and bar, rooftop swimming pool, as well as a gym, spa, event facilities, a grand cafe and art gallery. Progress on the hotel's construction is nearing completion, with the guest rooms, bar and restaurant now being fitted out.
Meanwhile, the restoration of the Power Station is nearing completion, with residents now living inside the Grade II* listed building and new retailers, including Ralph Lauren, Ray-Ban, Lacoste and Calvin Klein, announcing they will be opening their doors in September this year. When open to the public, Battersea Power Station will house over 100 shops, bars and restaurants, a luxury boutique cinema as well as unique events and leisure spaces, including the chimney lift experience.
The glass elevator will transport visitors 109 metres (358 ft) up inside one of the Power Station's iconic chimneys before they emerge at the top to enjoy a 360-degree view of the capital's skyline. Residents and visitors to Battersea Power Station will be able to enjoy numerous new green and open public spaces, including the recently opened six-acre Power Station Park, which sits directly in front of the building on the river bank.
With the Northern Line now extended to give this new neighbourhood its very own Zone 1 London Underground station, Battersea Power Station draws Londoners, international visitors and workers from across the capital with journey times to the West End and the city taking approximately 15 minutes. It will be one of the go-to places for South West London, boosting the local economy and creating over 17,000 jobs.
Edited by Wong King Wai