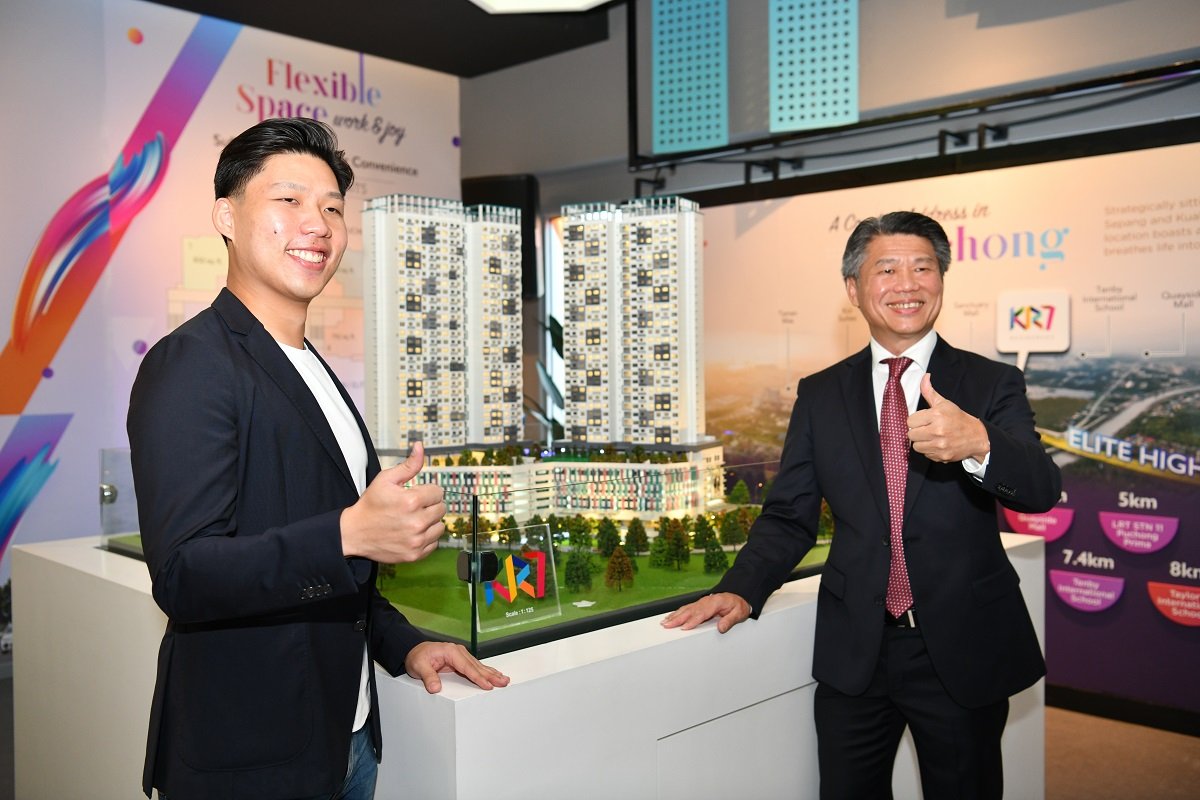 PETALING JAYA (June 16): Kemajuan Masteron Sdn Bhd (Masteron) has launched its latest serviced apartment project called KR7 Residences in Taman Mas Puchong, Selangor on Thursday (June 16).
This development marks the developer's seventh project in its "Koi" series, following Koi Kinrara, Koi Tropika, Koi Boulevard, Koi Legian, Koi Prima and Koi Residences in Puchong, all of which have been well-received.
KR7 Residences will be launched in two phases: the first (Tower A) on June 16 and the second (Tower B) in early 2023.
"Phase 1 was previewed in February this year and has seen a 35% take-up rate to-date. The units are priced affordably and will cater for owner-occupiers, including first-time homebuyers, young and urban dwellers, as well as families. We are confident that there will be demand for this project as the country's economy and real estate market is on the road to recovery," said Masteron executive director Datuk Choy Wai Hin at the launch event of KR7 Residences.
Sitting on a 3.12-acre leasehold parcel, KR7 Residences has a gross development value (GDV) of RM208 million and will comprise two 34-storey towers with a total of 484 residential units. The 2+1-bedroom, three-bedroom and two-bathroom units will come in sizes of 753 to 889 sq ft with prices starting from RM373,500. The development has eight to 10 units per floor and the first phase is expected to be completed in 2025.
Masteron director Choy Kin Mann stated that KR7 Residences, upon its completion, will address the growing demand for future-proof homes, alluding to the evolving role of living spaces to serve as a home office, study or nursery room.
The development will provide residents a modern urban living experience, by incorporating forward-thinking design and concepts at its core as well as exemplifying the company's commitment to innovation and excellence to improve the living standards of its residents.
In addition, the developer will be working with an interior fitout firm Federal International Holdings Bhd, to ensure quality designs for the interior and communal spaces of KR7 Residences units. There will be smart features incorporated in the development, such as a smart home system with wireless control features, which will allow future residents to remotely activate the ceiling lighting and fans, television and air conditioners in the units via their smart devices.
There will also be a smart lock system with enhanced security features, including fingerprint to access the main door of each residential unit, smart lockers for contactless food delivery, as well as a shield system.
"The shield system, for example, will be able to convert the development's multipurpose hall into self-isolation/individual spaces with temporary partitions, and will be managed and done by the joint management bodies (JMB), as and when there are infectious diseases/viruses such as Covid-19," explained Wai Hin.
Aside from the multipurpose hall, other facilities at KR7 Residences include a swimming pool, children's pool, co-working space, outdoor gym, indoor gymnasium, outdoor cinema, children's playground, barbecue area, multipurpose hall, yoga room, steam and sauna room, karaoke room and fitness and social hubs.
"It caters for residents from all walks of life, from the young to the elderly. The estimated maintenance fee, inclusive of the sinking fund, is 30 sen psf per month," said Wai Hin.
Kin Mann added: "These unique aspects of KR7 Residences work together to make up the entire development's master plan, which exemplifies our commitment to innovation and excellence to improve the living standards of residents. We have also looked into every detail of modern living while employing considerable foresight into evolving needs and security for the future."
KR7 Residences is located at the crossroads of Petaling Jaya, Sepang and Kuala Langat, offering seamless connectivity to the greater Klang Valley area. It is easily accessible via the North-South Expressway Central Link, South Klang Valley Expressway and Damansara-Puchong Expressway. Nearby amenities include Lotus's Bandar Bukit Puchong, Quayside Mall, AEON BiG Puchong Utama, SJK(C) Han Ming, SK Puchong Perdana and MAHSA University.
Edited by Racheal Lee