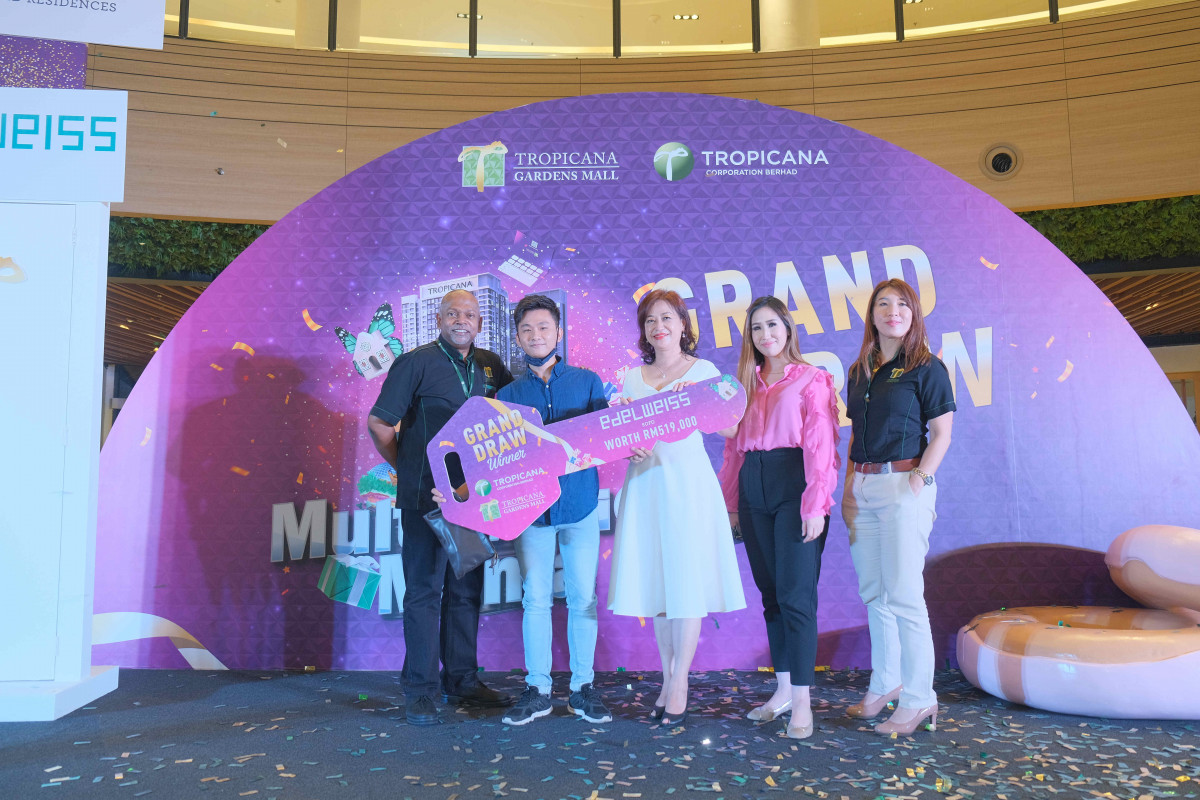 One lucky winner walked home with the grand prize of a SOFO unit at Tropicana Gardens worth RM519,000
The Multi-Million Mania campaign recorded more than RM520 million in property bookings
KUALA LUMPUR (July 8): Tropicana Corp Bhd saw RM524.2 million in property bookings and RM10.7 million in retail sales at Tropicana City Mall with its Multi-Million Mania campaign, which ran from Jan 21 to June 17 this year.
The campaign attracted over 5,600 participants and concluded with a Grand Draw at Tropicana Gardens Mall on Wednesday (July 6). Participants were shortlisted via the Grand Draw, with one lucky winner walking away with the grand prize of an Edelweiss Small Office Flexible Office (SOFO) unit at Tropicana Gardens, Tropicana Indah worth RM519,000.
Tropicana and Tropicana Gardens Mall managing director of group assets management Andrew Ashvin said: "We are overwhelmed with the positive response to Multi-Million Mania, which we launched as a way of giving back to our customers and the Tropicana community, as well as our property purchasers as a whole. The campaign, in conjunction with our focus on creating memorable experiences for shoppers, has driven a surge in footfall to Tropicana Gardens Mall. Daily footfall increased a tremendous 241%, from 7,445 visitors daily in October 2021 to 17,995 visitors per day in June 2022, underscoring the impact of our focus on redefining the art of shopping."
A proxy representative accepted the Grand Draw prize on behalf of winner Ho Lee See.
"I had the chance to join this campaign because I purchased a unit at TwinPines Serviced Suites at Tropicana Grandhill, Genting Highlands. I was getting ready to drive home when I got the call. I've never won a lucky draw before, so I couldn't believe it and was so happy to hear that I really won. I'd like to say thank you so much to Tropicana for my new unit at Edelweiss SOFO, Tropicana Gardens," she said.
Edelweiss SOFO is the final tower of the 17.6-acre Tropicana Gardens integrated development, offering open, flexible layouts which can be easily transformed into a beauty salon or day care centre, art studio and more. It is co-located with Tropicana Gardens Mall, a one million square foot retail landmark with seven floors and more than 160 stores.
During the campaign period, the Multi-Million Mania campaign allowed property seekers to make 10 entries in its Grand Draw for every purchase of any Tropicana properties. It also rewarded shoppers at Tropicana Gardens Mall with daily prizes, as well as a chance at the grand prize.
Each purchase of RM100 and more in up to two receipts every day from selected outlets entitled shoppers to a token and one stamp on an entry card for the Grand Draw. Each token allowed participation in a draw for vouchers issued by selected outlets, while 10 stamps on an entry card entitled participants to one entry in the Grand Draw.