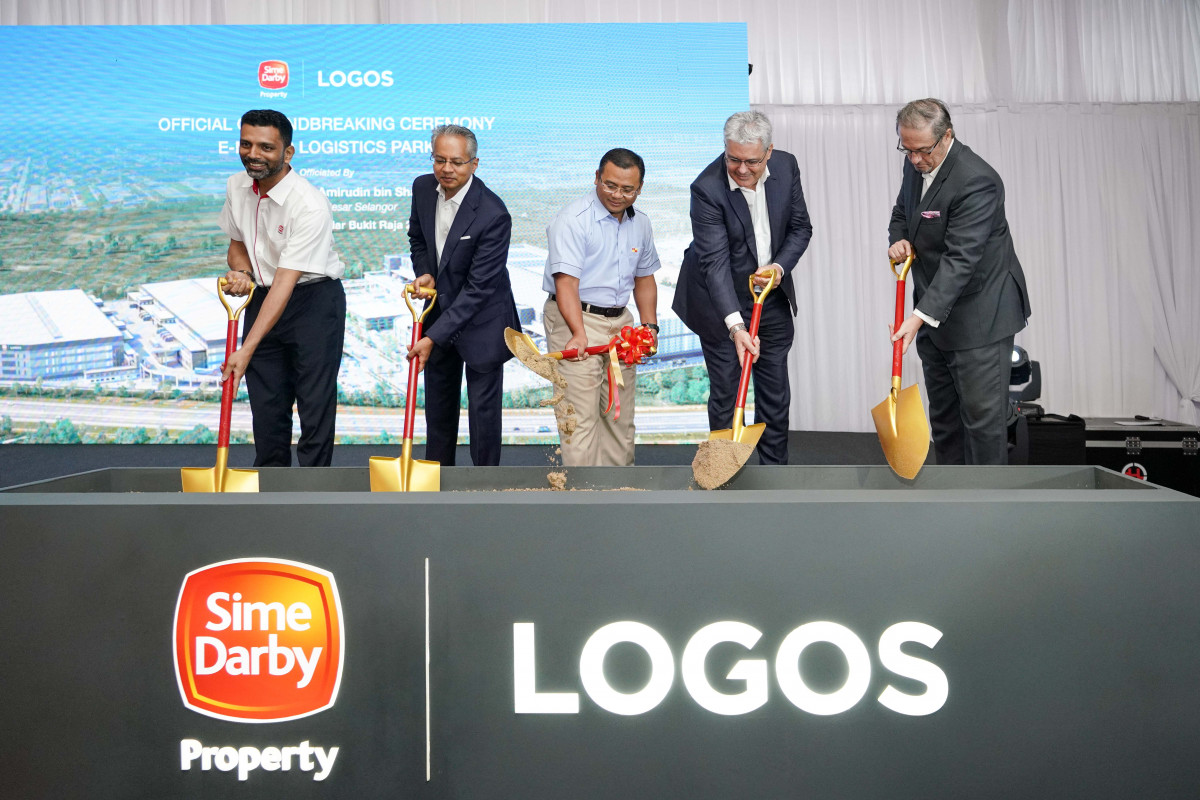 E-Metro Logistics Park is a freehold, 177-acre logistics development with a total of 8 million sq ft of gross lettable area.
It will be a part of the 4,333-acre township of Bandar Bukit Raja in Klang, which has an expected population of 90,000 upon completion.
KLANG (July 8): Sime Darby Property Bhd and LOGOS SE Asia Pte Ltd's (LOGOS Property) joint venture — SDPLOG — has unveiled plans with the commencement of groundwork for its maiden asset E-Metro Logistics Park in Bandar Bukit Raja, Klang, Selangor.
Sime Darby Property's group managing director Datuk Azmir Merican said at the groundbreaking ceremony on Friday (July 8): "We are activating our strategically located land banks to derive more value in the long run, and to advance the company's industrial and logistics development offerings. Together with LOGOS Property, we are developing high-quality, sustainable logistics real estate assets that deliver integrated solutions with world-class facilities for our stakeholders and investors.
"E-Metro Logistics Park is the first industrial and logistics development under SDPLOG's inaugural industrial development fund which recently announced 70% in capital commitment secured at first close for a fund size of up to US$250 million," he added.
The Shariah-compliant fund will be anchored by Permodalan Nasional Bhd (PNB) and unit trust funds under its management, as well as Kumpulan Wang Persaraan Diperdankan (KWAP), with Sime Darby Property and LOGOS Property as sponsors and co-investors in the fund.
"We are also on track to become one of the largest logistics development funds in Malaysia, with potential assets under management in excess of approximately RM3 billion," highlighted Azmir.
LOGOS Property head of Malaysia David Aboud said: "We (and our capital partners) are excited to be commencing this strategic development of SDPLOG and are pleased to be partnering with local businesses in the delivery of the park."
Selangor chief minister Datuk Seri Amirudin Shari, who officiated the ceremony, said: "E-Metro Logistics Park's strategic location and connectivity to highways, seaports and airports alongside its attractive logistics facilities, makes it ideal for regional supply chain hubs. This development will support our goals in reinforcing Selangor's industrial-driver sectors, as well as strengthening Port Klang's position as a maritime centre and logistics in both Malaysia and Southeast Asia."
Situated within the developer's mature township of Bandar Bukit Raja in Klang, E-Metro Logistics Park is a freehold, 177-acre logistics development with a total of 8 million sq ft of gross lettable area (GLA) upon completion.
The first phase is expected to be completed with identified tenants in June 2023, and overall completion targeted by the third quarter of 2026. E-Metro Logistics Park targets e-commerce players, 3PL operators, freight service providers, retailers, and light industrial companies.
According to Sime Darby Property, the design and planning for the first two facilities at E-Metro Logistics Park, which are Metrohubs 1 and Metrohubs 2 (with GLAs of 1.2 million sq ft and 800,000 sq ft respectively) are already underway.
The large-scale, sustainable development will include built-to-specification, ready-built solutions to provide tenants with the flexibility of growing their businesses. Tenants will be able to expand the layout designs according to their commercial needs, including enhancements required for warehouse automation, while meeting the Gold LEED certification standard.
Facilities there will include essential utilities infrastructure, vehicular traffic segregation, energy-efficient features such as solar power generation, LED lighting and enhanced thermal insulation, 24-hour multi-tiered security, high-speed internet and electric vehicle charging stations.
E-Metro Logistics Park forms part of the 4,333-acre township of Bandar Bukit Raja in Klang, which has an expected population of 90,000 upon completion. The development is expected to boost the economic and socio-economic growth of Bandar Bukit Raja, with the creation of more than 4,500 jobs in the future.
The next chapter for Bandar Bukit Raja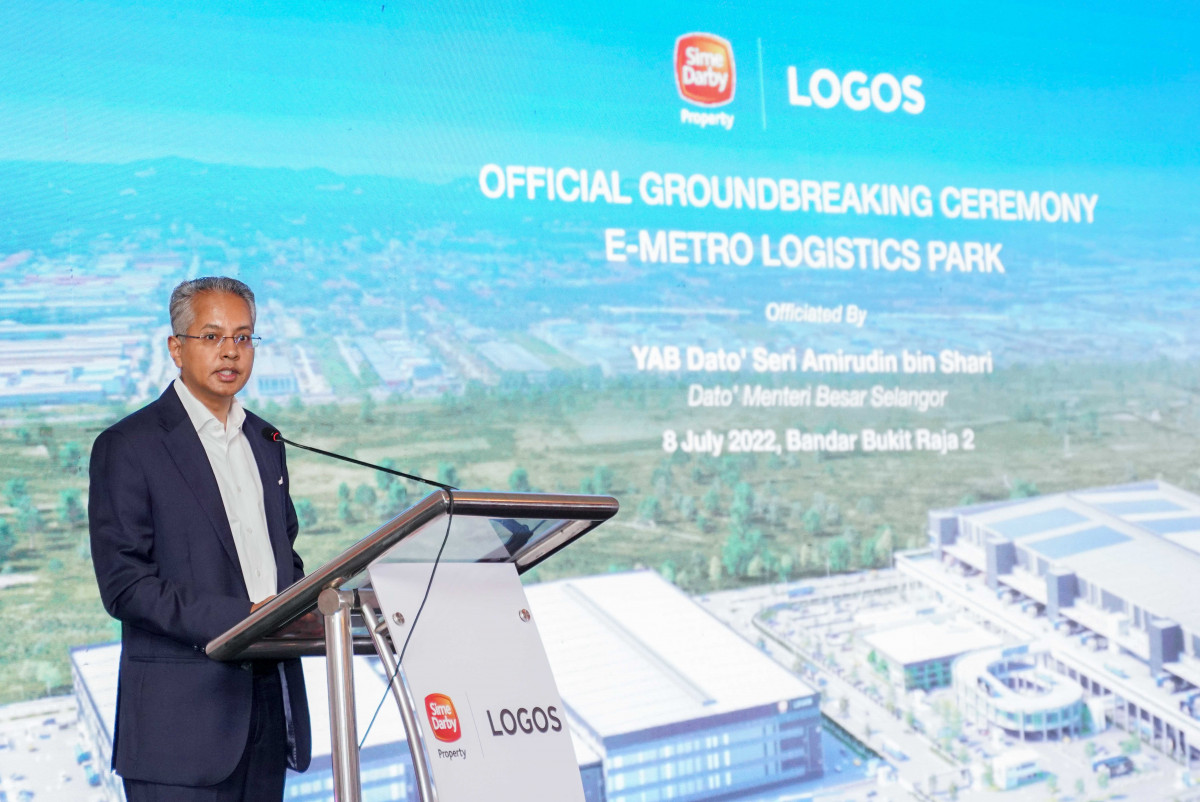 With the unveiling of plans for E-Metro Logistics Park, Sime Darby Property's Azmir revealed updates on the township: "We have established the Bandar Bukit Raja township more than 20 years ago; it has grown leaps and bounds and has matured to become a self-sustaining township with a thriving population of 41,255 across 4,333 acres of freehold land."
"The township has registered RM17.1 billion in gross development value (GDV). In 2021, the township's newly launched Lyra 1, Lyra 2 and Lyra 3 have achieved a [collective] take-up rate of 97%, and more recently Phase 1 of Nadira achieved a 90% take-up rate."
"Bandar Bukit Raja has also grown to become Selangor's most developed industrial township. Our [existing] tenants include Big Dutchman, Sen Heng, Ceva, CJ Century and Vinda, among others. In 2021, we completed a two-storey warehouse with a total net lettable area (NLA) of about 180,000 sq ft as part of our ongoing development of the Bandar Bukit Raja Industrial Gateway. The development of the E-Metro Logistics Park represents the next chapter for the township."
The logistics park, and the township, are accessible through highways New North Klang Straits Bypass (SHAPADU Highway), New Klang Valley Expressway (NKVE), Federal Highway and North-South Expressway Central Link (ELITE). It will also offer seamless connectivity via land, sea and air with its location near seaports South Port Klang, North Port Klang and West Port Klang, airports Subang Airport and KLIA and nearby areas such as the Klang city centre, Shah Alam, Subang Jaya and KL city centre.