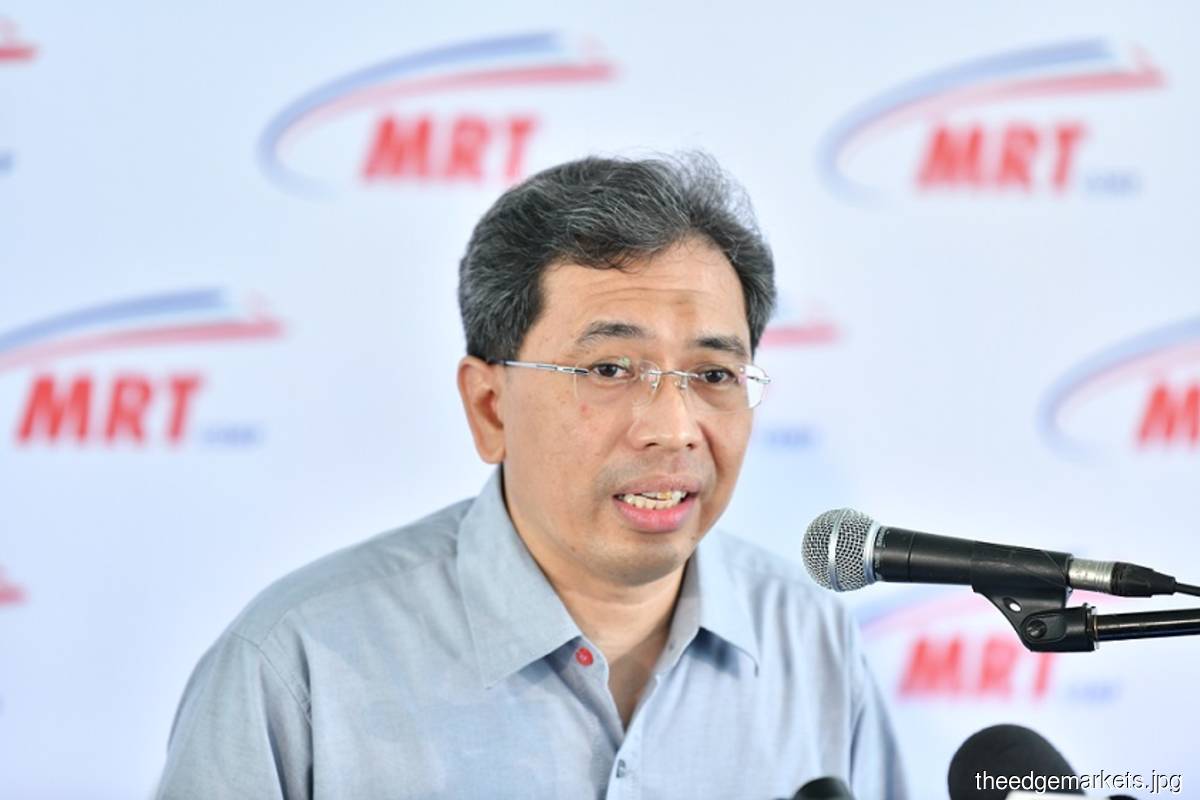 KUALA LUMPUR (July 18): Mass Rapid Transit Corp Sdn Bhd (MRT Corp) Chief Executive Officer (CEO) Datuk Mohd Zarif Hashim is understood to have obtained a three-month extension to his contract, sources familiar with the matter tell The Edge.
While the sources are tight lipped, they say that the three-month extension could very well be an interim measure before his tenure is extended for a longer period.
MRT Corp did not reply to questions sent by The Edge last week.
Mohd Zarif's two-year contract is understood to have expired recently on July 14.
"It (Mohd Zarif's extension) is a three-month extension pending some interim issues, but it could be extended further, even before the three months is up… There is a lot going on now at MRT Corp. The MRT3 tenders are closing soon, and this is one of the few [if] not the only big construction project on now. What needs to be said is that the government is committed to undertake the MRT3," one source says.
Another source said on Friday (July 15), a day after his contract had expired: "He is still at MRT Corp, still at work, so what I understand is there is an extension," he said. After some thought, he said, "It is good to have continuity".
Another source who knew of the three-month extension, had said that there was immense lobbying for the CEO position as the entire contract value of the MRT3 could be pegged at close to RM40 billion, with the construction cost expected to be about RM31 billion.
MRT Corp is also understood to be adopting a hybrid financing model, although the Ministry of Finance has given a RM50 billion funding commitment, with contractors expected to shoulder the responsibility of funding the project as well.
"It's huge, so of course there is a lot of lobbying for the CEO position," he said.
The MRT3, which is a big-ticket infrastructure project, is likely to be a catalyst for the construction sector with a huge ripple effect that could possibly positively impact the economy.
Also known as the Circle Line, the MRT3 is scheduled to be fully operational by 2030, with the first phase completion expected to conclude in 2028, subject to land acquisition process.
The third MRT line will have a circular alignment running along the perimeter of Kuala Lumpur City, with a length of about 51 kilometres (km) split between 40km of elevated tracks and 11km of underground tunnels, according to MRT Corp.
The current proposed alignment of the MRT3 will have 31 stations, with 10 of them serving as interchange stations with the eight existing rail lines in Klang Valley.
The construction cost of RM31 billion for MRT3 is similar to the cost of the MRT2 Sungai Buloh-Serdang-Putrajaya (SSP) Line, which recently commenced operations. The first MRT Sungai Buloh-Kajang (SBK) Line cost RM21 billion and commenced operations in end 2016.
Mohd Zarif's contract extension had come under the spotlight recently, after a controversy where he had taken former prime minister Datuk Seri Najib Razak and some of his family members on a preview of the Putrajaya MRT Line, a day before Prime Minister Datuk Seri Ismail Sabri Yaakob launched the service in mid-June.
If there are no cost overruns at MRT3, the government would have dished RM83 billion for the three MRT lines, which require the costs of travel to be subsidised for them to be functional.
For its financial year ended December 2020, MRT Corp suffered an after-tax loss of RM8.94 billion, down 22.4% from a year earlier, where it bled RM7.3 billion in after tax losses. As at end December 2021 as well, MRT Corp had accumulated losses of a whopping RM52.98 billion.