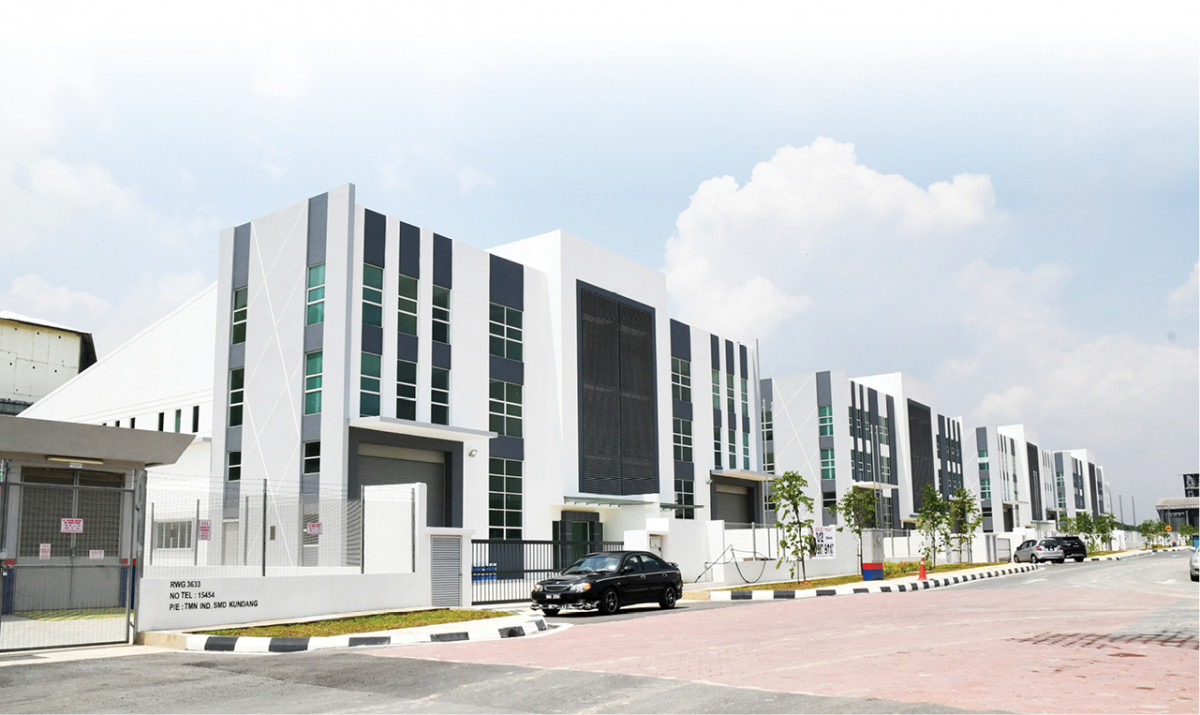 Industrial sector continues to flourish
Optimism for the growth of retail sector following a robust quarterly growth
PETALING JAYA (Aug 9): The local industrial sector has seen steady growth while the retail sector is recovering with stable increase of occupancy rates, according to the Knight Frank Malaysia's Real Estate Highlights for 1H2022 (REH).
The report said the industrial real estate sector continues to flourish whilst the retail sector is slowly recovering despite concerns over rising inflation.
Knight Frank Malaysia's senior executive director of Research and Consultancy, Judy Ong said the industrial property sector in the Klang Valley saw a rebound in market activity with 2,050 industrial properties worth RM9.21 billion changing hands in 2021, reflecting annual increments of 20.2% and 23.0% in transacted volume and value respectively.
"The main concerns among manufacturers and logistics players are rising transportation costs, shortage of labour and disruption in supply chain," said Allan Sim, executive director of Land and Industrial Solutions.
Sim said with more multinational companies setting up new businesses and facilities within the Asean region, Malaysia is expected to benefit from this diversification and reshaping of global supply chain strategies.
According to REH, the entry of new investors such as the first industrial-related acquisition by KIP REIT consisting of a mixture of industrial facilities and industrial land in Pulau Indah amounting to RM78 million and Capitaland Malaysia Trust's first industrial purchase of a 5.11ha freehold industrial warehouse for RM80 million in Batu Kawan, Penang demonstrates the increase of interest for the sector.
Sim added that developers are observed to be venturing into large industrial and warehousing developments, such as Titijaya Land Bhd with its recent RM200 million build-to-suit arrangement of a logistic commercial complex for DHL Properties in Penang, and IJM Corp partnering China Harbour Engineering Company Ltd (CHEC) for their first industrial and logistics development in Kuantan.
For the Penang property market, the industrial segment is believed to be the silver lining as there is an encouraging demand for logistics facilities to serve the expanding e-commerce and logistics sector, according to Mark Saw, executive director of Knight Frank Penang.
"Batu Kawan Industrial Park will continue to be the main hotspot over the next three years, and as reported Penang Development Corp (PDC) plans to develop between 100 acres and 150 acres of industrial land annually in Batu Kawan in addition to a new industrial park in Kepala Batas.
This will become a smart and high-tech industrial park with the best infrastructure for 5G internet access, in order to attract more interest especially from foreign investors," Saw said.
The logistics sector down south has also been reported to be thriving with Port of Tanjung Pelepas (PTP) recording growth in its yearly volume and its current expansion of Free Zone expected to be completed in 2023.
Associate director of Knight Frank Johor, Tan Lih Ru said this is just one of many other notable industrial project developments taking place, keeping the industrial sub-sector as the bright spot in the state's property market.
Tan said as of 1Q2022, the cumulative supply of retail space in Johor Bahru was at 20.4 million sq ft with overall occupancy rate at 71.6%, with SKS City Mall Larkin and Persada Annexe occupying a total space of 0.5 million sq ft, scheduled for completion in the near future.
The reopening of borders with Singapore is positive for the gradual recovery of the tourism and retail-related markets – a high number of visitors enter Johor daily through the Singapore-Malaysia Causeway, one of the busiest border crossings in the world or via the Tuas Second Link.
The retail sector in the Klang Valley, with a cumulative supply of around 66.09 million sq ft as of 1H2022, has seen improvement in terms of the Consumer Sentiments Index (CSI) at 108.9 points in 1Q2022.
Stable occupancy rates
The index by Malaysian Institute of Economic Research surpassed the 100-point optimism threshold, shows that consumers are optimistic about their income earnings and employment opportunities albeit concerns over rising inflation, said Knight Frank Malaysia group deputy managing director, Keith Ooi.
The cumulative supply of retail space in the Klang Valley was contributed by the completion of Mitsui Shopping Park Lalaport and Malaysia Grand Bazaar, which are part of Bukit Bintang City Centre (BBCC) – a 19.4-acre integrated development encompassing serviced residences/residential suites, hotel, office, retail, an entertainment hub and transit hub.
"Incoming retail supply include the KSL Esplanade Mall in Klang, IOI City Mall Phase 2 in Putrajaya, Retail Component of Datum Jelatek in Taman Keramat as well as EcoHill Walk in Semenyih," Ooi added.
Alongside refurbishments, the obvious shift in consumer behaviour due to the pandemic, coupled with the acceleration in digital transformation have encouraged retailers and mall operators to increasingly adopt omnichannel strategies to increase sales and improve engagement.
The REH report noted that the occupancy rates of shopping centres were stable during the review period, with improvement of revenue for mall operators. Major malls like Suria KLCC, Pavilion Kuala Lumpur, Mid Valley Megamall and Sunway Pyramid continue to retain solid crowd pulls and have stable occupancy rates.
The REH report concluded that the local industrial sector has seen steady growth in recent years, largely due to a higher e-commerce penetration rate. This is one of the direct results of higher warehousing space requirements to meet the surge in last-mile delivery as well as the structural shift towards omnichannel retailing.
As for the retail sector, pent-up demand is anticipated to drive consumer spending following the unpredictable and unprecedented periods of lockdown. Locally, the sector is in for a better year ahead following reopening of the economy and international borders supported by the country's high vaccination rate.