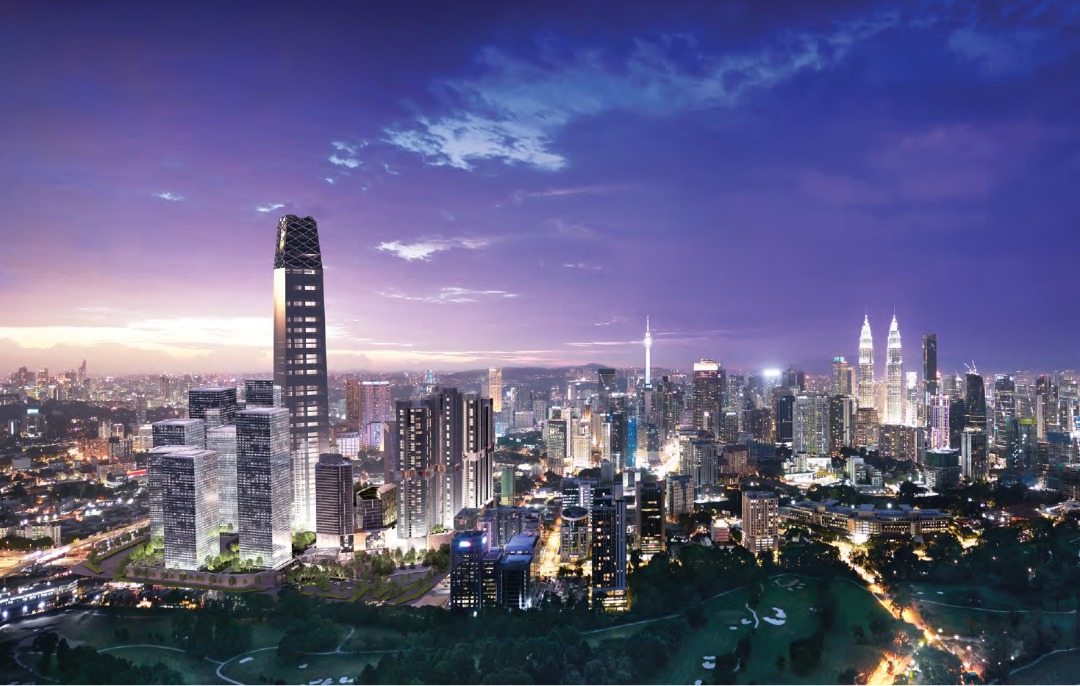 Read also:
A place to live well, rooted in sustainability
Managing director's note: Which future will you choose?
High-rises – their sundry sizes, shapes and shades filling our city skylines are a statement of how strata living has become a major part of city living. In developed countries, city makers pay great attention to how strata communities can be aligned to the city planning to benefit its inhabitants and the city development as a whole.
On the home front, we are beginning to see developers with international experience expending their expertise to achieve world-class benchmarks for high-rise living.
Malaysians are also increasingly well travelled and exposed to global standards, trends and forward-looking concepts.
To gain a greater understanding of this and what Malaysians wish to experience in strata living, EdgeProp has partnered with Lendlease, an international real estate group, to conduct a survey, which has unravelled new and unexpected insights.
Believe it or not, among the 18 attributes listed for ranking, a lower percentage of respondents value building aesthetics, compared to other attributes like maintainability, safety and walkability.
Another surprising discovery is the willingness of the older generations in embracing technology.
Homeowners and investors are also starting to recognise the importance of well-managed properties and holistic solutions that support property value growth. In fact, over 80% say they are willing to pay more for efficient and reliable property management.
Read on to find out other interesting data uncovered from the EdgeProp–Lendlease Sustainable Strata-living Survey.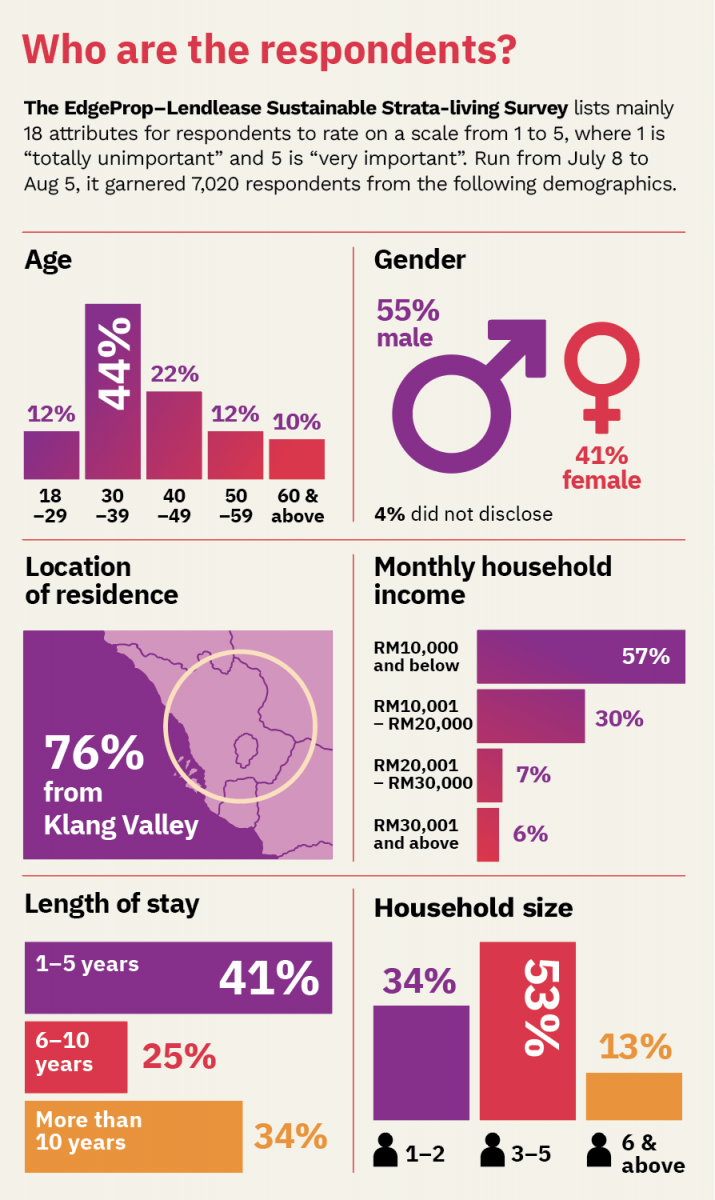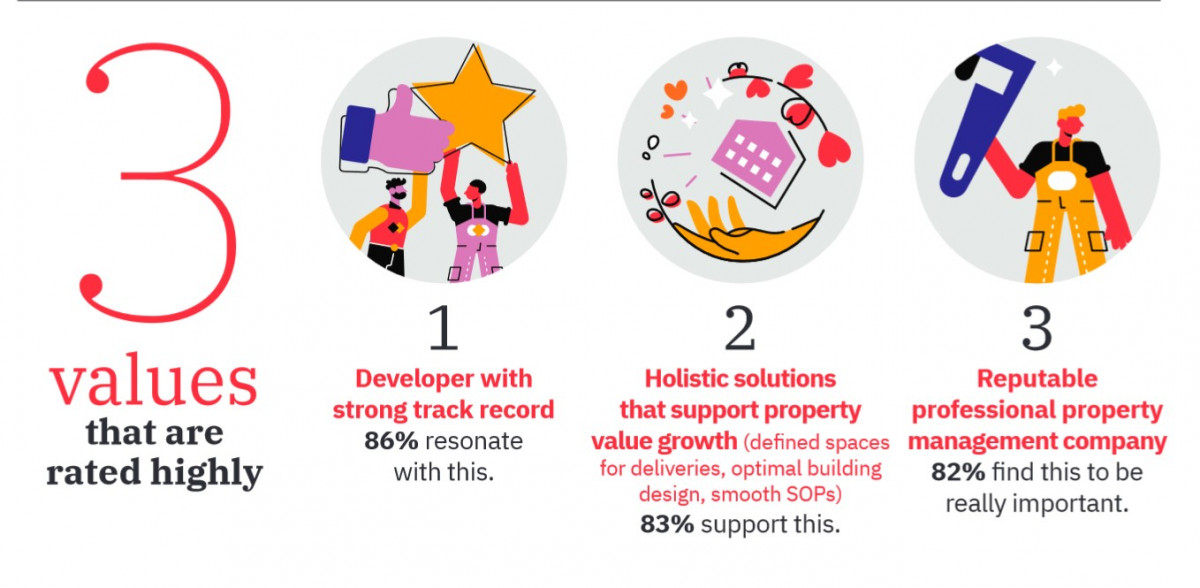 Maintainability trumps aesthetics and facilities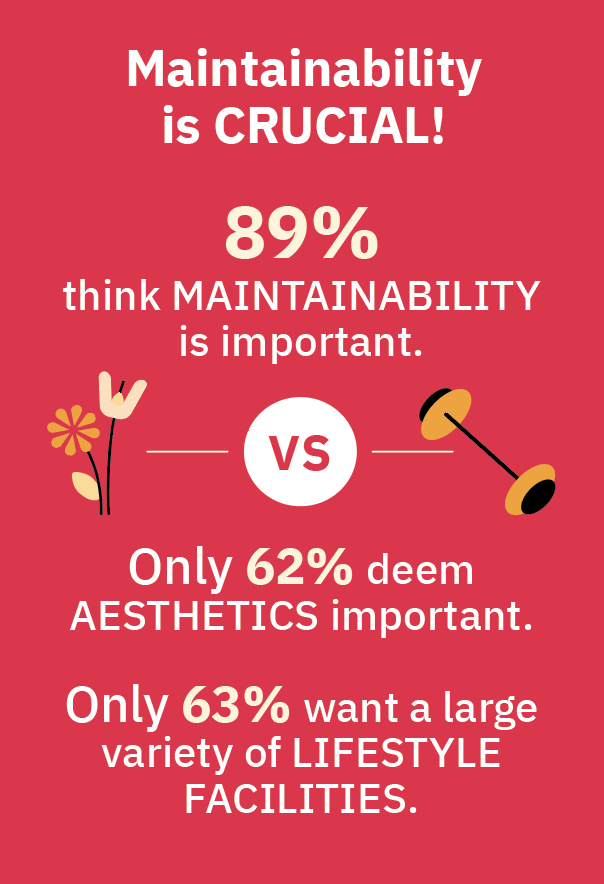 "The condition and common spaces in my strata project have contributed significantly to my quality of life."
Over 70% of the respondents agree with this statement. This comes as no surprise, but it points to how important it is for properties to be well-managed so that its shared areas and facilities can be enjoyed by all, not just within the first two years, but over generations.
It is true owners themselves play big roles in ensuring their properties are well managed and maintained through their management bodies and appointed property managers. However, more homebuyers are also beginning to realise that good property management starts from the moment the development plan is conceived.
A significant majority of 89% respondents in the survey prefer buildings or projects with easy-to-maintain facade, facilities and common areas. This trumps the number (62%) of those who deem the overall aesthetics of the project as important. In fact, only a mere 18% think it is "very important".
Similarly, only 63% of respondents regard the need for a large number of facilities (such as aqua gym, residents' lounge and games room) to be important.
"We have often pointed this out in our symposiums and findings from the EdgeProp Malaysia's Best Managed & Sustainable Property Awards (BMSPA). While some developers still think that over-providing facilities is a differentiator, buyers are becoming aware of the tradeoffs. Unless they were prepared to foot out considerable sums every month for the upkeep of these bells and whistles, they would do better with a smaller range of facilities that truly meet their needs," says managing director of EdgeProp, Alvin Ong.
Safety and wellness top concerns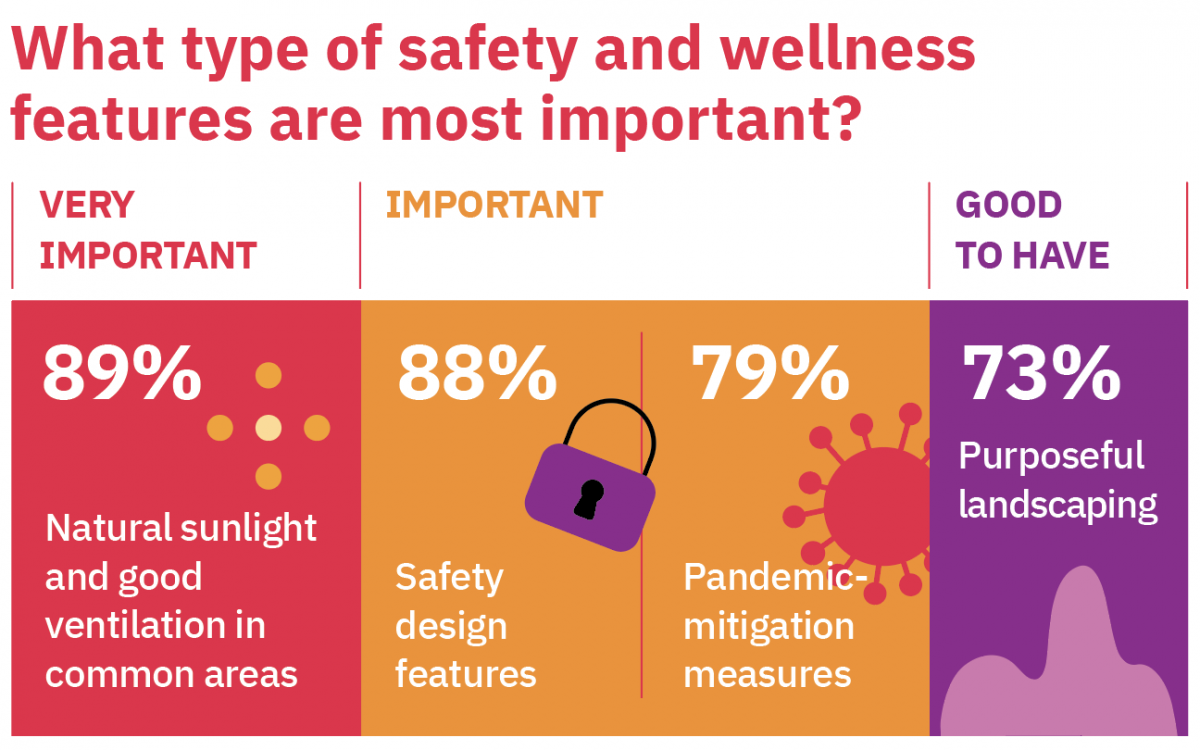 Topping the charts is natural sunlight and good ventilation in common areas, where as many as 90% desire easy access, bright and airy spaces, and good air quality in their shared spaces.
The fact that this attribute receives the highest rating out of all the 18 listed is rather eye- opening. While a free flow of air and daylight has become a requisite for home units, and almost all cognisant developers have ensured this is built into their designs, homeowners are also noting this is as important, if not more, in areas where they meet, chat, play and eat with their neighbours, friends and kins.
Coming in a close second is safety-design features, which is deemed important by 88% of the respondents. In fact, on the scale, this attribute receives the highest score among all the 18, where 50% say it is "very important".
Interestingly, though the examples given (fire-prevention systems, fall-prevention measures at swimming pools and balconies and adequate balustrade height) are not common in Malaysia, homeowners are recognising these as crucial elements.
"If anything, it represents an urgent call to industry players to raise the bar on building safety for the protection of properties and lives," Ong says, adding that the past BMSPA judges have highlighted a gap in this, where the attitude towards building safety across the industry still leaves much room for improvement.
In tandem, a high majority of 79% respondents want pandemic-mitigation measures at their dwellings.
Without doubt, the pandemic has created a forcing function on all kinds of industry including real estate, where features such as touchless lift technologies and good air ventilation are vital not only to prevent a similar crisis outbreak but also (during normal times), ensure good hygiene and sanitary practices for healthy living.
Besides preventive steps, pro-active initiatives for the promotion of wellbeing, such as purposeful landscaping, is also ranked highly by 73%, especially among the age groups of 30 and above, who are likely to appreciate this as they start families and grow older.
Integrated development
Integrated developments have been gaining traction in Malaysia in recent years and the same can be observed globally as well. In major cities around the world, traditional housing projects are blending into more exciting mixed-use developments, offering a myriad of amenities and services.
The perks of living in an integrated development with all the conveniences within hassle-free and time-saving reach appeal to many, as reflected in the 73% respondents who give their thumbs-up to developments offering integrated, vibrant and lively offerings.
Big yes to car-free living and connectivity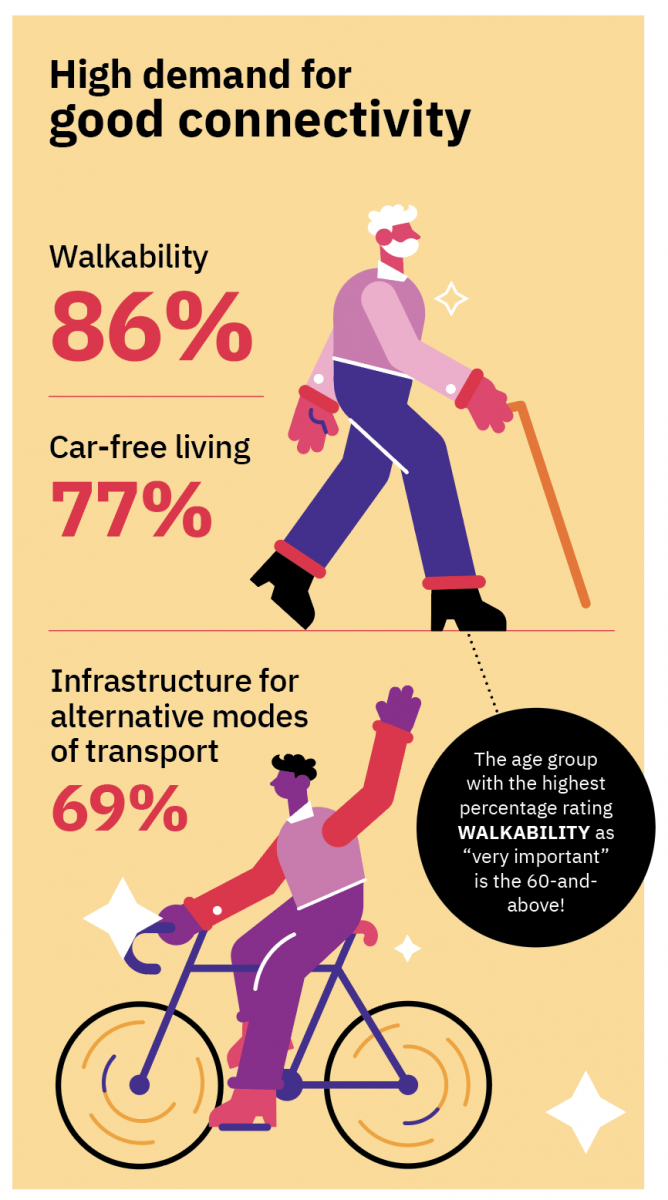 Globally, there is a shift in commuting modes from road to rail, where developed countries have established networks that facilitate car-free living. As an upcoming global city, Kuala Lumpur too is seen to be moving towards this lifestyle.
The Klang Valley is now served by a number of rail lines such as the Kelana Jaya Light Rail Transit (LRT) Line, Ampang and Sri Petaling LRT Lines, the Kajang Mass Rapid Transit (MRT) Line and the recently opened Putrajaya MRT Line. Within the city, the KL Monorail provides quick access to selected areas. In the near future, the MRT 3 Circle Line is touted as the critical final piece to complete the Klang Valley's urban rail network.
How receptive are the respondents, who mainly reside in the Klang Valley, towards such infrastructure developments?
Significantly, a majority of 77% are in favour of car-free living, and will likely opt for developments with good connections to reliable public transportations. Among age groups, the highest numbers of thumbs-up come from the youngest (18-29) – no surprise there – and the oldest (60 and above) – yes, that's right, our elders are once again leading the way.
In an interview commenting on the upcoming MRT 3 project with EdgeProp.my in early July 2022, Zerin Properties head of research and consultancy Roja Rani Applanaidu noted that residential properties located within 500m [of transit stations] (as a general rule of thumb) tend to see higher price appreciation rates of up to 50%.
In the same interview, Henry Butcher Malaysia chief operating officer Tang Chee Meng drew comparison to trends in Singapore and Hong Kong, pointing out that properties located close to rail stations do appreciate more than their unconnected counterparts.
The 60-and-above group also tops the list when it comes to voting on – surprisingly – walkability. Overall, walkability garners a whopping 86% who rate it important, where they want, among others, pedestrian-friendly pathways to reach amenities.
Along the same vein, 69% vote in favour of the availability of alternative modes of transport (electric scooters, bicycles) in their strata developments – further cementing that car-free living is the way forward.
Willing to pay more for better property management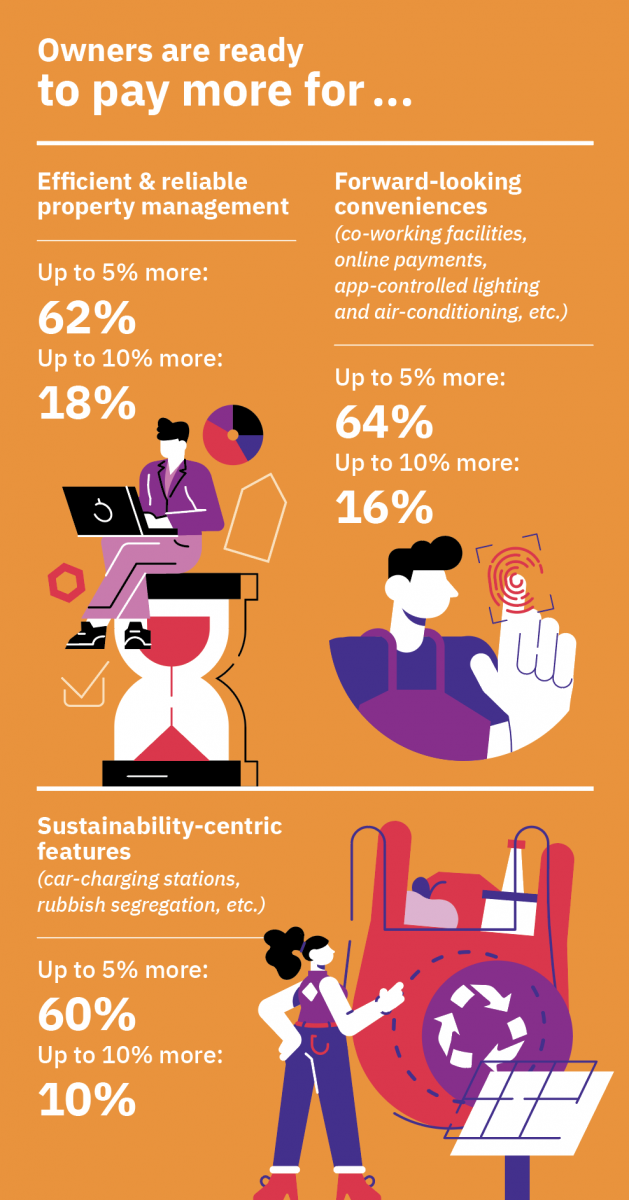 Good property management will provide peace of mind for owners, and this is the premise that anchors the BMSPA.
"Well-maintained properties will appreciate in value even as they age. And this is something that people are beginning to appreciate not just as common sense, but in dollars and cents," says Ong, noting the result of the survey, which shows 64% of respondents are willing to pay up to 5% more in service charges or maintenance fees for forward-looking conveniences, sustainability-centric features and efficient and reliable property management.
Eighteen per cent are even willing to pay 10% to 15% more for such quality services. Significantly, more than 20% of respondents from those aged 60-and-above value these qualities too and are willing to pay up to 10% extra.
"You may think that naturally, those who earn more don't mind paying more, but surprisingly, the findings show 60% of households who make less than RM10,000 are willing to spend more for better property management. This proves that, regardless of income, people are beginning to acknowledge the impact their contributions have directly on their quality of life and the value of their investments," adds Ong.
The future of smart living
Smart living has become a buzzword in the real estate arena, with more investments poured in to innovate and stay relevant to market demands.
Correspondingly, a good majority of 68% of respondents rate "smart living solutions" highly, where they resonate with the idea of connected devices, apps, face recognition hardware and touch-free technology to enhance security and safety as well as ease communication.
The favourable reception towards smart technology is observed across all age groups, even those from the digital-immigrant group of 50-and-above, against the general assumption of their hesitation.
However, Ong cautions that while there is a wide range of technological solutions for every big and small facet of life now, developers should not be tempted to deploy them merely as marketing tools, but to leverage tech and data purposefully to enhance the quality of life.
To expand it further, the survey has asked respondents to rank their level of receptiveness towards artificial intelligence (AI) taking over five different aspects of property management, and it shows most don't mind robots taking over building surveillance (refer to chart below).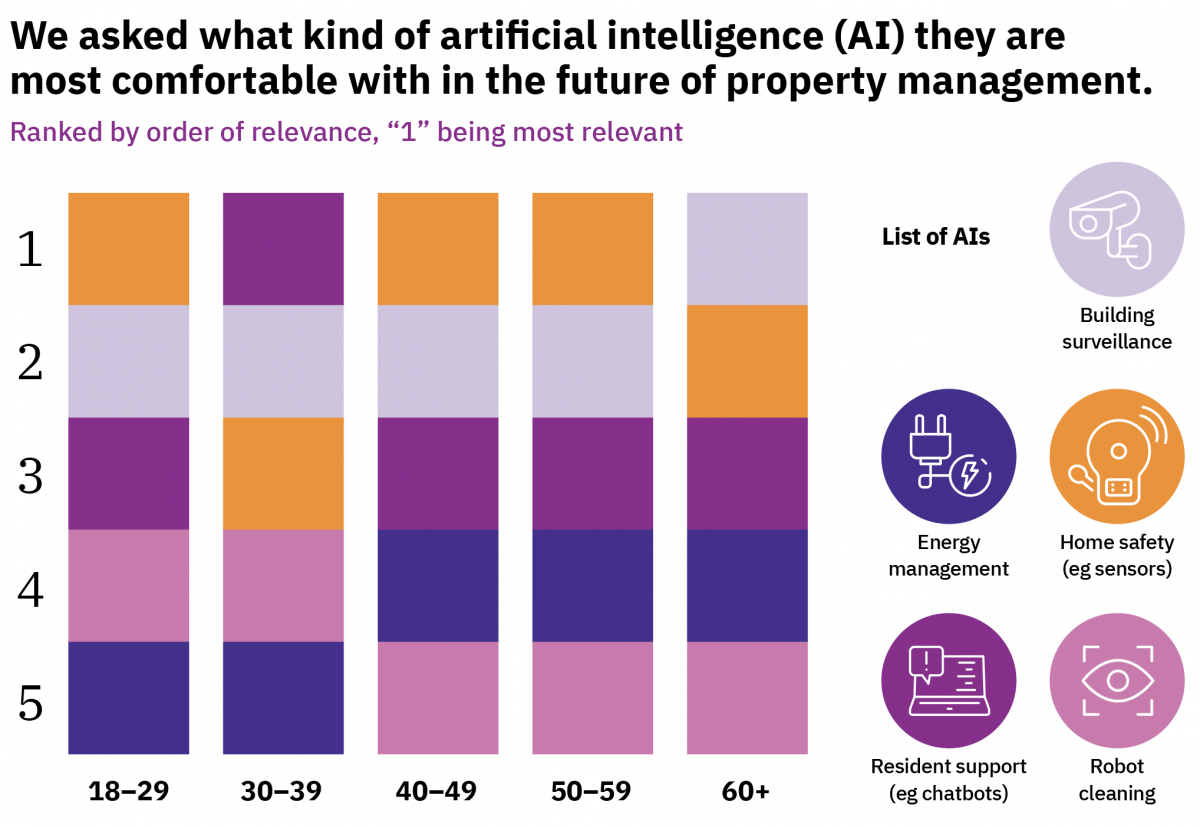 Download the full report here.