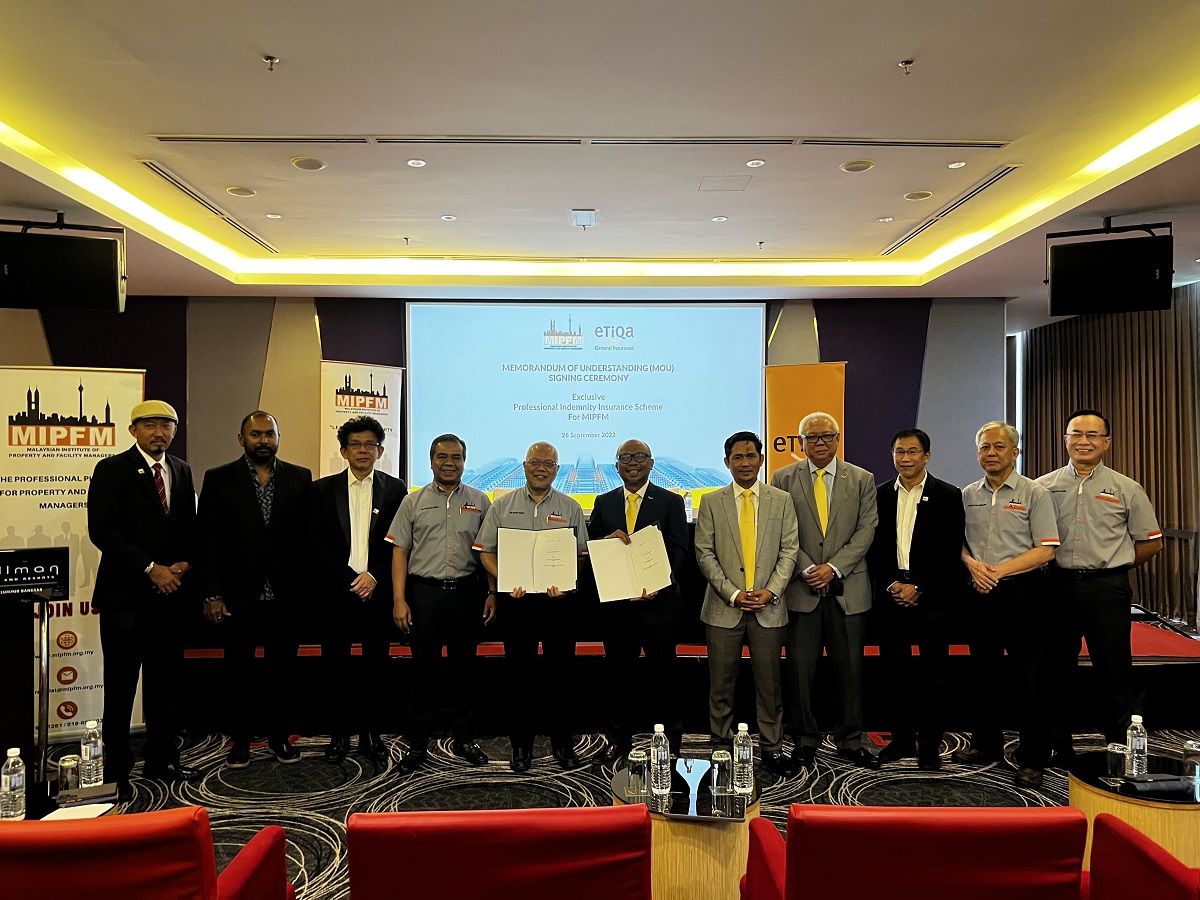 This is MIPFM's first collaboration towards professional indemnity insurance.
The scheme ensures the public is well protected as property management is now a regulated profession.
MIPFM also continues to do its best to deal with bad property managers.
KUALA LUMPUR (Sept 29): Aiming to provide greater professional security for the public, the Malaysian Institute of Property and Facility Managers (MIPFM) has entered into a memorandum of understanding (MOU) with Etiqa General Insurance Bhd to offer Professional Indemnity (PI) Insurance as well as the Fire and Miscellaneous Classes for members of MIPFM and property management firms.
The collaboration, which is the first of its kind for MIPFM, will benefit property managers in Malaysia as they are required to have a minimum PI coverage of RM500,000 before renewing their licences with the Board of Valuers, Appraisers, Estate Agents and Property Managers (BOVAEAP) Malaysia.
MIPFM deputy president Ishak Ismail said property management is regulated as a profession under the Valuers, Appraisers, Estate Agents and Property Managers Act 1981 (Act 242) and it is important to protect the interest of the public and the agents themselves from legal liability resulting from wrongful and negligent acts or mistakes.
"Because of the condition imposed by the regulatory body, MIPFM, which is the umbrella for 1,500 property managers, think that it is proper to collaborate with an insurance company," Ishak said.
He said Etiqa has been chosen based on its past experience and performance. It is also offering a special price for MIPFM members.
MIPFM president Datuk Seri Kamarulzaman Mat Salleh said it is important for the property managers and property management firms to be well covered under insurance to manage risk.
In his speech, read by Ishak, Kamarulzaman said Etiqa has agreed the Insurance Scheme Programme is designed and tailor-made specifically for MIPFM members and is not available to other similar associations or institutions.
"Therefore, MIPFM trusts this MOU will be beneficial to its members … To have an insurance scheme that is exclusive to MIPFM members only is part of our duties as MIPFM executive committee to serve the best for its members and the Institute," he said.
On the matter of dealing with bad property managers, Ishak said MIPFM is doing its best for its members and the public.
He said, basically, all the complaints that are channelled through MIPFM, be they against its members or against any property managers, will be directed to the BOVAEAP, as the latter has a due process on actions against the wrongdoers.
However, Ishak added, MIPFM will look into the issues raised by the public.
"We have crafted special trainings to address the basic issues raised by the public such as on financial management. So, we are doing a series on how property managers can and should perform according to the standards," he said.
Ishak added that MIPFM contacts the members and ensures they attend these trainings, and if necessary, will escalate the issues to BOVAEAP.