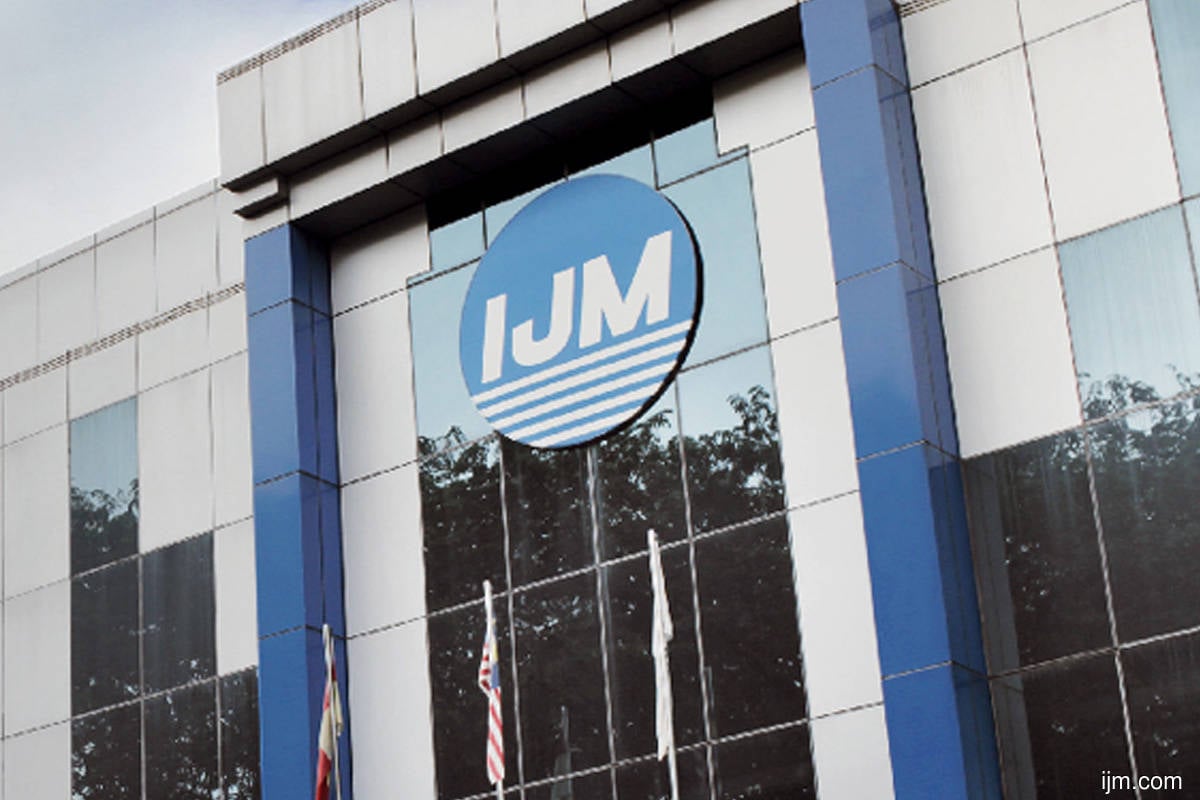 IJM Corp said it expects a satisfactory performance for the current financial year, supported by the recovery in the Malaysian business landscape despite global headwinds.
KUALA LUMPUR (Nov 25): IJM Corp Bhd turned profitable in the second quarter ended Sept 30, 2022 (2QFY2023), with a net profit of RM27.03 million from its continuing operations, compared with a net loss of RM29.32 million in the prior year.
The improvement in profitability came on the back of higher revenue and profit before tax (PBT), following the full resumption of business activities during the quarter, as countries emerged from Covid-19-induced lockdowns.
In 2QFY2023, IJM's operating revenue increased 22.6% year-on-year (y-o-y) to RM1.07 billion, while its PBT jumped 1,228% y-o-y to RM88.8 million. The higher revenue in 2QFY2023 was driven by higher revenues from the property development, manufacturing and quarrying, as well as infrastructure segments.
"The group's pre-tax profit increased 13-fold to RM88.8 million in the quarter (2QFY2022: RM6.7 million). Adjusting for unrealised foreign exchange losses of RM46.3 million, PBT would have improved to RM135.1 million," said IJM in a statement.
For the first half of the financial year ending March 31, 2023 (1HFY2023), IJM recorded a net profit of RM60.44 million, which was more than 2,000% higher compared with the corresponding period. Revenue from continuing operations increased 12.4% y-o-y to RM2.14 billion in 1HFY2023.
Meanwhile, PBT from continuing operations surged 99.1% y-o-y to RM180.03 million in 1HFY23, from RM90.43 million.
While the property development, mining and quarrying and infrastructure segments' revenue showed improvements during the quarter and first-half period, the construction segment's revenue declined by 22.6% to RM268.6 million in 2QFY2023 and 25.9% to RM536.87 million in 1HFY2023.
The declines were due to lower construction activities as a result of certain projects being completed in the previous financial year while new projects secured are presently in their initial stages. However, pre-tax profits improved in both 2QFY2023 and 1HFY2023 mainly due to higher profit margins recognised upon finalisation of accounts of recently completed projects, the group said.
Meanwhile, the performance of the infrastructure segment declined during the quarter and period under review, as its pre-tax losses widened by 89.3% in 2QFY2023 and 499.8% in 1HFY2023 mainly due to the overseas toll division which was affected by higher net unrealised foreign exchange losses (2QFY2023: RM35.3 million; 1HFY2023: RM68.3 million) on its US dollar denominated borrowings, and higher maintenance (resurfacing) cost.
The pre-tax losses were partially mitigated by the higher profit contributions from the group's local toll operations, said IJM.
Earnings per share fell to 0.77 sen from 17.42 sen previously, the construction group's Bursa Malaysia filing on Friday (Nov 25) showed. It also declared a two sen single tier first interim dividend for the quarter under review, payable on Dec 30, with the ex-date on Dec 14 and entitlement date on Dec 15.
In a separate statement, IJM Corp said it expects a satisfactory performance for the current financial year, supported by the recovery in the Malaysian business landscape despite global headwinds.
IJM Corp group chief executive officer and managing director Liew Hau Seng said the group reiterated that its strategic focus of building financial resilience in the last two years by implementing cost containment measures as well as aggressively paring down property inventory and low yielding assets, has strengthened its fundamentals post pandemic.
"The group's performance is supported by its outstanding construction order book of RM4.8 billion, which includes the four recently secured construction contracts worth RM1.4 billion — the Kapar Hospital and Inland Revenue Board office tower in Selangor, as well as the ASEM Chip Assembly & Testing Facility and Maritime Signature Commercial Tower in Penang.
"The group also has property unbilled sales of RM3.1 billion and its balance orders of ICP piles of over one million tons to further underscore its performance. The group's toll operations have recovered to pre-pandemic levels while the performance of our port operations will be dependent on the global recovery," he said.
In a separate bourse filing, IJM also announced a proposed acquisition of the remaining 40% equity interest in Radiant Pillar Sdn Bhd, a company set up in 1999 to develop IJM Land's Bandar Rimbayu, for a cash consideration of RM494 million.
The proposed acquisition, which is expected to contribute positively to the group post-completion, will accord IJM Land full control and complete beneficial interest in Radiant Pillar and commensurate with Bandar Rimbayu being a flagship township development of IJM Land.
On Friday, IJM Corp's share price settled two sen or 1.25% lower at RM1.58, bringing the group a market capitalisation of RM5.76 billion.