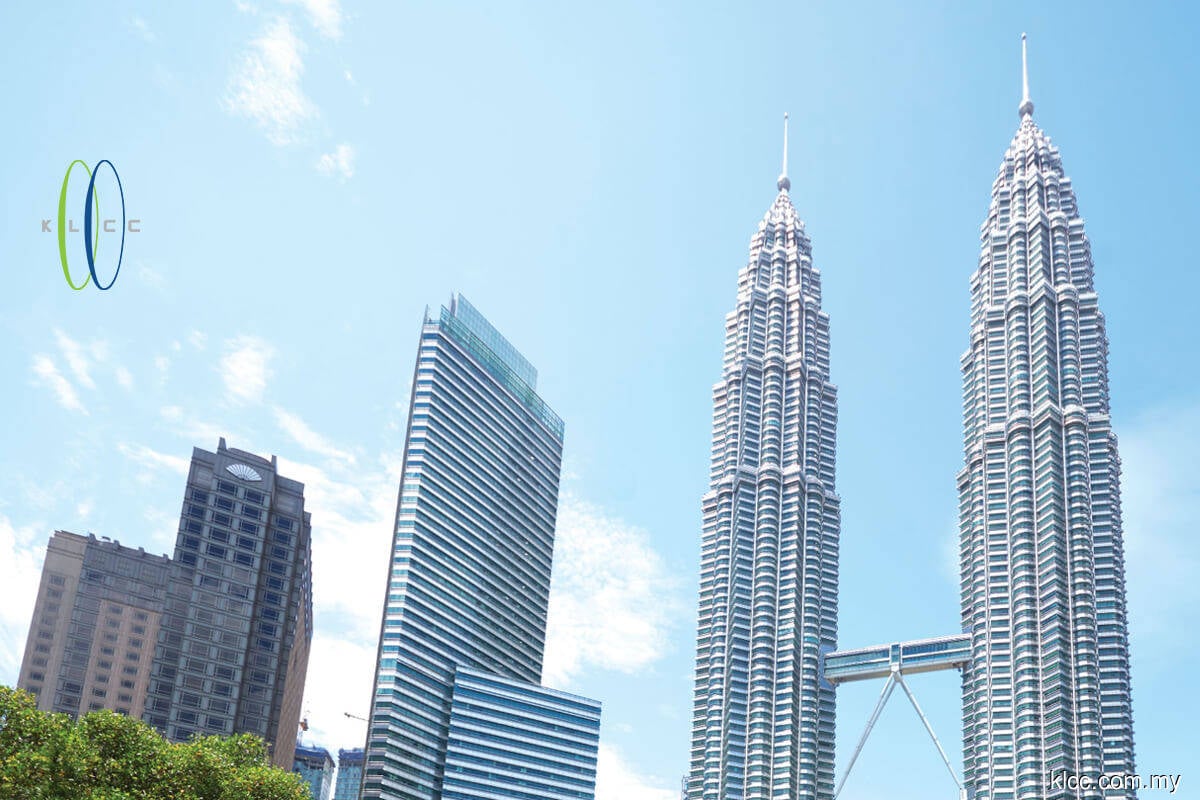 "The group has expressed interest in exploring global assets to add to its portfolio, but would prioritise improving the efficiency of its local operations first."
KUALA LUMPUR (Aug 15): Analysts believe that KLCCP Stapled Group's solid office occupancies, stronger sales, and improved hotel occupancies from higher tourist arrivals during the summer and Christmas holidays in the second half of the financial year ending Dec 31, 2023 (2HFY2023) will boost its earnings during the period.
After the group's results for 1HFY2023 came in within expectations, Kenanga Research expects the earnings pattern seen during the period to continue holding up in the coming quarters.
"During the first half of the year, retail footfall climbed by 48%, indicating that consumer spending is likely to remain robust. It was also supported by the rising moving annual turnover (MAT) of KLCC tenants by 37% in 1HFY2023.
"We opine that forward earnings will continue to be underpinned by: i) the office division's high occupancy rates (100% at end-June 2023, given the long-term, locked-in leases with high-quality tenants); ii) the retail division's 12 new tenants that increased the mall occupancy rate during the second quarter ended June 30, 2023 (2QFY2023); iii) the hotel operation's stride to hopefully break even in the medium term as the occupancy ratio picks up (close to 50% from about 62% prior to Covid-19); as well as iv) the management services' improved maintenance during the quarter with the rise in transient (+13% year-on-year) and season car park customers (+16% y-o-y). Meanwhile, the group has expressed interest in exploring global assets to add to its portfolio, but would prioritise improving the efficiency of its local operations first," Kenanga said in a research note on Tuesday (Aug 15).
The research house upgraded the stock to an "outperform", with an unchanged target price (TP) of RM7.18, based on its projected distribution per unit (DPU) of 39.5 sen for FY2024, against an unchanged target yield of 5.5%, which is derived from a 1% yield spread above its 10-year Malaysian Government Securities (MGS) assumption of 4.5%.
"The low yield spread reflects the prime asset portfolio (as anchored by office towers in the KLCC area and Suria KLCC mall), which we believe is underappreciated at current price points.
"We opine that the group's target markets could be less affected by inflationary headwinds, proven by the increase in MAT (moving annual turnover) reported by the group. There is no adjustment to our TP based on ESG (environmental, social and governance factors), given a three-star rating as appraised by us," said the research house.
Meanwhile, HLIB Research said KLCCP Stapled's office portfolio should stay resilient in the face of an oversupply of office spaces, due to stable revenue, thanks to the group's triple net leases with established multinational companies.
"For retail, we understand that tenancy sales of Suria KLCC remained resilient, even though it saw a slight decline quarter-on-quarter (q-o-q) due to a lapse of festive seasons in 1QFY2023.
"Nonetheless, we expect local retail sales to remain stable for the remainder of FY2023, with the summer season prompting increased footfall from foreign tourists. The Mandarin Oriental hotel registered a stable showing q-o-q, despite 2QFY2023 typically being a weak tourism season.
"As occupancy rates hovered at 50% year-to-date and the ADR (average daily rate) remained stable at about RM900, we believe the hotel should register a stronger 2HFY2023, as KLCC saw promising visitation numbers in July, likely aided by summer holidays in the West, coupled with the holiday season in 4QFY2023, and improving foreign tourist arrivals."
HLIB Research kept its "hold" rating of the stock, with a TP of RM6.68, based on the estimated FY2024 DPU on a targeted yield of 5.7%, derived from the five-year historical average yield spread between KLCCP Stapled and 10-year MGS.
"We view that KLCCP Stapled's risk and reward profile is reasonably balanced at this juncture. Rerating catalysts include a turnaround of the hotel segment and acquisition of new properties," it said.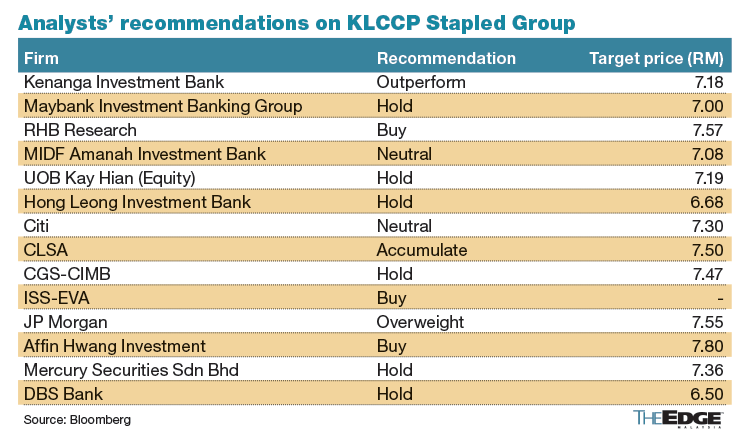 Meanwhile, RHB Research said while about 83% of KLCCP Stapled's borrowings are on fixed costs, about half of them are due for refinancing in FY2024, which could lead to higher rates.
It also noted that the management of the property trust is confident that the Mandarin Oriental hotel will break even this year, as the second half of the year is typically seasonally stronger, thanks to more visitors during the summer holidays and Christmas season.
"With 62% of the visitors in 1HFY2023 coming from abroad, the high room rates should be sustainable. The management guided that the rates are competitive against other regional hotels.
"For retail, 1HFY2023 footfall rose 48% y-o-y from an increase in tourist numbers. The higher occupancy rate of 96%, following the opening of 12 new restaurants in the reconfigured food and beverage area, led to a 9% y-o-y rise in revenue. Management services revenue rose 43% from increased facilities management activities and higher car park income.
"We lower our FY2023-25 net profit forecasts by 1%-2%, after cutting our hotel occupancy rate assumptions to be more conservative on the pace of recovery, and raise our cost of borrowings assumptions. Our TP incorporates a 2% ESG premium based on a 3.2 ESG score (above the country's median)," it said.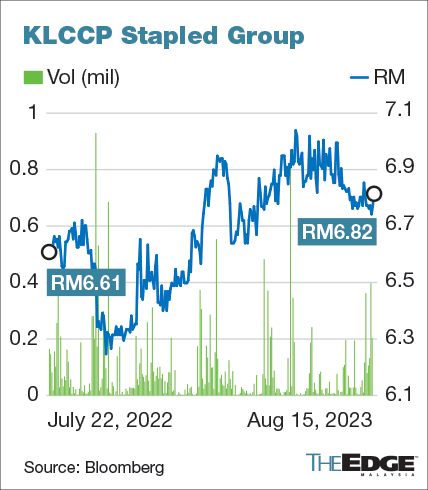 KLCC Stapled's net profit for 2QFY2023 rose 9.46% to RM180.8 million, from RM165.18 million a year ago, on the back of higher revenue and interest income.
The group — comprising KLCC Property Holdings Bhd and KLCC Real Estate Investment Trust — saw quarterly revenue grow 12.65% to RM394.63 million, from RM350.31 million, on the back of an improved performance across all business segments, buoyed by an upswing in business and meetings, incentives, convention and exhibition activities.
It declared a dividend of 8.80 sen per stapled security, payable on Sept 27. This brought KLCC Stapled's total income distribution to 17.30 sen for 1HFY2023.
For 1HFY2023, the group's net profit went up 10.34% to RM361.37 million, from RM326.61 million a year earlier, while revenue also increased 15.38% to RM775.38 million from RM672 million.
Looking to buy a home? Discover exclusive rewards and vouchers for your dream home when you sign in to EdgeProp START.