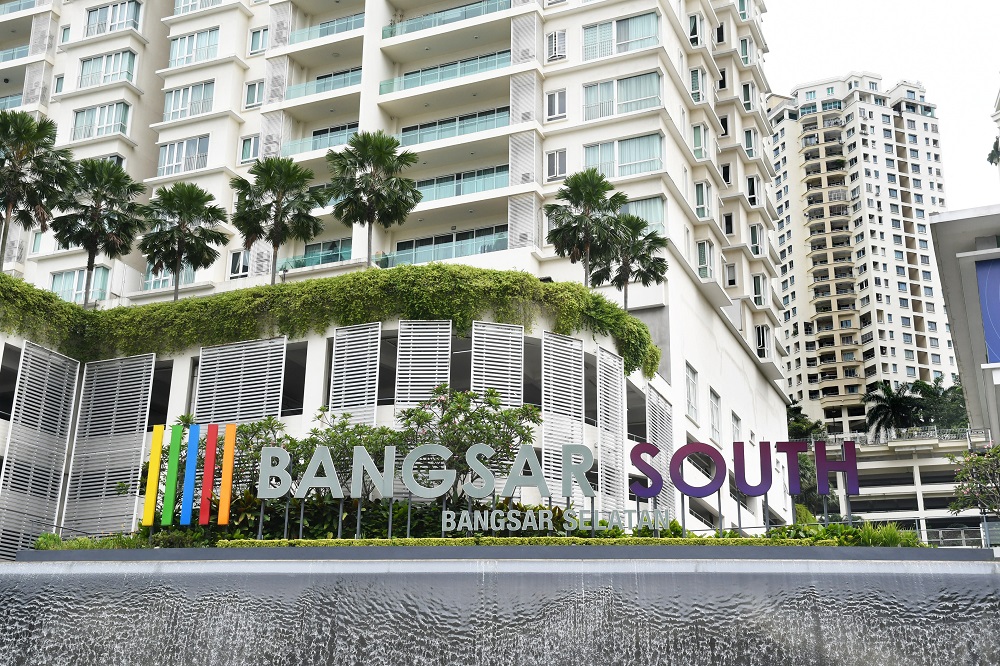 Adakah terdapat trend naik yang menunjukkan berita baik bagi pemilik harta? Dan adakah projek yang baru siap membantu hasil sewaan selepas Covid-19?
Lebih dari 150 tahun yang lalu, pada tahun 1870-an, asas kepada apa yang hari ini dikenali sebagai Bangsar South telah ditanamkan sebagai perkampungan bandar yang dikenali sebagai Kampung Kerinchi. Dari permulaannya yang sederhana, ia telah berkembang menjadi sebuah kawasan yang berjaya dengan gandingan kemajuan teknologi, kecemerlangan senibina, dan kehidupan kosmopolitan.
Apabila UOA Holdings Bhd membeli sebidang tanah seluas 60 ekar di sana pada tahun 2005, ia memulakan perjalanan pembangunan yang telah membawa kepada hartanah bernilai tinggi seperti yang dikenali hari ini.
Pembangun lain juga turut terlibat, seperti Suezcap Capital Sdn Bhd, BON Estates Sdn Bhd, Weida Properties Sdn Bhd, dan KL Eco City Sdn Bhd.
Keajaiban teknologi dan tempat perlindungan bandar
Pada masa kini, kawasan ini terutamanya menampilkan pembangunan berasaskan transit (TOD), yang terintegrasi dengan lancar dengan pencakar langit pejabat Kelas A terbaik dan pencakar langit kediaman yang menjulang tinggi.
Perniagaan teknologi yang mencorak, dari syarikat permulaan yang pesat berkembang hingga kepada gergasi yang telah mapan seperti Alibaba, TNG Digital, Honeywell, dan Razer, telah memilih untuk menubuhkan pejabat mereka di Bangsar South dengan strategik.
Ini tidak hanya menarik tenaga kerja yang berkembang, tetapi telah meningkatkan status Bangsar South menjadi destinasi kediaman pilihan di kalangan warga asing.
Harga transaksi median bagi rumah telah meningkat
Harga sewa dan jualan purata bagi hartanah di Bangsar South telah mengalami peningkatan nilai modal dari tahun ke tahun, terutamanya pembangunan terintegrasi dan pencakar langit. Ini tanpa ragu telah menarik campuran bersemangat penduduk kaya dan kelas pertengahan ke kawasan ini.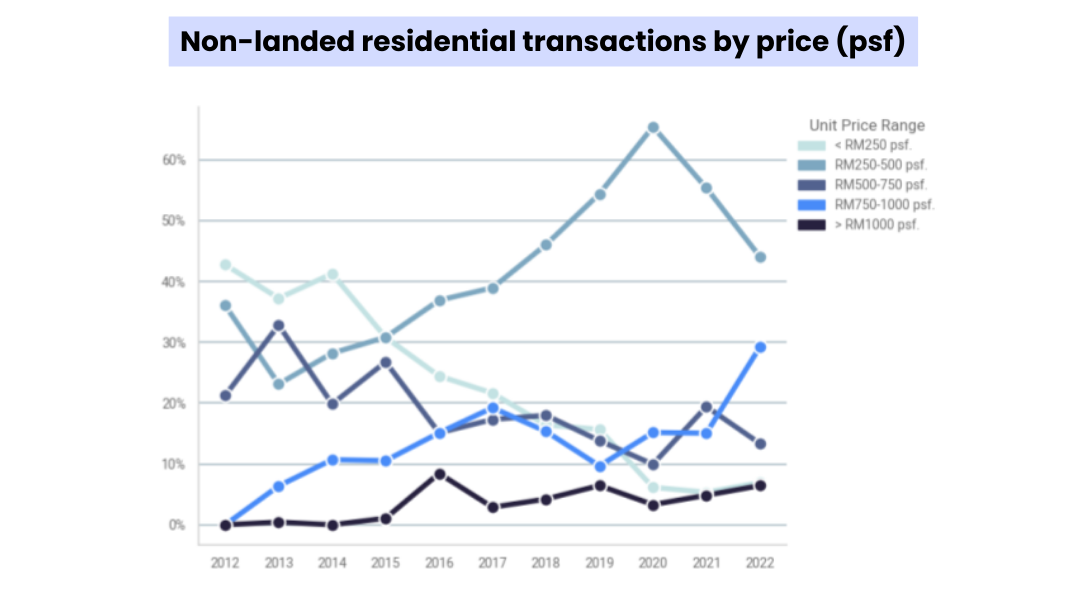 Berdasarkan pandangan transaksi EdgeProp mengenai Bangsar South, pelbagai hartanah bukan berkembar dalam julat harga yang lebih tinggi (RM750-RM1,000 psf) mengalami peningkatan bahagian pasaran pada tahun 2022.
Hartanah yang menyumbang kepada peningkatan transaksi dalam julat harga yang lebih tinggi
Di satu hujung spektrum, terdapat Novum Bangsar South, sebuah kediaman berkhidmat dengan 729 unit yang merangkumi ukuran binaan dari 647 kaki persegi hingga 1,429 kaki persegi dan harga unit median RM1,048 psf. Projek ini telah siap pada tahun 2019.
Projek-projek yang lebih lama seperti The Park Residences oleh Kumpulan UOA, yang telah siap pada tahun 2011, mempunyai kawasan binaan yang merangkumi dari 1,260 kaki persegi hingga 2,095 kaki persegi dan jumlah keseluruhan 470 unit merentas dua blok.
Projek yang paling baru yang telah siap di kawasan ini, iaitu SouthLink Lifestyle Apartments, juga oleh Kumpulan UOA, menawarkan sejumlah 1,422 unit kediaman berkhidmat dengan ukuran binaan dari 452 kaki persegi hingga 904 kaki persegi.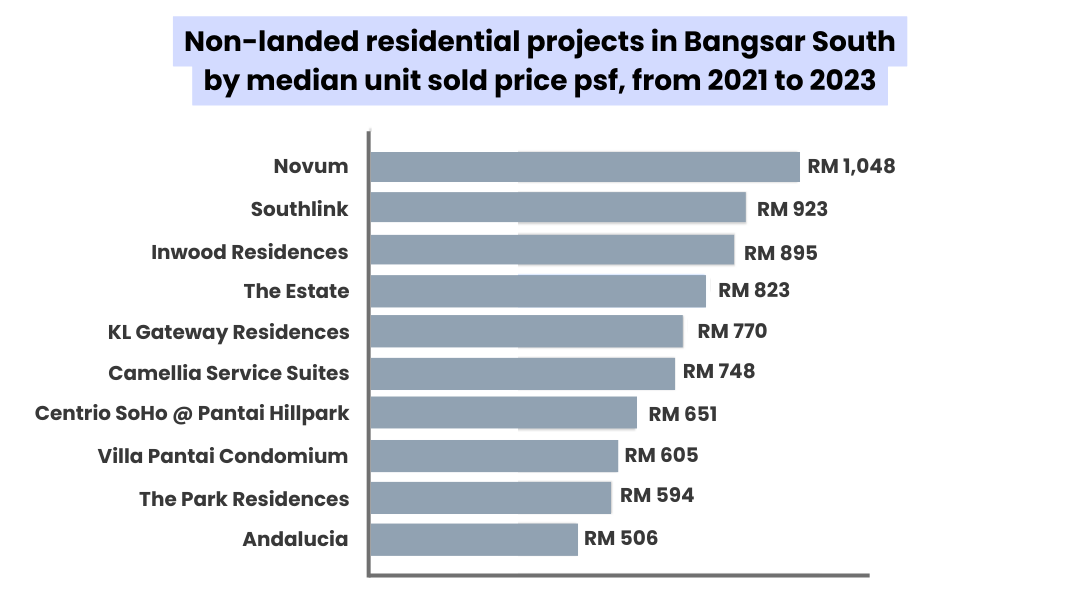 Sebagai perbandingan yang ketara, unit terkecil di The Estate bermula dari 2,346 kaki persegi dan merentasi sehingga 3,110 kaki persegi. Dengan jumlah unit yang sederhana sebanyak 328, The Estate oleh BON Estates membezakan dirinya dari tawaran sekitarnya dengan unit berkeluarga yang luas - satu perkara yang jarang dijumpai di bandar. Pembangunan ini telah siap pada tahun 2021.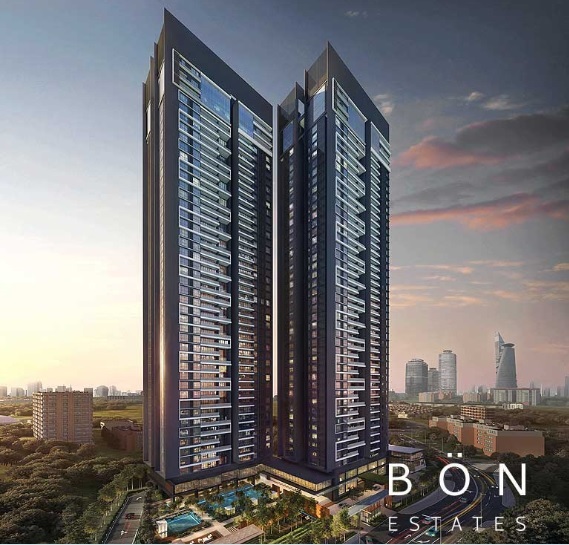 Menurut data transaksi EdgeProp, beberapa pembangunan baru juga telah mencatatkan pertumbuhan yang besar selepas pandemik. Secara mencolok, The Estate menunjukkan kenaikan menarik sebanyak 18% dari harga pelancarannya pada RM700 psf kepada harga jualan median semasa RM823 psf.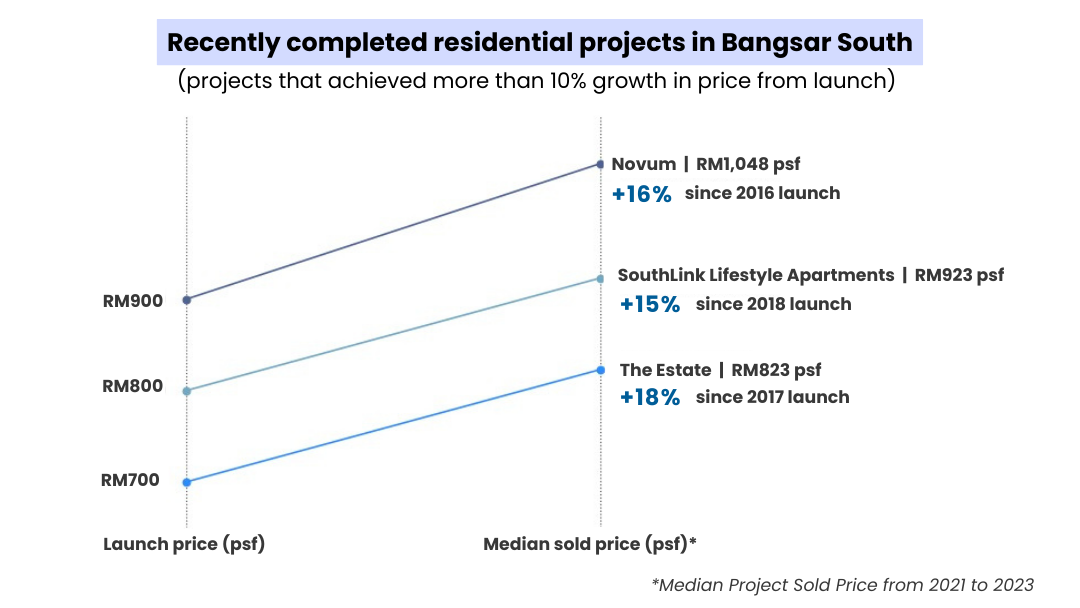 Unit kondominium berukuran besar untuk keluarga - satu trend?
Walaupun kediaman 1 hingga 2 bilik yang kompak secara tradisinya menjadi tumpuan untuk pelaburan hartanah, pemilik yang menduduki sendiri cenderung untuk mencari ruang yang lebih besar, dengan penekanan pada fungsionaliti dan kemewahan.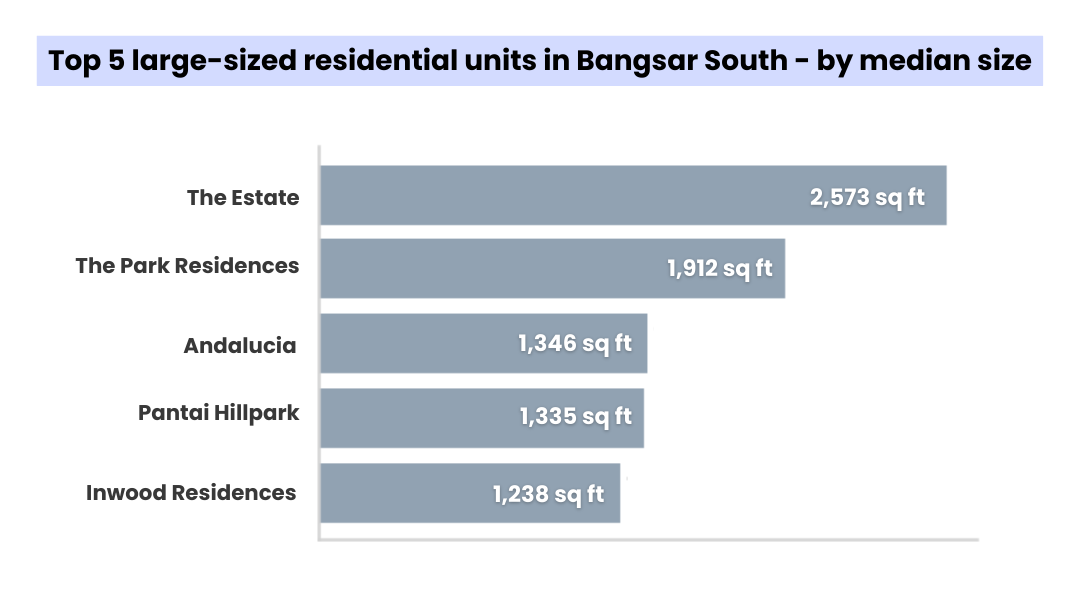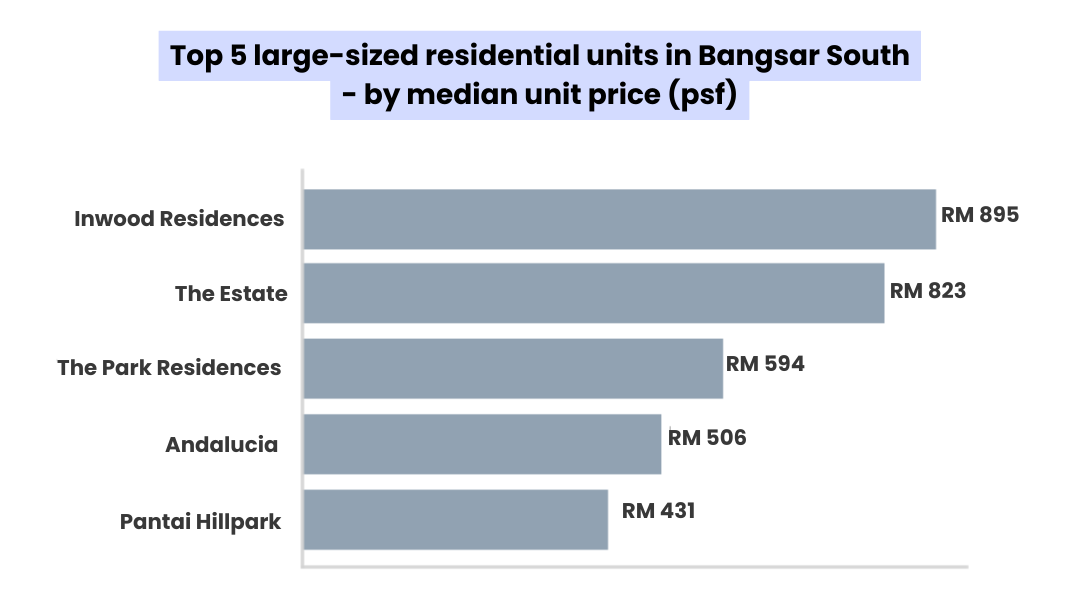 Di dalam kawasan Bangsar South, ketersediaan unit yang lebih besar masih terhad kepada beberapa pilihan dalam setiap projek.
Dengan kehadiran The Estate, pembeli dan penyewa kini mempunyai pilihan untuk unit berkeluarga. Sebuah unit 4+1 bilik yang dilengkapi sepenuhnya di The Estate disenaraikan pada harga RM2.5 juta menjelang pertengahan Ogos di EdgeProp.my.
Menurut pandangan projek EdgeProp, hasil sewaan adalah pada kadar 7.31%* dengan sewaan bulanan antara RM4,000 dan RM14,000.
Kondominium berukuran serupa di kawasan Bangsar yang bersebelahan dijual pada harga RM900 hingga RM1,300 psf.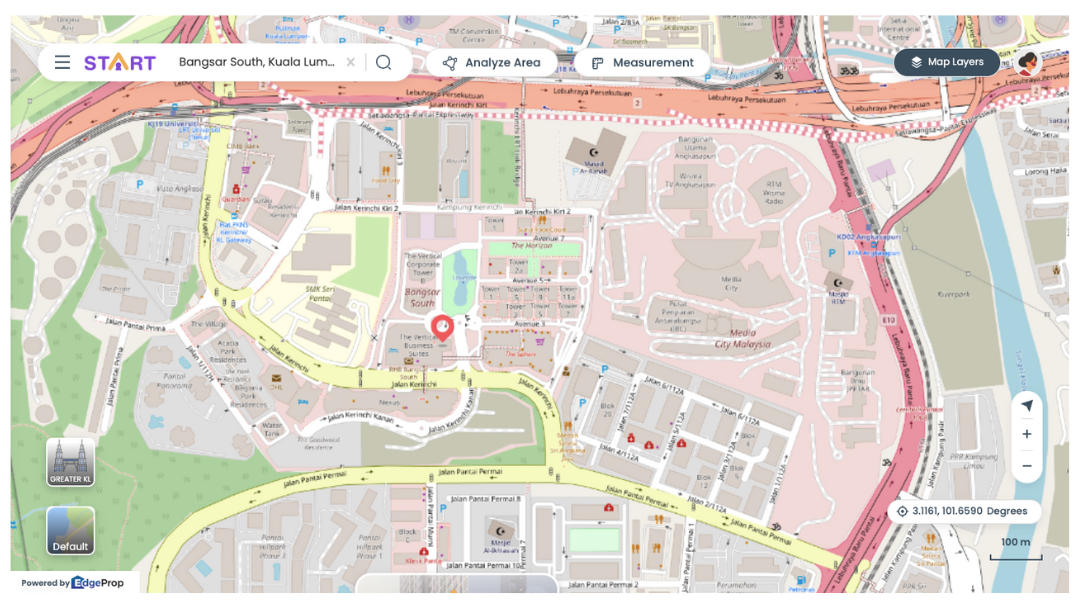 *Berdasarkan data sewaan permintaan dalam tempoh 12 bulan yang lepas.
Sumber: Semua data adalah pandangan eksklusif dari EPIQ yang didorong oleh EdgeProp.
Mencari untuk membeli rumah? Daftarlah untuk EdgeProp START dan dapatkan ganjaran eksklusif dan baucar untuk PEMBELIAN rumah di Malaysia (utama atau sekunder)!
Artikel ini diterjemahkan dari bahasa Inggeris. Anda boleh membaca artikel asal di sini.