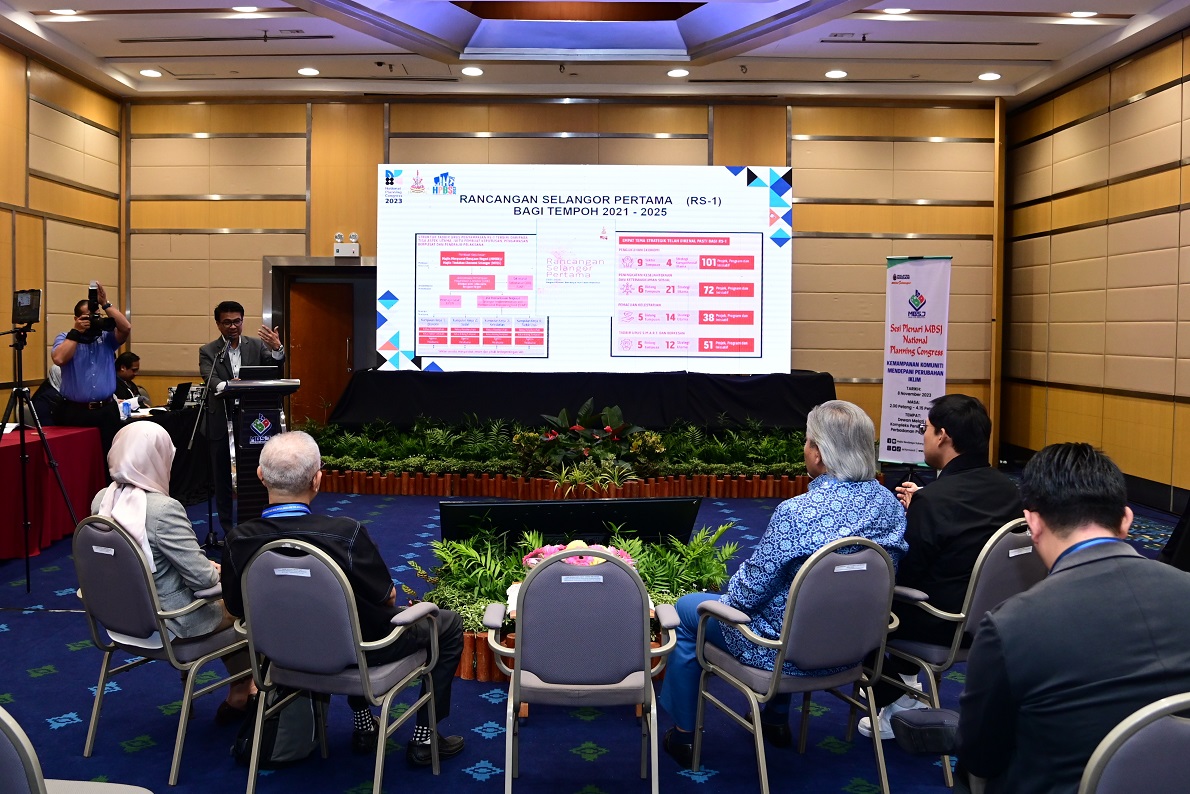 MBSJ director of town planning department TPr Ismail Muhamad: Awareness is the foundation. If there's no foundation from the education sector, even if we discuss it 10 times, our efforts are destined to fall short.
PUTRAJAYA (Nov 17): The sustainability of this generation begins with strong education and awareness at schools, highlighted a speaker in the National Planning Congress (NPC) 2023, held under the theme "Planning For Malaysia Madani to Accelerate SDG (Sustainable Development Goals) 2023".
"Selangor has implemented educational programs that cover crucial issues such as climate change, recycling, and environmental sustainability for the younger generation that we conduct in collaboration with schools and others as one of the initiatives," said deputy secretary of the Selangor State Government (development) and Selangor Economic Planning Unit (UPEN) director Datuk Johary Anuar during the "Climate Action Plan Towards Sustainable Community" session, hosted by the Subang Jaya City Council (MBSJ).
Read also
NPC 2023: Micro planning needed to allow city inhabitants to shape their communities
MIP President explains what, why, who of upcoming National Planning Congress 2023
Government upping efforts towards Smart Cities
NPC 2023: Countries should address transboundary issues to improve environment
He emphasised that in order to achieve a sustainable community, it doesn't only require intellectual collaboration and cooperation among the public sector, communities, and NGOs, but it also "starts with us as an individual".
MBSJ director of town planning department TPr Ismail Muhamad shared the same view as Johary that awareness should start at schools.
"Awareness is the foundation. If there's no foundation from the education sector, from the early stages up to university levels and within the workplace, even if we discuss it 10 times, our efforts are destined to fall short. Even when foreign speakers address climate change, they still emphasise the importance of early education at the school level. It's a collaborative effort that is crucial and demands our attention," he said
On behalf of MBSJ, he called on fellow town planners in the government sector to prepare an action plan and initiate a collaborative, synergistic, and continuous effort with stakeholders, especially their respective state education departments, ensuring that as children grow up, they will develop an appreciation and respect for the environment.
Meanwhile, Anthony Tan Kee Huat, financial director of All Party Parliamentary Group - SDG Secretariat (APPGM-SDG), emphasised the need to bolster government monitoring to ensure effective use of public resources in government projects. He also stated that the APPGM-SDG adopts a bottom-up approach, engaging with communities to address their needs. Proudly, he noted a remarkable 100% success rate across 600 projects by the NGO.
Climate change can cause health problems
In his presentation on the "Impact Of Climate Change On Health Trends And Cost", Hayat Technologies Sdn Bhd chief executive officer Dr Helmi Zakariah said that one of the ways to raise awareness is by informing people about the health issues that can be caused by climate change
"Research has shown that access to healthcare institutions contributes to only 45% of your overall well-being. The rest of it is influenced by the environment and the socio-economic status that you are in. Climate change increases both individual and healthcare system vulnerability, leading to higher healthcare costs," he revealed.
Dr Helmi also explained that community screenings can be done with climate change in mind such as the Selangor Saring program. It utilises predictive and risk profiling, increasing attendance from 30% to 70%, and identifying positive cases from 25% to 80% using the same resources. This approach not only reduces costs by 45%, surpassing global benchmarks of the Non-communicable Diseases (NCD) screening program, but also promotes environmental sustainability.
Addressing the "Impact Of Climate Change On Healthcare Industry", Dr Alice Zuriah Asidah Abdullah, Group Sustainability Strategy Lead of KPJ Healthcare Bhd, highlighted the healthcare sector's significant energy consumption and its contribution to greenhouse gas emissions.
She emphasised the importance of energy efficiency and decarbonisation strategies to mitigate climate change's impact. While renewable energy plays a crucial role, Dr Alice Zuriah underscored the primacy of energy conservation measures.
She also echoed the call for increased awareness and education on sustainability among the younger generation.
Looking to buy a home? Sign up for EdgeProp START and get exclusive rewards and vouchers for ANY home purchase in Malaysia (primary or subsale)!