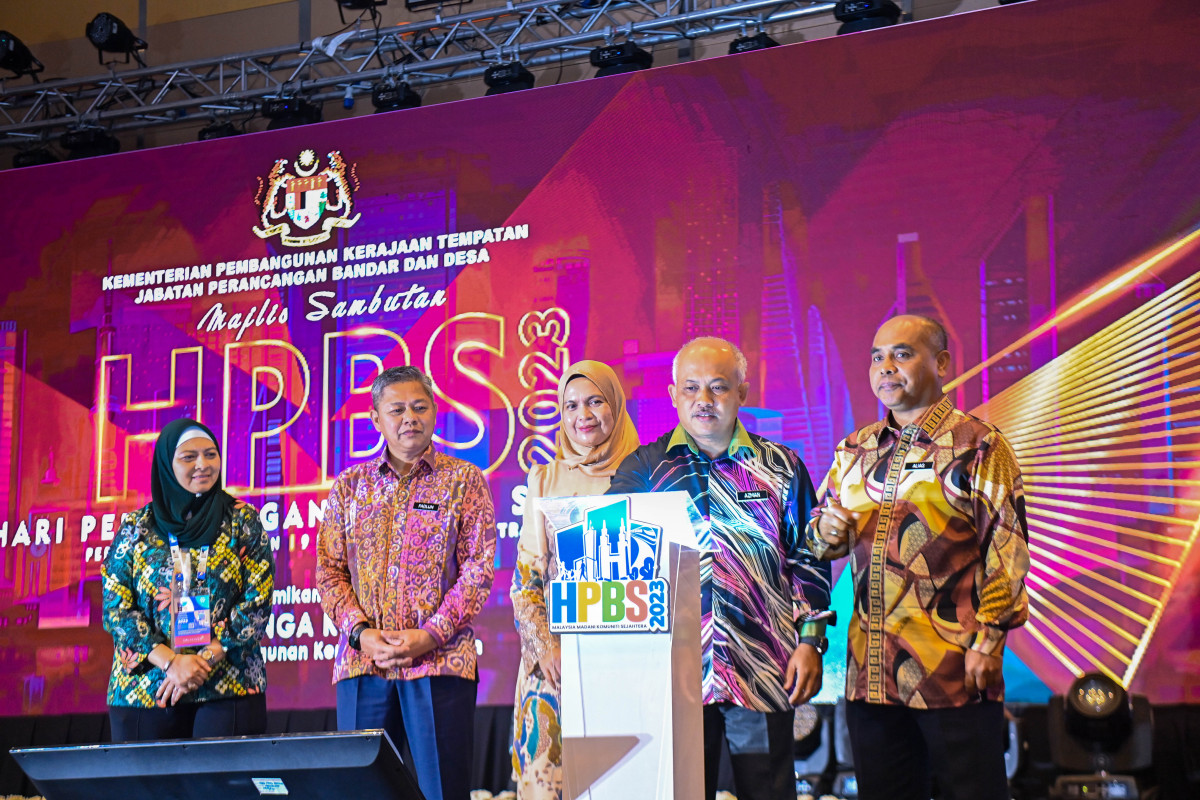 To incentivise towns and cities to transition into Smart Cities, the Ministry of Local Government Development (KPKT) will provide a RM200,000 grant to local authorities that win the Malaysia Urban Planning Awards (MUPA) starting next year.
PUTRAJAYA (Nov 15): The government and town planners are stepping up efforts to transition the nation's towns and cities into liveable communities with opportunities for a high quality of life, affordable homes, cleaner environment and green transportation options.
To incentivise towns and cities to transition into Smart Cities, the Ministry of Local Government Development (KPKT) will provide a RM200,000 grant to local authorities that win the Malaysia Urban Planning Awards (MUPA) starting next year.
Read also
NPC 2023: Micro planning needed to allow city inhabitants to shape their communities
MIP President explains what, why, who of upcoming National Planning Congress 2023
NPC 2023: More awareness needed from school level to build sustainable community
NPC 2023: Countries should address transboundary issues to improve environment
Speaking after the launch of World Town Planning Day (WTPD) 2023 here last Thursday (Nov 9), KPKT secretary general Datuk Wira M Noor Azman bin Taib said this grant, which will first be extended to the recipients of the Smart City Rating Award, will enable the respective local authorities to fund smart-city related projects and activities.
MUPA is a platform to recognise local authorities and developers that offer excellence in municipal service in their respective localities. The awards are organised by the Department of Town and Country Planning (PLANMalaysia) annually.
In conjunction with the WTPD, Noor Azman, representing KPKT Minister Nga Kor Ming, presented this year's MUPA to 10 recipients of the Malaysia Outstanding Sustainable Development Awards 2023, 29 recipients of the Smart City Rating Award 2023 and 22 recipients of the Sustainable City Appreciation Award 2023.
The Smart City Rating Award intends to spur local authorities to implement the Smart City initiative to emerge as Smart City Early Adopters in adherence to the Standard MS ISO 37122:2019 Smart City indicator, while the winners of the "Most Sustainable City Award" are judged based on the Malaysia Urban-rural National Indicators for Sustainable Development (MurniNETS), implemented since 2002.
"We [KPKT] aim for all 61 local authorities of city status and above to achieve the Smart City Early Adopter status by 2025," Noor Azman stated.
As part of WTPD 2023, PLANMalaysia has introduced a new award category – the "Malaysia Outstanding Sustainable Development Award 2023" to applaud developers which establish eco-friendly built environments that are both innovative and socially inclusive. The award includes four categories: the Socially Inclusive Design Award (winner: Setia City Park by S P Setia Bhd), Green Development Award (winner: Desa ParkCity by ParkCity Group), Innovative Design Award (winner: SkyAwani 3 Residences by SkyWorld Development Bhd), and The Most Outstanding Sustainable Township Award (winner: Desa ParkCity).
Empowering community through urban governance
The theme for the WTPD this year, "Malaysia MADANI Liveable Communities" (Malaysia MADANI Komuniti Sejahtera) embodies the importance of empowering the community through urban governance to bring development and a prosperous life.
"This theme was chosen to align with the six core values of the Malaysia MADANI concept, particularly emphasising sustainability in creating a balanced quality of life and well-being from all aspects especially economic, social and environmental," said PLANMalaysia director general TPr Dr Alias Rameli in his welcome address at the WTPD celebrations.
He emphasised the significance of empathy in aligning growth with the community's needs and advocating for inclusivity in development plans by incorporating the concept of community-based planning.
Paving the way for better future cities
Concurrent with the WTPD celebrations held during the National Planning Congress (NPC) 2023, delegates were privy to three parallel talk sessions discussing key industry issues. In the "Building Sustainable City for Future Generations" session, panellists discussed efforts that prioritise environmental stewardship, renewable energy, and resource-efficient urban development to establish a sustainable legacy for generations to come.
One of the key topics raised was the use of Smart Government Services to enhance the Ease of Doing Business through the One-Stop-Centre (OSC) System. Putrajaya Corp director of planning and development control TPr Salmah Salman outlined the benefits of the OSC 4.0 developed by Putrajaya Corp, an upgrade in delivering planning permission within 48 days from the previous 53 days. She noted that Prime Minister Datuk Seri Anwar Ibrahim had put forth his aspiration for the planning process to be reduced further to 14 days, which required the cooperation of Professional Submitting Persons to ensure all documentations for the building plan approval process is complete.
The OSC 4.0 is the first online platform in Malaysia used to process applications for development plans approval and monitoring of development phases until Certification of Completion and Compliance (CCC).
The session, moderated by Malaysia Institute of Planners (MIP) advisory council member Datuk Seri Jebasingam Issace John, also discussed the role of leadership in building climate-resilient cities and planning cities for the future generation.
Ipoh Mayor Datuk Rumaizi Baharin @ Md Daud, presenting on roles and responsibilities of leadership towards a sustainable and green future for cities, outlined the importance of leading the elements of human, infrastructure and nature. He presented the Ipoh City Framework as an example of leadership in cities outlining the seven domains, 85 indicators and 99 initiatives identified to make Ipoh a Smart City by 2030.
Young Planners Network Commonwealth Association of Planners leader Olafiyin Taiwo drew on the case study of Wales in the UK when delivering her thoughts on how planning can incorporate sustainable development goals to achieve integrated and inclusive growth for every member of the society.
"When we plan for the future generation, we are not only planning for those not born, but those who are already living here, so we need to consider what challenges we are facing now," she pointed out.
The Well-being of Future Generations Act introduced in Wales in 2015, outlines how sustainable development is integrated across all the different areas of the society, necessitating public bodies to think about the long-term impact of their decisions and prevent persistent problems such as poverty, health inequalities and climate change.
Looking to buy a home? Sign up for EdgeProp START and get exclusive rewards and vouchers for ANY home purchase in Malaysia (primary or subsale)!