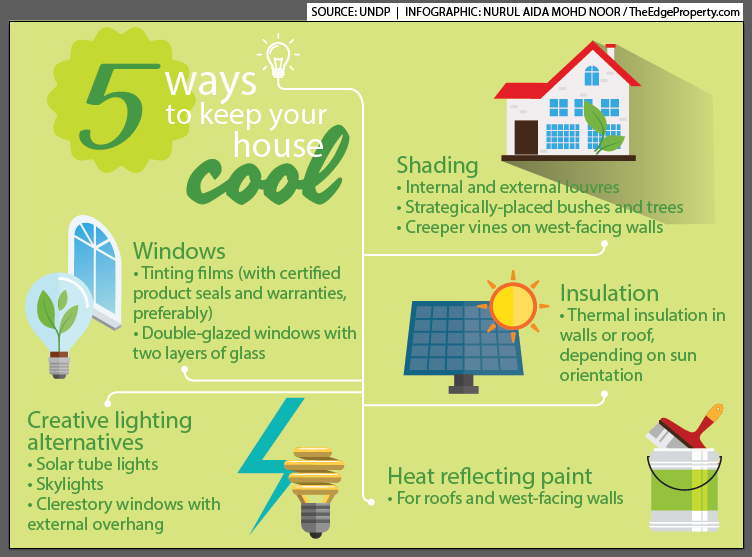 ENERGY-efficient measures to minimise the heat transfer into your house or building will reduce the usage of your air-conditioners and consequently your electricity bills. But how can we make our home cooler than the outdoors?
Shading
This is a time-tested solution. There are many choices of window shadings with external or internal louvres. Louvre designs not only minimise incoming heat, but also promote natural air ventilation. For exterior walls, planting bushes and trees at the right spot could provide shade from the afternoon sun. Planting creeper vines on west-facing walls will also do the trick; it is a low-cost method and only takes a little bit of patience for it to be "functional".
Insulation
Insulation is more commonly used in countries with four seasons. However, in tropical countries like Malaysia, thermal insulation can be used to maintain a comfortable indoor climate. You may choose to insulate your wall or roof, depending on the sun orientation of your home. Consider also that while insulation may keep heat out during the day, it will also retain heat at night. Do consult a professional who will advise you on whether insulation is appropriate for your home.
Heat reflecting paint
There is now an alternative option to protect your exterior walls and reduce heat transfer at the same time, via heat reflecting paint. However, it is worthwhile to note that the relative reduction in heat gain is low and will degrade as the paint weathers over time. This paint will work best on roofs and west-facing walls. Most paint manufacturers in Malaysia offer this option in their product line.
Windows
The same rationale for tinting your car windows applies to your house windows — to minimise incoming heat. There is a range of tinting films available in the market to suit various requirements and budgets.
You are recommended to select tinting films that come with certified product seals and warranties.
You may also consider installing double-glazed windows which have two layers of glass that significantly reduce the transfer of heat to your house or your buildings. The extra cost of tinting or changing window types will be justified over the long term by your reduced air-conditioning bill.
Other efficient interior ideas to reduce your electricity bill
Lighting is the biggest guzzler of energy in non-air-conditioned homes, while in air-conditioned homes it takes up the second biggest chunk of the electricity bill. To use less, or no electricity, in the daytime, consider solar tube lights, skylights or clerestory windows with external overhang.
Do not block or place any interior object near your windows as this will block the incoming daylight into your house.
The Building Sector Energy Efficiency Project (BSEEP) is a national project implemented by the Public Works Department (JKR), administrated by the United Nations Development Programme (UNDP) and funded by the Global Environment Facility (GEF). The big picture of the project is to fight climate change by reducing the annual growth rate of greenhouse gas (GHG) emissions from Malaysia's building sector.
This story first appeared in TheEdgeProperty.com pullout on July 15, 2016, which comes with The Edge Financial Daily every Friday. Download TheEdgeProperty.com pullout here for free.