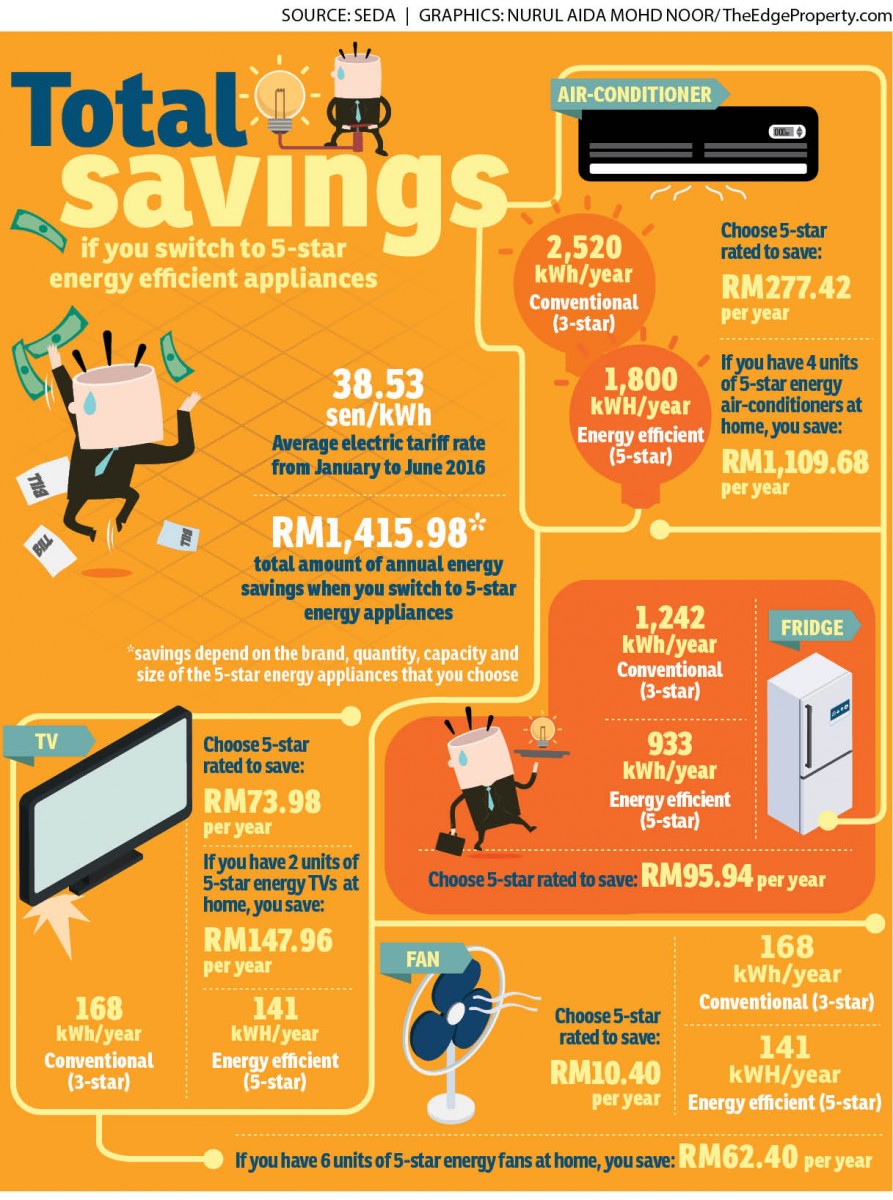 THE electricity bills are only going to go higher. Thus, we must be smart and adopt an energy-efficient lifestyle to reduce our energy consumption.
Make a smart upgrade
You must be aware of which appliances consume the most energy at home. Is the culprit your old refrigerator or your ancient air-conditioners? (old meaning more than 10 years).
One way to reduce energy consumption is to shift to 5-star energy appliances. In Malaysia, we have four types of appliances that are certified as 5-star by the Energy Commission of Malaysia – namely the refrigerator, air-conditioner, fan and television.
They might cost a bit more to buy, but they will save you a lot more money in the long run.
Light up efficiently
According to a survey by the Energy Commission of Malaysia, lighting consumes 13% of the energy at home, and it also consumes the most electricity in the industrial sector.
Switching to efficient lighting will potentially reduce your electricity bill as it typically uses about 25% to 80% less energy than conventional lights. You will slash your maintenance costs as well as these lights last 3 to 25 times longer.
Exorcise those phantom loads
It is good to switch off appliances that you do not use but do you know that the electricity is still running even when the appliances are switched off?
This is due to the phantom load when electricity continues to be supplied to the appliance while it is still plugged into an outlet. The best way to banish the phantom load is to switch off at the wall socket. Cluster a group of appliances in one power strip to make it easier to switch off.
Even the chargers for phones, laptops and tablets drain energy while being plugged in to the wall socket – so unplug battery chargers when they are not in use.
Screen savers do not reduce energy use – auto switching to sleep mode or manually turning monitors off are better energy-saving measures. Turn off your computer when not in use for 20 minutes or more and turn off both the computer and monitor if you are away for two hours or more. Buy equipment with standby power use which is lower than one watt.
You will see a huge difference in your electricity bills if you practice this.
Chase that off-peak tariff
If you are a business owner and your electricity bill stresses you out, you should know that you are entitled to the off-peak tariff. You are eligible for a 20% discount from 10pm to 8am.
Plan to perform activities that consume a lot of energy during these hours to cut your bills.
The Building Sector Energy Efficiency Project (BSEEP) is a national project implemented by the Public Works Department (JKR), administrated by the United Nations Development Programme (UNDP) and funded by the Global Environment Facility (GEF). The big picture of the project is to fight climate change by reducing the annual growth rate of greenhouse gas (GHG) emissions from Malaysia's building sector.
This story first appeared in TheEdgeProperty.com pullout on June 3, 2016, which comes with The Edge Financial Daily every Friday. Download TheEdgeProperty.com here for free.