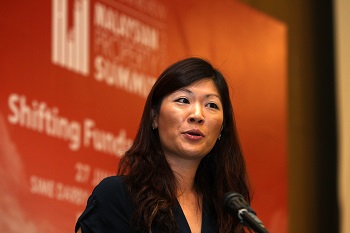 KUALA LUMPUR (July 27): Kenanga Investment Bank Bhd head of equity research Sarah Lim (pictured) believes the current Malaysian property market down cycle could last longer than usual due to liquidity-driven factors.
"The property market is going through a structural change as key property market drivers are also experiencing structural changes," said Lim during the Malaysian Property Summit Mid-Year Review 2016 today.
TheEdgeProperty.com and The Edge Malaysia are the media partners of this event.
She explained that those key property market drivers are the number of typical first-time homebuyers, which has already peaked and is likely to decline; the banking system, which is still curbing liquidity to the property market; and structural issues regarding the mismatch of supply and demand because of affordability issues.
She also foresees that Malaysia Residential Transacted Values (MRTV) — which reflects property prices — will decline slightly by 2% year-on-year, despite sales increasing marginally by 1% in the same period.
"We are expecting a more flattish U-shaped down cycle because tightening property measures have already helped the market cool off, resulting in greater prudence amongst developers, banks and property buyers," Lim said.
She also said that the issue is not the interest rate but the lending liquidity. Bank Negara Malaysia will need to address lending practices such as loan assessment methods, loan-to-ratio caps, and valuation of properties, to ease the lending liquidity.
She also said the lack of affordable projects in urban areas also contributed to the flattish U-shaped down cycle.
"Demand is strongest for residential in urban areas priced at RM250,000 to RM500,000, but we didn't see many such project offerings in the market," she said.
Meanwhile, she expects a relatively muted Budget 2017 for the sector. "Budget 2017 will be very Rakyat-centric where goodies will be given out under government housing schemes."
She concluded that house buyers and developers will have to do more homework when buying or selling homes as a union of choice locations, price points and concepts becomes even more critical in challenging times.
"House buyers may need to take a longer view as rental yields and capital appreciation are not favourable currently. Developers may need to hold land for longer than expected."
Not sure how much you will have to pay a month for your home? Check out our mortgage calculator here.