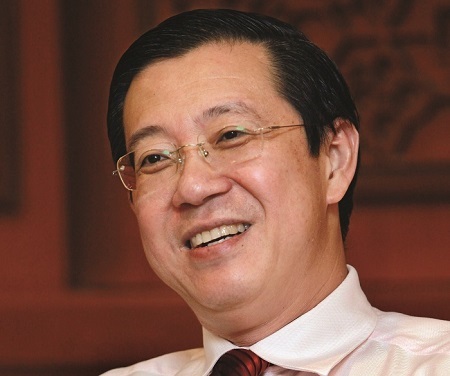 GEORGE TOWN (Aug 11): Penang state government has decided to build a RM4.8 billion elevated light rail transit (LRT) system in the state, rather than have a tram system, as part of the RM46 billion Penang Transport Master Plan (PTMP). This is to avoid associated costs of relocation of utilities, land acquisition and social problems related to construction.
Penang Chief Minister Lim Guan Eng (pictured) said the associated costs involving at-grade or street running trams would result in rows of shophouse having to be relocated, which would in turn affect the social fabric of the community.
"While (the cost to build) an elevated LRT is more expensive than (an) on-road tram (system), but it has less (environment and social) impact," he told a press conference here today.
The proposed 22km LRT system will operate between Weld Quay and the Penang International Airport. Under the PTMP, it will also feature a 20km Pan Island Link highway.
SRS Consortium Sdn Bhd project manager Szeto Wai Loong estimates that the cost of LRT construction per kilometer is RM220 million, compared with the RM80 million per km for the tram as proposed by Penang Forum, comprising a group of non-governmental organisations. SRS Consortium is the project delivery partner of PTMP.
He said the consortium's proposal includes the construction of stations and the park-and-ride system, with minimal land acquisition. On the other hand, Penang Forum's proposal involves at-grade or street running trams and does not include land acquisition.
On July 13, Penang Forum had revealed an alternative transport plan to PTMP, which took cognisance of the Halcrow study on alleviating traffic congestion, commissioned by the state in 2010.
Rebutting Penang Forum's claims that the RM1.6 billion tram system is cheaper, faster and better, Szeto said the social impact and traffic congestion would be worse due to its on-road infrastructure.
He said Penang Forum relied heavily on the Halcrow study, which clearly stated that acquisition costs were not included.
SRS Consortium is a joint venture among Gamuda Bhd (60% stake), Ideal Property Development Sdn Bhd (20%) and Loh Phoy Yen Sdn Bhd (20%).
Meanwhile, Penang government and SRS Consortium will meet with the Land Public Transport Commission (SPAD) next month to expedite a "conditional approval" for the proposed elevated LRT project.
The consortium had targeted July to obtain the conditional approval, but it was delayed due to SPAD's schedule.
"From the meeting, SPAD might want us to discuss and relook at the design. The process is still ongoing," said Szeto.
On Aug 4, Gamuda had said the Penang government had extended the consortium's letter of award till Feb 28, 2017. SRS received the initial letter of award on Aug 12 last year to implement the PTMP, comprising transport components and provide new reclamation sites. — theedgemarkets.com
Try out one of our super tools, the rental yield calculator, here.