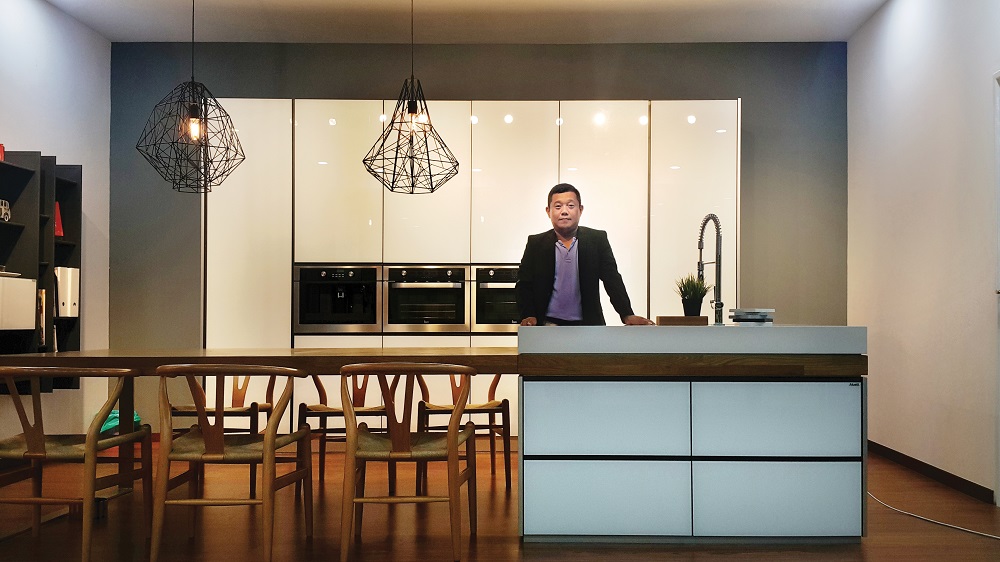 TUCKED away in an industrial estate in Singapore, kitchen cabinet­maker Alustil's showroom and office is bright and modern. There are no heavy, dark wood cabinets, or country florals or bubble gum-coloured doors. It is all designer whites and greys in elegant finishing, complemented by furnishings in blonde wood and brushed metal. The industrial, Scandinavian and mid-century modern themes are trending in home interiors everywhere today. Running Alustil is Tan Jik Hui, who is not quite the dapper designer one would expect, but an unassuming man from Muar.
It is Tan's philosophy that makes the difference in how a homeowner shopping for a new kitchen sees the company's product. To him, the kitchen is the heart of a home. It is no longer a cluttered outpost, overseen by a domineering matriarch and relegated to the back of the house. Indeed, Alustil's kitchens, fabricated from aluminium, are sleek and worthy enough to be a home's focal point for family members to gather.
Certainly, aluminium home kitchens were not always in vogue. Kitchen cabinets are often made of wood, or engineered wood products such as medium-density fibreboard (MDF) and laminates. Over the years, Tan has worked hard to convince homeowners that Alustil's designs are far from the banged-up metal cabinets and worktops that are a mainstay in industrial and restaurant kitchens.
The aluminium cabinets are paired with glass panels and worktops made of hardy granite or wood. Customers have raved about their ease of maintenance, and a typical kitchen comes with just about every convenience that today's users want — smart storage options, soft-close ­louvre and hinges, and customisable, timeless designs that fit various needs.
Above all, Tan is selling kitchens as part of a family bonding experience. "A place to warm hearts", says Alustil's brochure.

Starting simple
Tan, though tanned and weathered from years of labouring under the sun, seems younger than his 44 years. He is jovial and easy-going, and did not stop smiling throughout the interview.
He grew up in a small fishing village in Desaru, Johor, before it became the holiday resort town it is today. As a boy he watched as older youths left the village to seek their fortunes elsewhere, and returned successful. "We were envious," he recalls. He was not much of a student, he admits, and left school when he was 16. Then, encouraged by his parents, he went to Singapore to seek better prospects. He found myriad of odd jobs in home ­renovation — from plumbing and electrical works to air-conditioning and furniture, Tan says he has nearly done it all.
In 1991 he returned to Malaysia as the country's economy was booming, and ended up in the aluminium manufacturing business. It was a relatively new industry then — the aluminium was cut with hand tools, but Tan could see the potential for quick growth. In 1995, with a small amount of start-up capital from his ­parents, Tan started his own business. He bought one machine at a time to fabricate aluminium products such as sliding window frames and grilles.
"At that time it wasn't so difficult to start a business," he says in heavily-accented Mandarin. "Competition wasn't as tough as it is now, and as long as you had the workmanship and skills as we did, and if you had been working responsibly, it would not have been hard to find supporters."
It was not until 2005 that Tan started making doors for kitchen cabinets, although they were very basic designs. The main advantage was that the doors were made from hardy aluminium, which is easy to clean and resistant to water damage and insect attacks, common problems that homeowners with wooden cupboards face. His customers engaged his services for their wet kitchens, where the heavy cooking and washing were done. These wet kitchens were often located outside the house.
"Then we thought, could we use aluminium to build the entire set of kitchen cabinets?" Tan acknowledged that it took time for people to come round to the idea, as aluminium cabinets looked industrial and customers felt they were not suitable for a home. "We had to figure out how to develop the market," he says.
Tan and his team went all out, designing kitchen models to participate in furniture fairs, placing advertisements and setting up their first showroom in Melaka. In 2007, Tan finally got the first customer who wanted a full aluminium kitchen. The job amounted to only about RM20,000, but Tan remembers it well. The man lived in a semi-detached house in Klang, and needed to replace his wood cabinets that had been damaged by termites. "We are still in touch. His aluminium cabinets are still in good condition. And he got us to do the kitchen in his new house too."

Designer boost
Over the years Tan worked on refining his kitchen designs and finishings. He travels often to interior design and furnishings fairs worldwide to glean new ideas. Still, he felt that making wet kitchen cabinets was a small-time business. He wanted to break into higher-value markets and started looking for ways to expand.
Clad in a blue polo T-shirt and slacks, Tan was eager to show just how far the company's workmanship has advanced. He pulls out old samples of doors and shelves with rough edges and visible rivets, and compares them with what Alustil makes today — near invisible joints, concealed finishings and smooth, rounded curves.
In 2012, after years of honing its workmanship, the company launched its own brand of kitchens. The following year Tan met Roy Shen, an award-winning Taiwanese designer who specialises in the design of space. The collaboration that ensued resulted in Beginn, a kitchen concept that effectively launched Alustil's next phase of growth.
"Before [Shen] came along, we only manufactured the aluminium products and did not think of developing broader concepts or designs. He helped us design our own [kitchen] that represents our vision, which is how to transform a ­kitchen into the centre of the home," Tan says. Shen was also able to advise Tan on how to refine his workmanship and had an eye for detail that made Alustil's products even sleeker. "Since we launched ­[Beginn] in 2014, everyone has been copying our design," he adds.
Since then, Alustil has gone on to fit out many more 'dry' kitchens; about half of its projects now are indoor kitchens. Apart from the engaging design, a typical Alustil kitchen set comes with top-notch accessories such as hinges and drawer systems from Austrian company Blum, which is renowned for its quality and offers a lifetime warranty for its products. "We want to build our brand, so we are very careful with the selection of the materials we use," Tan says. "We give out service warranties, which means we need to have good, long-lasting products or the servicing will cost us much time and money."
In fact, one of the company's most recent projects, which Tan says was for his most demanding customer, made the homeowners so happy that they rang up haven to have their new kitchen featured in the magazine's kitchen special.

Hard work rewarded
Times have changed and competition is heating up. Young homeowners are attracted to designer kitchens by European brands and often overlook companies such as Alustil. But Tan is not disheartened and knows that he needs to be ahead of the curve in products and design. "The basic expectation today is for new products every year. You can't be waiting till you've sold one product before coming up with another. The market will very quickly overtake you," he says.
Today, Alustil conducts its own R&D on the materials it uses in its products to ensure they are sturdy enough, and also designs and fabricates the moulds it uses to produce the aluminium parts. As Tan explains, Alustil offers a one-stop service that encompasses planning and design to installation and after-sales service.
As the company moved to expand outside Malaysia, Alustil opened its Yishun showroom in Singapore in 2014 to give potential customers the opportunity to see for themselves and experience what they would be getting with an Alustil kitchen. "Our customers tend to be people who have had some experience with kitchens, and know the problems they have encountered and what they need," Tan says. ­"Customers today are very savvy, and want value for money," Tan adds. "So, it's important that you work honestly and transparently, and give them fair value for what they spend."
Indeed, after all these years in business, Tan credits sheer hard work and honesty for his success. "Are you prepared to work 16 hours a day?" Despite this, he has never thought of giving up. "I like to give myself a challenge," he says. And it makes him happy that customers are increasingly receptive of Alustil's designer aluminium kitchens at the centre of their homes. "God rewards the diligent," he says, quoting a Chinese proverb. "My hard work will not be wasted."  
Like this story? Read more stories like this in TheEdgeProperty.com pullout that comes out every Friday. Get your digital copies here.
This article first appeared in the August + September 2016 issue of Haven, which comes complimentary with The Edge Malaysia Weekly. Subscribe here for your personal copy.