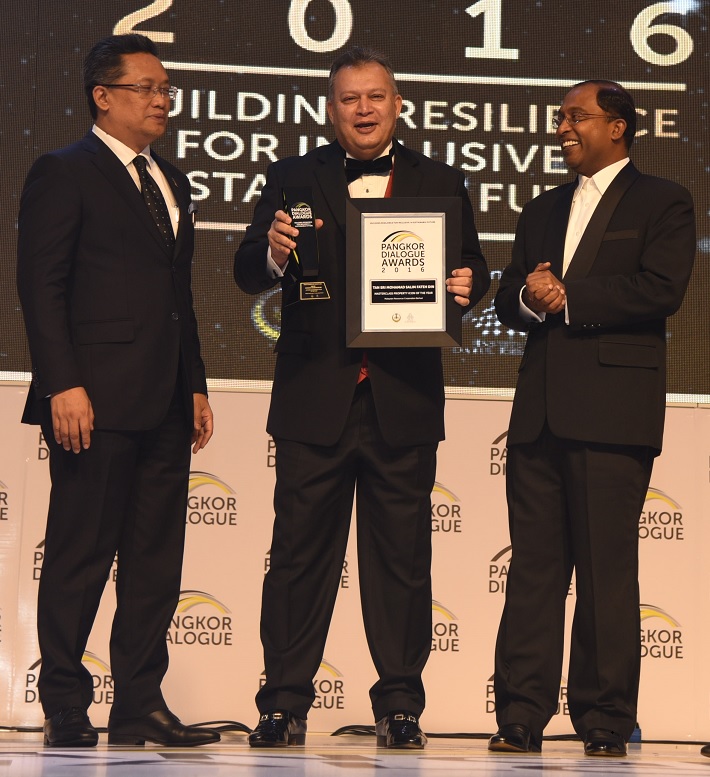 KUALA LUMPUR (Sept 6): Malaysian Resources Corp Bhd (MRCB) group managing director Tan Sri Mohamad Salim Fateh Din has been recognised as "Property Icon of the Year" at the Pangkor Dialogue Awards 2016.
Salim received the award from Minister in the Prime Minister's Department Datuk Abdul Rahman Dahlan during an award presentation by Institute Darul Ridzuan (IDR) in conjunction with the Pangkor Dialogue 2016 being held in Ipoh from Sept 5 until tomorrow (Sept 7).
The award recognises Salim's list of accomplishments in the Malaysian property and construction sector over the last 30 years, as well as his success in leading MRCB towards strong financial performance and growth with a pipeline of developments projects worth an estimated gross development value (GDV) of RM50 billion.
"I am very honoured to receive this award from the IDR which is testimony of the industry's recognition of not only me but also of all property developers who continue to innovate and promote sustainable, energy efficient buildings for the future growth of the country.
"I also share this achievement with my family, the Board of Directors, senior management and staff of MRCB, and the many people who have been supportive throughout my journey as an entrepreneur and have been instrumental in ensuring that I remain focussed on achieving my goals," Salim said in a statement.
He also promised to continue leading MRCB to find innovative ways to understand and deliver customers' needs, and anticipate their future wants, while keeping abreast of the latest trends in the market.
Under Salim's leadership, MRCB has put in place urban rejuvenation and transformation strategies with a specialisation in transit oriented developments (TODs) to drive the future growth of the group's property development and investment activities.
The Pangkor Dialogue is organised by IDR.
IDR is a public policy think tank for the Perak State Government initiated by Menteri Besar Datuk Seri Dr Zambry Abdul Kadir, in his effort to transform Perak into a developed state — a vision that is laid out in a blueprint named Perak Amanjaya.
The dialogue is an international knowledge exchange forum which aims to inspire sustainable economic growth in the region.
Want to know the price trends of a development? Click here.