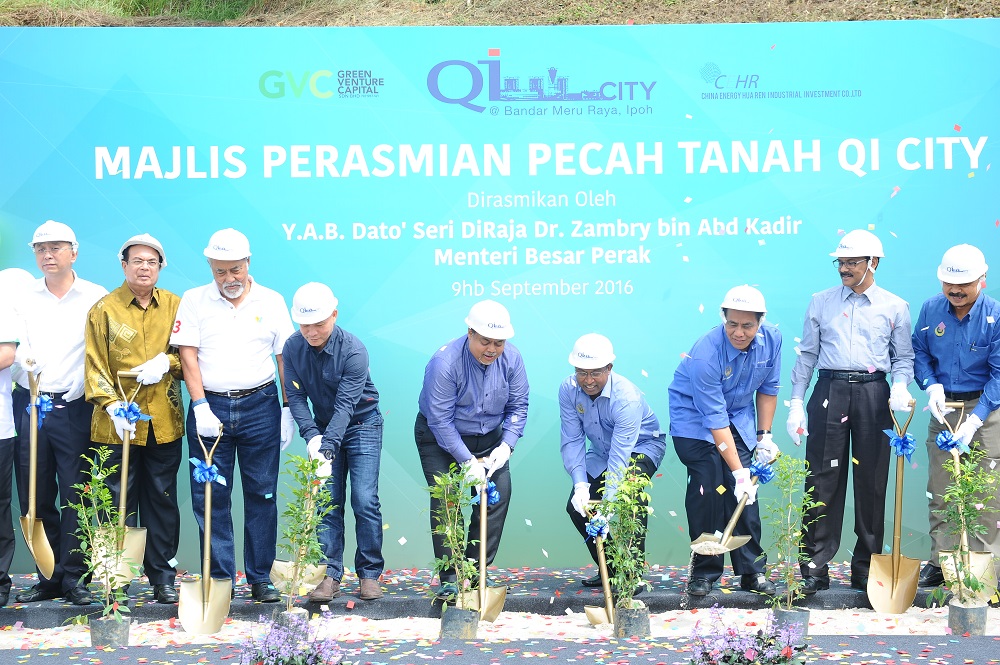 PETALING JAYA (Sept 9): Qi City integrated development by Green Venture Capital (GVC), a subsidiary of Wawasan Qi Properties Group (WQIP), is poised to be the next catalyst for Ipoh and it's expected to contribute RM1.2 billion to the Perak's gross domestic product (GDP), according to GVC CEO Chandragesan Suppiah.
"The Qi City development is poised to be a catalyst for job creation, smart living, thus promising superior yields to investors. This is achieved through developing a sustainable economic eco-system to perfectly complement the state government's initiatives in transforming Bandar Meru Raya into a thriving economic hub," he said in a press statement today.
Qi City project, which carries a gross development value (GDV) of RM1.2 billion, is a mixed residential and commercial edu-city development and the first of its kind fully integrated education hub in the country.
Components of Qi City include an 840 bedded teaching hospital, the Quest International University Perak (QIUP) campus, three condominium blocks with a total of 768 units, retail outlets, a convention centre to cater for up to 1,500 people and 460 units of hotel suites.
China Energy Hua Ren Industrial Investment Co Ltd will be leading the construction of Qi City. The development is expected to be completed in three years.
"With the soon to be opened Animation Park, thereafter the Water Theme Parks and the international Recreational Park, it is estimated that there will be two million tourists arriving in Ipoh [a year]. We are targeting to attract 10% of the two million tourists," Chandragesan added.
Perak Menteri Besar Datuk Seri Dr Zambry Abdul Kadir said the Qi City development is in line with realising the state's five-year vision.
"The Northern Corridor is poised for tremendous growth and projects such as the Qi City development are key enablers in providing job opportunities as well as encouraging the transfer of skills and expertise," he said after officiating Qi City's ground-breaking ceremony today.
Meanwhile, managing director Qi Group Malaysia, Kuna Senathirajah noted that apart from boosting local economic growth, Qi City could also become a bridge for Malaysia to bring Asean countries closer through education and health facilities.
"We are unlocking possibilities for Malaysia to take a seat at the centre of education and medical tourism in the region, strengthening our competitive edge, broadening our own expertise and capabilities and opening up of avenues for cultural and intellectual exchange," he said.
Try out one of our super tools, the rental yield calculator, here.