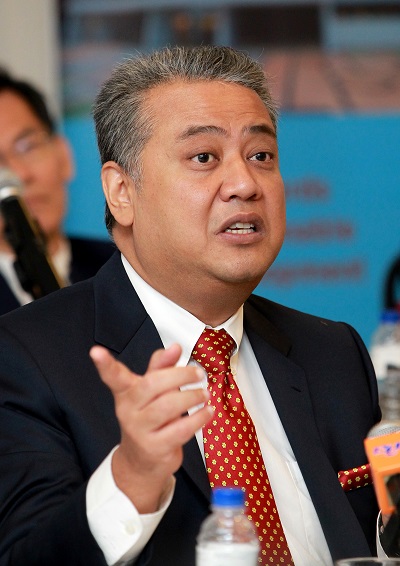 PETALING JAYA (Sept 14): The proposal for property developers to have money-lending services to homebuyers is to bridge the remaining 10% to 15% end financing gap that financial institutions are not covering, said Real Estate and Housing Developers' Association (Rehda) president Datuk Seri Fateh Iskandar Mohamed Mansor (pictured).
He was speaking to the media after presenting the Rehda property industry survey 1H2016.
Last week, Urban Wellbeing, Housing, and Local Government Minister Tan Sri Noh Omar said the government was allowing property developers to apply for money-lending licences to aid homebuyers to overcome the end financing problem and to finance their property purchases with interest rates of up to 12% with collateral and 18% without.
The average margin of financing given currently ranges from 75% to 80%.
"We are not expecting for the banks to give 100% financing. However, the lower margin of financing at about 75% to 80% is preventing a lot genuine homebuyers from being able to buy a house," said Fateh.
Citing an example of a RM400,000 home, if a homebuyer were to obtain 80% of the loan, he will easily have to fork out almost RM100,000 in addition to additional fees such as stamp duty and sales and purchase agreement fees.
"RM100,000 may be too much for some of them to pay upfront. If the bank gives 90% financing, this will help to reduce the burden," Fateh noted.
He also remarked that Rehda is not asking for third, fourth and fifth-time homebuyers to be able to enjoy this privilege but only first-time homebuyers and upgraders purchasing property prices below RM500,000.
"There may be first-time upgraders who bought their home 10 years ago and now have a bigger family who may need a bigger home as well. I think this is reasonable and we should assist them," Fateh explained.
However, Fateh noted that they will not be charging an interest rate at the teens level as no one will then take the loan from them but instead have a proposed cap of 2% above cost of funding for loans from property developers.
"You have to understand that we [property developers] have risk and cost as well. Today, no developer can give you 100% financing. We are not financial institutions," said Fateh.
"The scheme needs to be sustainable in the long term for it to work," Fateh added.
Not sure how much you will have to pay a month for your home? Check out our mortgage calculator here.