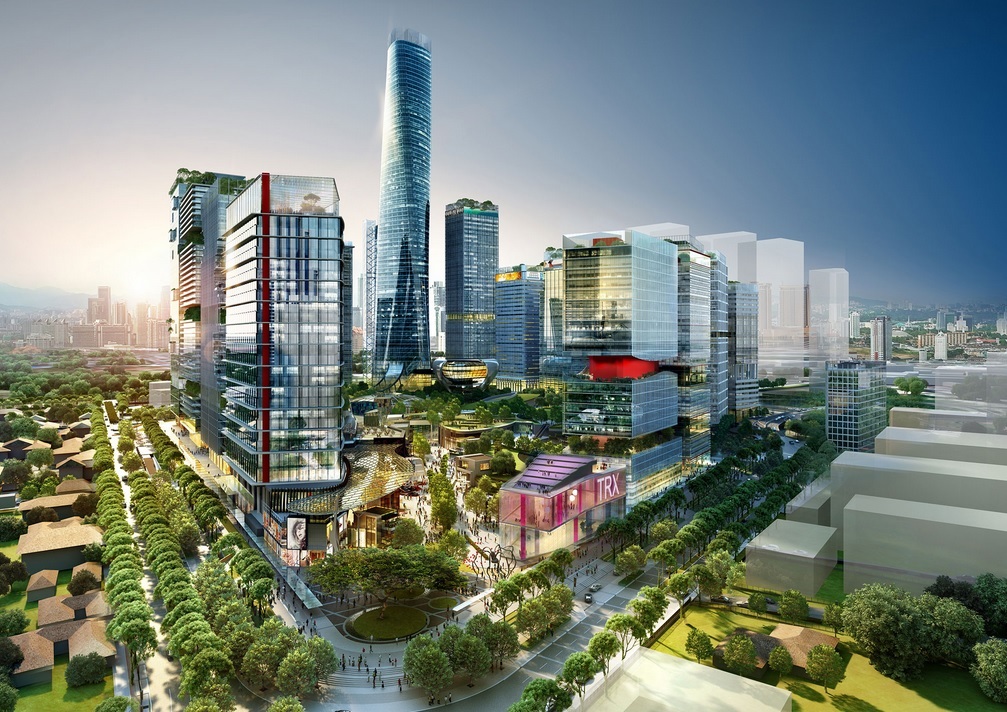 1Malaysia Development Bhd's (1MDB) wholly-owned subsidiary TRX City Sdn Bhd is starting infrastructure works on Tun Razak Exchange, which is located on a prime tract between Jalan Bukit Bintang and Jalan Tun Razak that was sold to the strategic investment fund for RM230 million or RM75 psf in 2010, say sources in the construction industry.
TRX City is said to have invited bids for the underground infrastructure works with a total contract value of between RM350 million and RM400 million.
It is understood that the entire underground infrastructure works will cost more than RM1 billion and involve Dewan Bandaraya Kuala Lumpur. However, to speed up the massive commercial developments, TRX City has decided to kick-start its own portion first.
Debt-laden 1MDB is expected to finance the infrastructure works from its cash pile of RM2 billion gained from a slew of asset divestments late last year.
The underground infrastructure is considered complex as a portion of it will be beneath the Stormwater Management and Road Tunnel, which has a diameter of 43ft. On top of that, there is an underground mass rapid transit (MRT) interchange station to deal with.
"This is a very important aspect of the development — if not done right, it will choke the entire area," an official with a local construction and development outfit shortlisted for the contract tells The Edge.
The deadline for submissions was July 1 and The Edge understands that industry players had expressed considerable interest in the contract.
Documents viewed by The Edge indicate that some of the requirements for an individual application — for one company alone — is to have at least 10 years of experience, to hold a valid Grade G7 company registration from the Construction Industry Development Board, to have experience as a main contractor in rock excavation and to be able to build, among others, tunnel concrete structures, underpasses and elevated vehicular structures.
The company is also required to have experience as a main contractor for a RM200 million job at least.
While the terms are similar for companies in joint ventures with local or foreign entities, there is a requirement for the foreign company's equity to be capped at 49%.
An executive of one of the interested companies opines that due to the intricacies involved, such as the depth at which the work will have to be done, local bidders will have to rope in foreign partners.
"It is not an easy job. I don't think any of our local players can handle it without any foreign assistance. While the contract may be RM300 million to RM400 million, it is not an easy one to undertake. There are [so] many connections, and different levels, roads, MRT and so on, and it all has to be done right or risk choking the area," he says.
According to its website, TRX City's master plan includes 26 buildings that will house offices, residences, hotels, retail and food and beverage outlets, and offer cultural features. The development of TRX is stretched over 15 years and is to be completed in phases with Phase 1 slated for completion between 2017 and 2018.
1MDB is in the midst of passing on TRX City, Air Itam and Pulau Indah land to the Minister of Finance Inc, which could be concluded as early as end of this year as per the recommendations of the Public Accounts Committee.
In its financial year ended March 31, 2015, TRX City posted an after-tax profit of RM380.64 million on revenue of RM478.05 million. It had fixed assets of RM4.82 billion and current assets of RM4.21 billion. Long-term borrowings amounted to RM2.36 million and short-term borrowings to RM655.25 million. TRX City had reserves of RM3.52 billion.
At present, investors in TRX City include Australian outfit Lendlease, which is developing the Lifestyle Quarter in TRX, and Indonesian property developer Mulia Group, which has the mandate to develop TRX City's Signature Tower.
Among the local companies, Affin Bank Bhd has bought 1.25 acres for RM255 million or RM4,699 psf with a plot ratio of 15.2 times while Lembaga Tabung Haji paid RM188.5 million for a 1.6-acre parcel with a plot ratio of 10.47 times.
WCT Bhd has a barter trade with TRX City — part of the RM754.8 million worth of construction works done in TRX will be settled with 1.7 acres of residential land there valued at RM233 million.
This article first appeared in The Edge Malaysia on Sept 26, 2016. Subscribe here for your personal copy.