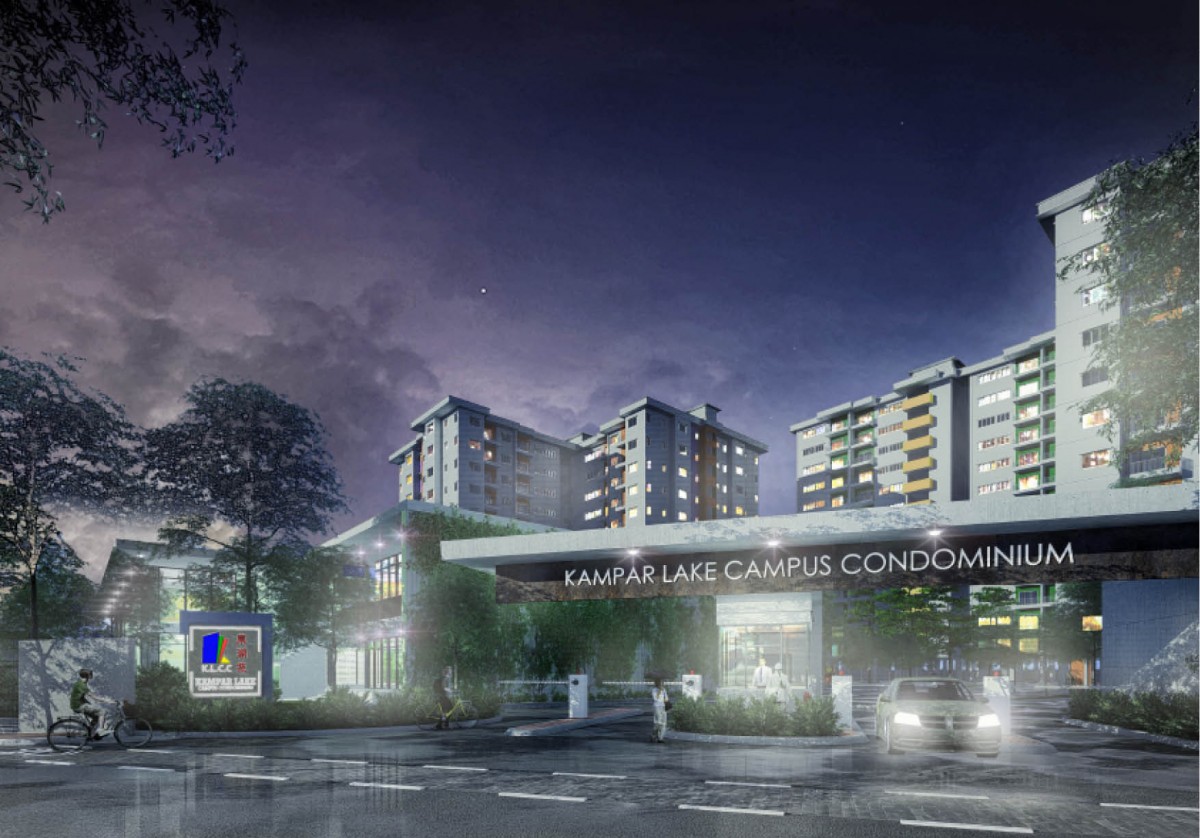 LAST year, construction firm Magnibiz Sdn Bhd ventured into property development with the launch of its maiden project, Kampar Lake Campus Condominium or KLCC Kampar, in Kampar New Town. The project is being developed by its property development arm Magnibiz Development Sdn Bhd.
KLCC Kampar, with a gross development value of RM150 million, is located on a seven-acre leasehold parcel and will offer a total of 350 units in three 11-storey blocks. Some units will be dual-key. The project's Blocks 2 and 3 have seen a take-up of 60% since its launch at the end of last year. Prices start from RM398,800 and the maintenance fee is 20 sen psf.
Sales and marketing manager Patrick Kum says half the buyers came from the Klang Valley, while the rest were from other states such as Perak, Penang, Pahang and Sabah.
"All units will be fully furnished with water heaters, air conditioners in all the bedrooms, ceiling fans in all the rooms, dining set, sofa set, kitchen cabinets, bed set, table set and wardrobe," Kum tells City & Country.
The built-ups will range from 913 to 1,340 sq ft, and layouts will include 3 and 4-bedroom units with two or three bathrooms. There will be a clubhouse within the compound offering facilities such as a cafeteria, yoga room, swimming pool, barbecue pit, badminton court, multipurpose hall, classroom and gymnasium.
The project is located next to Tunku Abdul Rahman University College (TAR UC), and is a stone's throw from Universiti Tunku Abdul Rahman (UTAR). Amenities nearby include a Starbucks, 24-hour
McDonald's, Tesco hypermarket, Grand Kampar Hotel, eateries, banks and post office. There are also plans to build a 300-bed hospital on a 100-acre tract a short distance away.
Magnibiz Development is targeting investors who want to rent the units to students, and parents buying for their children who are studying in Kampar.
"A unique selling point for KLCC Kampar is two double-volume study lofts, one in Block 1 and another in Block 3. Each study loft will be about 2,000 sq ft and will have free WiFi as well as tables and chairs," says Kum. "There will also be a coffee bar at night."
For investment purposes, the rent could be RM400 per bed per month with WiFi facilities, he adds.
"Currently, the main accommodation for students [in Kampar] is old terraced houses, and the rent is RM420 per bed per month without facilities and wireless internet. KLCC Kampar will be the first condominium with full facilities. We are working with UTAR's Department of Student Affairs and we can help buyers find and manage tenants," says Kum.
KLCC Kampar will offer a two-tier security system, one at the guardhouse and another at the lift. Tenants will be required to use access cards to get to their designated floor.
The development is scheduled for completion in 2018. It is currently at the piling stage. Magnibiz Development plans to launch Block 1 by the first quarter of next year, once sales of both Blocks 2 and 3 hit 80%.
Growing student population
Kum says due to Kampar's reputation of being an educational hub, there is potential for growth in the property market. Apart from TAR UC, there are several institutions of higher learning within the city area.
"Westlake International School [nearby] is recruiting students while UCSI University and Taylor's University are looking for land in the area," he points out.
Sitting on more than 20 acres, Westlake International School is an international school with full boarding facilities, offering the British Cambridge curriculum for primary, secondary and A levels programmes.
Another institution popular in the area is UTAR. It was officially launched on Aug 13, 2002, and was established under not-for-profit organisation UTAR Education Foundation. It now owns and operates campuses in Kampar and Sungai Long.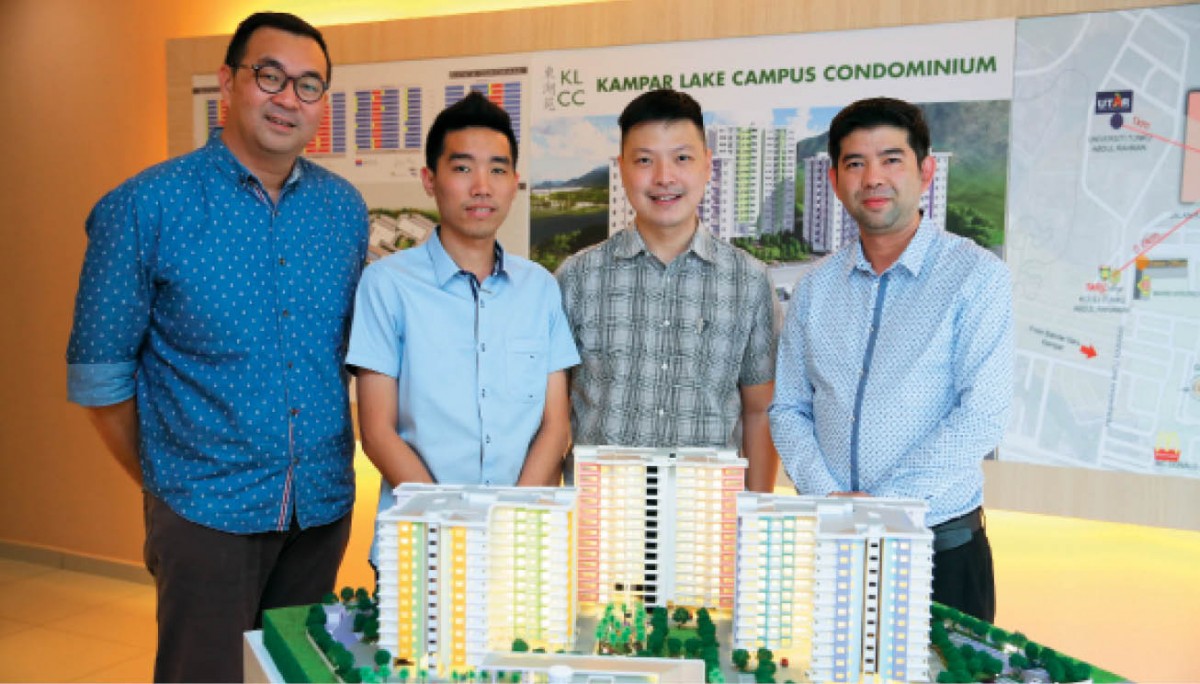 According to the university's website, the Kampar campus sits on a 1,300-acre tract in Bandar Barat Kampar, Perak. Located off the North-South Expressway, the campus houses five faculties, namely the Faculty of Arts and Social Science, Faculty of Business and Finance, Faculty of Engineering and Green Technology, Faculty of Information and Communication Technology, and Faculty of Science. It also has sports facilities for football, basketball, volleyball, badminton and table tennis, as well as a gymnasium.
JS Valuers Property Consultants (Perak) Sdn Bhd executive director Yap Tian Sing says student accommodation in Kampar is growing, as the area is becoming an important educational centre in the country.
"Value pricing for low and medium-rise student accommodations, in our opinion, should be in the range of RM330 to RM350 psf," he adds. "Rental yields are around 5% to 6% for low-to-medium high-rises and 4% to 5% for houses."
For students, the type of property is not the primary concern as they are more concerned about factors such as affordability, security, how to get to their university, and local amenities.
"With UTAR and TAR UC showing promise, demand for student accommodation in the vicinity of Kampar New Town should be good in the future. Pricing is the crucial factor. Catering for student needs must be carefully looked at," says Yap.
On Magnibiz's future plans, Kum says its upcoming projects will be in the Klang Valley and the company hopes to launch a residential project next year. The details are still being finalised.
Try out one of our super tools, the rental yield calculator, here.
This article first appeared in City & Country, a pullout of The Edge Malaysia Weekly, on Oct 3, 2016. Subscribe here for your personal copy.