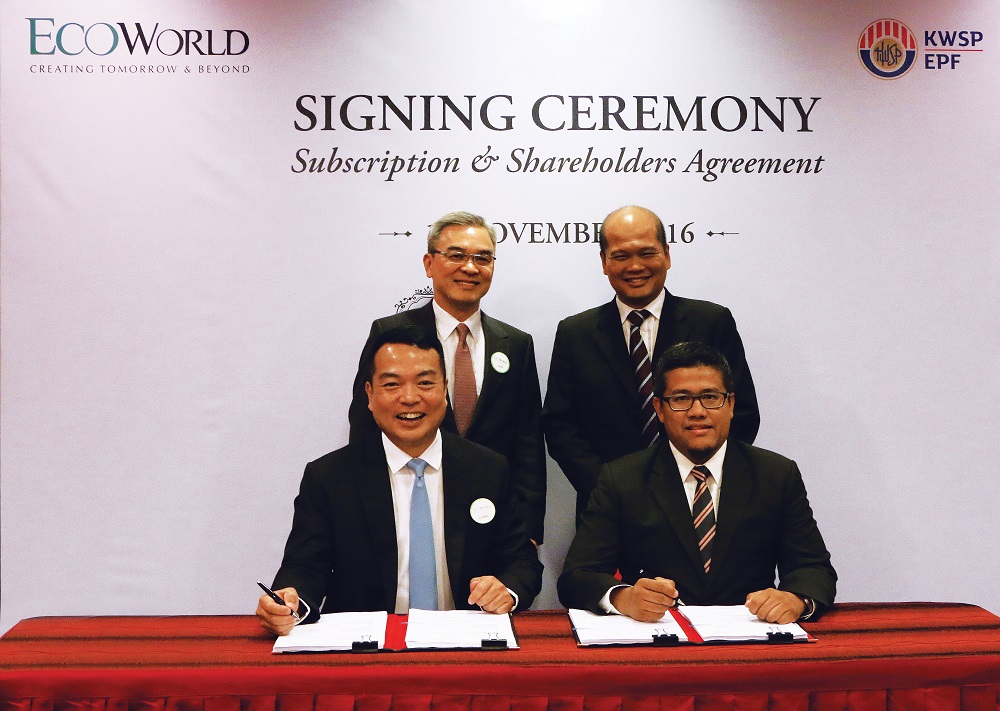 PETALING JAYA (Nov 15): Eco World Development Group Bhd (EcoWorld) and the Employees Provident Fund (EPF) will jointly develop Eco Grandeur and Eco Business Park V in Kuala Selangor, following a subscription and shareholders agreement (SSA) inked by both parties.
According to a statement today, EPF will subscribe to four million ordinary shares representing 40% of the enlarged paid-up capital of Paragon Pinnacle Sdn Bhd (PPSB), presently a wholly-owned subsidiary of EcoWorld, and provide shareholders' advances of RM367 million to PPSB to fund the developments.
Subsequently, EcoWorld will be appointed as the development manager for the projects which will be marketed as Signature EcoWorld developments pursuant to development management and brand licence agreements to be entered into with PPSB.
Eco Grandeur and Eco Business Park V are situated on 2,198.4 acres of leasehold land in Kuala Selangor.
The 1,400-acre Eco Grandeur was recently launched in September as part of EcoWorld's Firsts campaign. For its first launch, the project offered the Graham Garden terraced homes and the Avenham Garden homes.
Meanwhile, Eco Business Park V, which is expected to be launched next year, will adopt the most successful concepts that the company has pioneered in Iskandar Malaysia to cater to business owners and industries in the Klang Valley, according to Datuk Chang Khim Wah, president and CEO of EcoWorld.
Commenting on the partnership with EPF, EcoWorld chairman Tan Sri Liew Kee Sin said the SSA signed today is the culmination of months of hard work to arrive at a truly win-win partnership for both parties.
"Over the years we have had the privilege of working with the EPF on several occasions — we are delighted to be able to partner with them yet again to develop Eco Grandeur, the largest township undertaken by EcoWorld to date, and Eco Business Park V, our first gated and guarded multi-concept business park in the Klang Valley," he said.
Chang added, "This is our second partnership with EPF to jointly develop a strategic project, the first being Bukit Bintang City Centre, and the third development we are undertaking via our partnership-for-growth model."
He also noted that EcoWorld is confident that Eco Business Park V will be extremely well-received.
"Apart from an ideal workplace with multiple intelligent green features specially developed to maximise efficiency, we also offer customers our proprietary 'EBP one-stop business solution' that helps owners, especially those based overseas, to set up their operations in Malaysia," he said.
Chang added that the company is also encouraged by the extraordinary reception received by Eco Grandeur, which has managed to achieve 81% take-up for the 830 units of Graham Garden terraced homes and the Avenham Garden homes.
Going forward, with Eco Grandeur's positioning at the heart of the emerging North West Klang Valley Corridor, Chang is confident that the project will become the future commercial centre of the area.