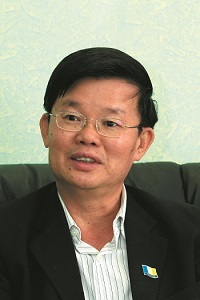 GEORGE TOWN (Nov 18): Developers of new developments in the city will be required to upgrade the main drain in their development areas to solve the flash floods problem in the state.
State Local Government, Flood Mitigation and Traffic Management Committee chairman Chow Kon Yeow (pictured) said the move was in accordance with "The Study on Flood Mitigation and Drainage in Penang Island" study as outlined by the Japan International Corporation Agency, Bernama reported today.
"For new development projects on the outskirts of George Town, the Department of Irrigation and Drainage will impose conditions on developers to upgrade the drainage system involved with its development according to the Urban Stormwater Management Manual for Malaysia, Stormwater Management and Drainage Master Plan for the Southwest District and flood mitigation studies that have been conducted for certain areas.
"Among other approaches taken by the state government to address flooding is through cleaning of problematic main drains using a cleaning machine periodically," he said during question time in the State Legislative Assembly today, Bernama reported.
He was replying to Datuk Mohd Zain Ahmad (BN-Penaga) who wanted to know the measures taken by the state to tackle the problem of flash floods.
Chow added that in addition to the upgrade of ditches and floodgates and the construction of flood control pumphouses in the affected residential areas, local councils were also regularly cleaning monsoon drains, waste traps and scupper drains, Bernama reported.
Various parts of Penang had been hit by numerous flash floods in recent times. Even the state's international airport was not spared when a heavy downpour caused water to seep into the arrival hall in July.
Deepavali was also ruined when more than 100 houses on the island were submerged in knee-deep water as a result of a flash flood that hit areas such as Bandar Baru Air Itam, Jalan P Ramlee, Jalan Masjid Negri and also Sungai Pinang.
And one week after the Festival of Lights, George Town was at a standstill as the island suffered one of the worst flash floods followed by landslides.