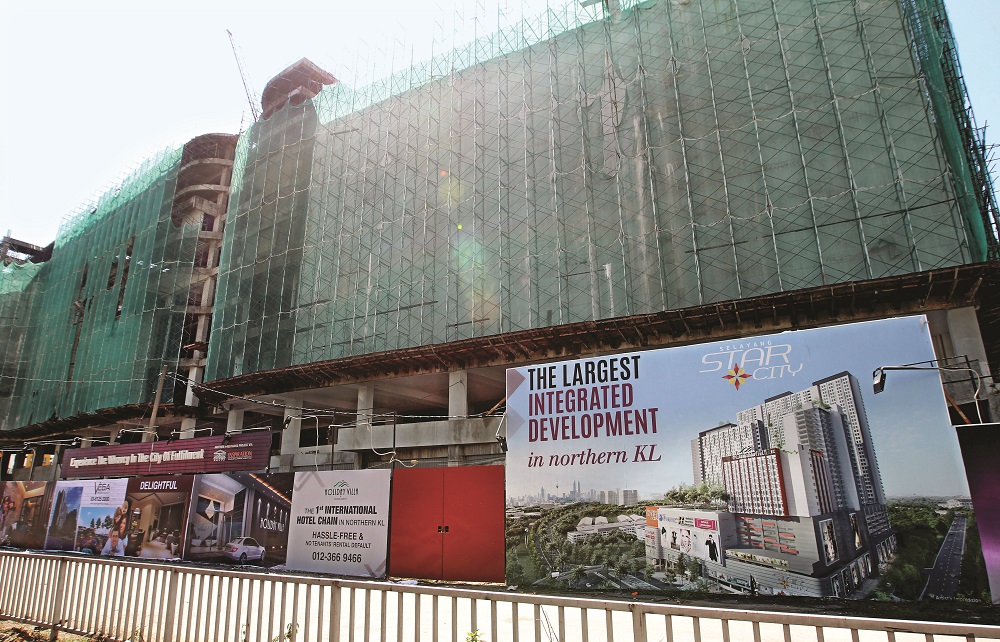 In an environment where consumer sentiment is weak and new malls are struggling to perform, a shopping centre that is soon to be completed in Selayang, Selangor — Selayang StarCity Mall (SSCM) — is attracting interested buyers, including funds and real estate investment trusts.
If sold, SSCM could fetch between RM374 million and RM385 million, sources say.
Scheduled to open next year, the mall, which has a gross built-up of one million sq ft and net lettable area of 550,000 sq ft, is part of the integrated Selayang StarCity development that is the brainchild of Leadmont Group. It will take up five floors and offer three levels of parking with 1,800 bays.
The other components of the seven-acre development are three blocks with 2,269 designer suites and another block with 305 serviced suites that will be operated as a hotel and sit atop the retail podium.
When contacted, Leadmont Development Sdn Bhd general manager of business development and investment Lum Youk Lee says the company is not looking to sell the mall, although it has received enquiries as to whether the asset is available for sale.
"Since the beginning of the year, we have been approached by estate agents suggesting that there are parties that are interested in buying our mall," he tells The Edge.
By the middle of the year, Lum adds, Leadmont realised that news may have spread that the owner is looking to sell the mall. Thus, it decided to appoint an international real estate agency to represent it and respond to any enquiries relating not only to SSCM but also its other assets. It is understood that the valuation of SSCM is between RM680 psf and RM700 psf.
Lum stresses that Leadmont has no reason to sell the mall or the hotel at the moment. Retaining the mall, which has found tenants for 80% of its space, will help strengthen the company's profit and loss statement as well as its balance sheet, he says.
Selayang StarCity is being developed by Sierra Delima Development Sdn Bhd, a wholly-owned subsidiary of Leadmont Development. A search on the Companies Commission of Malaysia website shows that Leadmont Development is owned by three individuals — Wong Tzy Jian (99.7%), Wong Hon Chong (0.2%) and Lai Kui Yin (0.1%).
Based on the latest filings available, in the year ended Feb 28, 2015, Leadmont posted a net profit of RM20.42 million on a revenue of RM268.49 million. It had total liabilities of RM339.42 million of which RM249.46 million were current. It also had an accumulated profit of RM44.89 million.
Established in 2000, Leadmont Group's developments include CentreSTAGE in Section 13, Petaling Jaya, and Amansiara Business Park Selayang. The group is also slated to introduce a commercial development called One Sultan Ismail in Kuala Lumpur.
"The focus is to bring in more partners to add value to the group and investors who will enhance the overall value of the integrated development once it is completed," Lum says. For example, Leadmont has signed up Holiday Villa to operate Selayang StarCity Hotel, which is scheduled to open at the end of 2Q2017 or early 3Q2017.
So, why is SSCM attracting attention? Lum says it is likely due to its tenant mix and high occupancy, which are not easily secured in the current market. "Selayang and its vicinity are definitely under-served without any sizeable and well-tenanted mall."
Lum, who hopes to see the mall opening for business by the first quarter of 2017 or the latest by the second quarter, points out that it has so far secured 80% occupancy. The anchor tenants include The Store Corp Bhd's PACIFIC department store, AEON Co (M) Bhd's MaxValu Supermarket and PPB Group Bhd's Golden Screen Cinemas.
According to a brochure, the population catchment within a 15-minute drive is 595,286 based on a 2000 census, which means it could be a lot higher now. The average monthly household income in the area is RM7,000 and above.
There are two other shopping centres in the vicinity of SSCM — Selayang Capitol and Selayang Mall — which are more than 20 years old. Selayang Capitol is a stratified mall with an NLA of 320,000 sq ft. Not much information on its occupancy level is available online. Selayang Mall, meanwhile, is owned by AmanahRaya REIT. With an NLA of 380,032 sq ft, it enjoys full tenancy and achieved gross rental income of RM10.51 million in its financial year ended Dec 31, 2015. The mall is valued at RM144 million or RM378 psf.
It is noteworthy that another shopping centre is scheduled to open near SSCM in 2020. The [email protected] Northgate mall, which is being developed by KL Northgate Sdn Bhd, will offer an NLA of 1.6 million sq ft.
The developer also sees potential to tap the market in the area. In September, it was reported that it sees the market as under-served and, thus, is opening a large-scale shopping centre there. According to KL Northgate, the immediate catchment is 2.5 million with the middle and upper-middle class making up 59% of the population.
This article first appeared in The Edge Malaysia on Nov 21, 2016. Subscribe here for your personal copy.