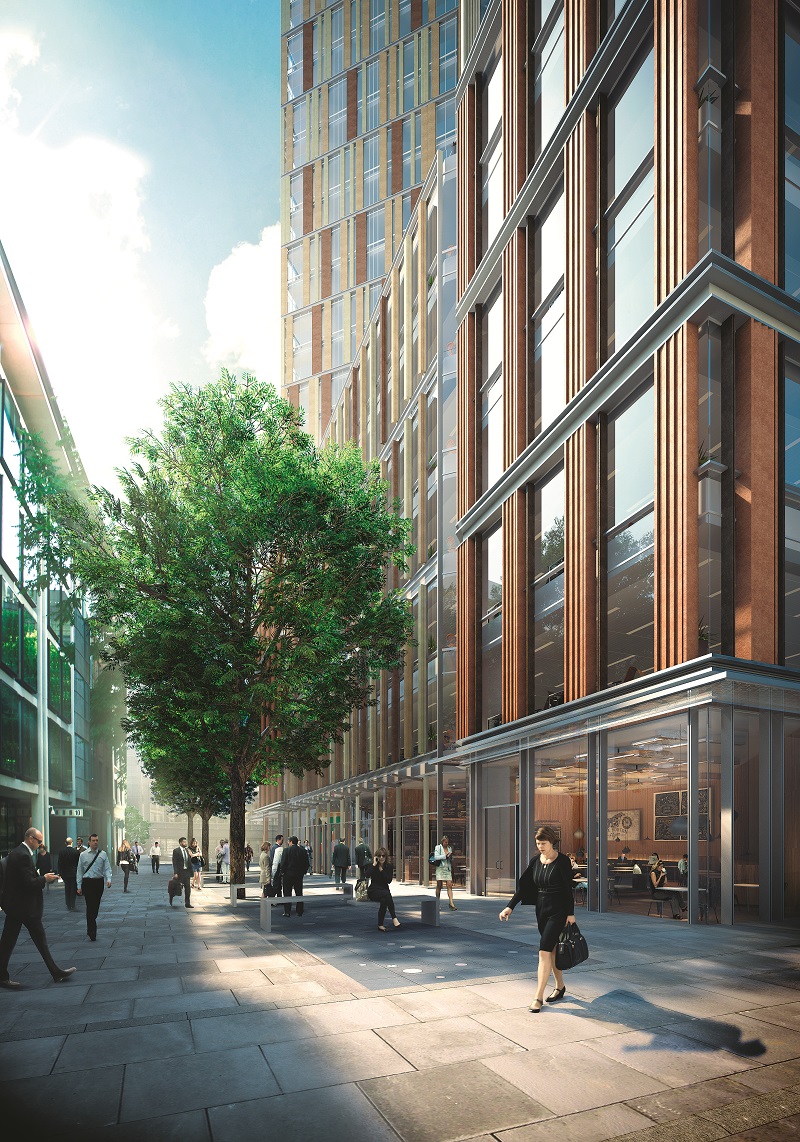 AlloyMtd Group president and CEO Datuk Dr Azmil Khalid is a busy man, given that he manages the conglomerate's large business portfolio.
Headquartered in Kuala Lumpur, the group, which has operations in 15 countries, is involved in businesses such as highway toll concessions, construction and engineering, precast concrete product manufacturing, solid waste management and property development. It even owns and operates a port in Indonesia.
At present, Azmil's priority is to ensure the group's £451 million (RM2.67 billion) redevelopment of One Crown Place in London is a success.
One Crown Place is AlloyMtd's re-entry into the London real estate market. Between 1996 and 2000, the group had a one-third stake in Spitalfields Development Group (SDG) — a joint-venture company that undertook the Spitalfields market redevelopment project — through its subsidiary Metacorp Bhd.
Metacorp sold the stake to British property development and investment company Hammerson plc in 2000.
The 0.94-acre One Crown Place is located in the London borough of Hackney, immediately to the north of the Broadgate Estate in the city and close to Liverpool Street Station. It is a 4-storey heritage building with warehouses and an early 19th century Georgian terrace façade.
The redevelopment — which was designed by one of the world's largest architectural firms, Kohn Pedersen Fox (KPF) — is expected to be completed by end-2019, says Azmil.
KPF has designed a number of iconic buildings, including Northeast Asia Trade Tower, the tallest building in South Korea; the Hong Kong International Commerce Centre; and Tour First, the tallest building in France.
With the combination of KPF's design expertise and AlloyMtd's experience in property development, Azmil believes One Crown Place has what it takes to be a landmark building in Shoreditch, which is an inner city district in the historic East End of London and modern Central London within Hackney.
Once completed, One Crown Place will comprise two residential towers, a 32-room boutique hotel, and retail and office units. The residences will be located above the podium offices so as to provide workspace that meets the requirements of the modern occupier who wants to live and work in the same area.
The project's total net internal area (NIA) of 372,000 sq ft consists of office NIA of 142,000 sq ft, retail NIA of 12,000 sq ft and residential NIA of 203,000 sq ft or 247 apartments while the boutique hotel will have an NIA of 15,000 sq ft.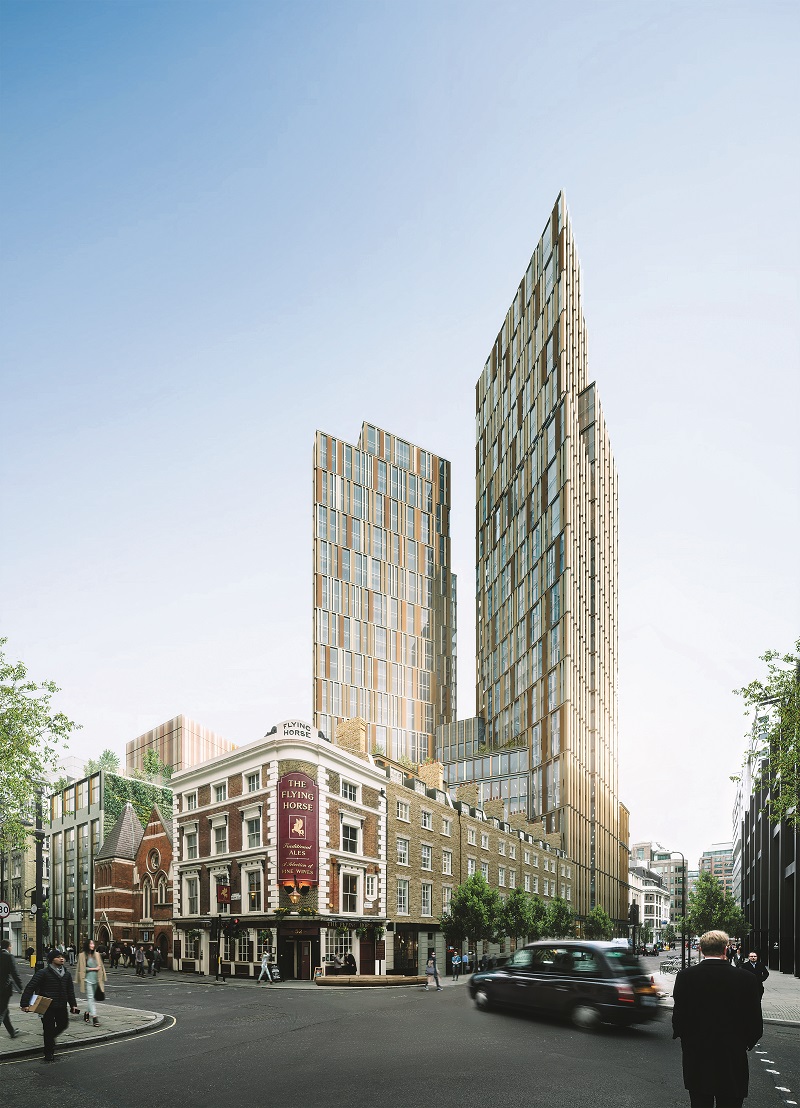 According to Azmil, demolition of the warehouses starts next month. This will take about eight months and actual construction will begin in August next year and end in 2019.
The group plans to launch the project next year and Azmil is confident it will attract Londoners who work in Hackney as there are few residential units in the area.
"Demand for housing in London is acute, not just for affordable housing but also for mid and slightly above mid-end," he says. "Those in managerial positions have to live quite far away and they are all renting. This is an opportunity for them to live in the city."
The project is also targeted at fresh graduates just entering the workforce.
Hackney is home to Tech City, London's technology innovation and entrepreneurship hub whose nerve centre is in Shoreditch. The borough, which is seen to have the potential to be London's version of the Silicon Valley, has convinced many tech companies and startups, including e-commerce giant Amazon Inc, networking equipment maker Cisco Systems Inc, Intel Corp and Google Inc, to set up their offices or campuses there.
Azmil believes that Shoreditch's growing working population, thanks partly to the arrival of the tech companies, is pushing up demand for residential property in the area. Once completed, he says, One Crown Place will create more excitement in the area. "When we talk about offices in the city, it's all nine to five, Monday to Friday. What we envisage is that One Crown Place will be a vibrant area beyond nine to five; we want to be nine to nine, or (even) nine to twelve, Monday to Sunday, tapping Shoreditch's activities," he adds.
To transform Shoreditch into a "district that never sleeps", AlloyMtd has plans for eateries, fine dining restaurants, a pub, theatre and supermarket in One Crown Place to meet the needs of its residents and office workers.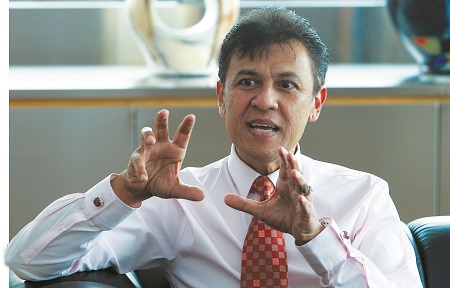 According to Azmil, the redevelopment has not only caught the attention of UK buyers but also Malaysian investors. "After the announcement of the redevelopment, the company has received enquiries from Malaysian investors. Some of them have even suggested purchasing the residential units en bloc. Nevertheless, I hope the UK buyers will be able to take up most of the residential units."
Apart from the amenities, Azmil believes One Crown Place's prices are a pull factor. The average selling price of the residential units is £1,500 psf or from around £700,000 for the studio apartments with a built-up of less than 500 sq ft. A recent posting on UK property website Zoopla shows that a 539 sq ft studio apartment in The Lexicon on City Road — which is 1.61km away from One Crown Place— was going for £805,000 or about £1,518 psf.
There are six layouts in the project — studio, 1-bedroom, 2-bedroom, 2-bedroom duplex, 3-bedroom and penthouse. All the residential units will be sold while the retail and office units will be held for rent. AlloyMtd will retain the boutique hotel as well.
It expects the rental rate for the office units to be around £50 to £60 psf. According to a listing by property consultant DTZ in February, rent for office space stood at £50 to £62 psf.
Persistence the key of success
While AlloyMtd is confident of success with One Crown Place, the journey was not without its problems. The group purchased the heritage building in 2013 from Sun Street Properties, a vehicle of Swiss banking giant UBS AG, for about £60 million.
The bank sold the building because its original plan for a 400,000 sq ft office tower on the site, which was to have been used as the new UBS London headquarters, was not sufficient for its needs. UBS' new, 700,000 sq ft London office in Broadgate Estate is under construction and will be completed next year.
Apart for UK property developers, AlloyMtd was the only Asian company to submit a tender for the building and because of its reputation and previous participation in the redevelopment of the Spitalfields market, it was picked as the winner.
However, after several rounds of research and studies, Azmil and his team felt that a mixed-use development would be more suitable for the area instead of building a pure commercial property.
"To build a 400,000 sq ft office tower, we needed to have pre-lets; otherwise, we couldn't have got funding. It would have been too speculative and we were not a bank that wanted the space for our own use," he explains.
So, they decided to transform the existing building into a mixed-use development and preserve the façade of the 200-year-old, 4-storey Georgian Terrace, making it a landmark in the area even though the company had received the green light to tear it down.
"First, this [mixed-use development] satisfied our vision, which was to create a vibrant location. Second, we can still build a commercial component. It's right that we invest, then attract people to come in," Azmil points out.
As Azmil and his team had to convince the authorities of the feasibility of their redevelopment plan, the pre-planning process took a long time. To get the authorities' consent, AlloyMtd spent £4.5 million on pre-planning, engaging 17 consultants to cover every aspect of the project, such as the right to light, traffic, environment and archaeology.
"We engaged a lot of the stakeholders, we did presentations to the local council, organised public consultation to get the residents' feedback. It was a very expensive affair but it finally paid off," says Azmil.
The proposed redevelopment plan was submitted to the borough in March this year and was unanimously approved early this month.
One Crown Place is estimated to cost £300 million, including the pre-planning cost and the price of strengthening the structure of the Georgian Terrace.
Growing recurring income
Today, about 55% of AlloyMtd's revenue comes from its toll concessions, 30% from the real estate division and the rest from its construction and manufacturing businesses.
And even though the contribution of property development to revenue is second to toll concessions, Azmil stresses that the One Crown Place project is vital to the company's future; it will generate recurring income.
"Toll road concessions saved us in the recession years, allowing our balance sheet to be strong so we could do other businesses. It is important to have recurring income because the infrastructure business is cyclical. Our construction business, for instance, is cyclical. We want to ensure we cover the cyclical nature with a defensive mechanism, which is recurring income," Azmil explains.
AlloyMtd had been looking for opportunities in London for four years before One Crown Place came into the picture. Instead of going for yields like some Malaysian funds do in the UK, the company wanted long-term recurring income and capital appreciation. At the same time, it wanted to build its brand in London.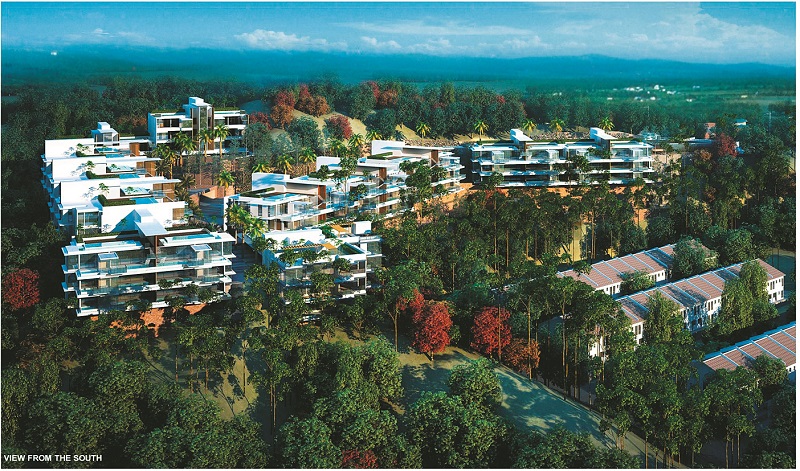 "We could have bought any property but after looking at various propositions, we felt that we could add value [by developing our own project]. There was no point in just buying and holding on," Azmil says.
AlloyMtd's presence in overseas real estate is not confined to the UK — it owns 80 properties in California that were acquired during the economic downturn in the US. Over the past few years, these properties — which are rented out — have enjoyed healthy capital appreciation and become valuable assets for the company, says Azmil.
The group also has developments in the domestic market, Australia, Sri Lanka and Thailand. It plans to launch a serviced apartment project with an estimated gross development value (GDV) of RM150 million in Taman Sutera, Kajang, in January next year. The 3.55-acre project will comprise 392 apartments with built-ups of 850 to 1,250 sq ft and five layouts. Prices start at RM350,000.
The group just completed Tanduk5 Residency — a five-bungalow project in Bangsar. The build-then-sell units with a price tag of RM8.3 million each are now waiting for occupancy permits.
There is also a plan to build 66 luxury low-rise apartments called Damansara Heights Residences in Damansara Heights. These are slated for launch in end-2016 and have a GDV of RM369.6 million.
In Ayer Keroh, Melaka, AlloyMtd has a township called Taman Tasik Utama. The 740-acre development that began in the late 1990s is nearing completion. A 5-storey walk-up apartment block and 1-storey terraced houses are still under construction and are expected to be completed in mid-2016 and end-2017 respectively.
Azmil is firm that the company will not enter the Johor property market unlike other major developers, although he is open to partnerships in Penang. Going forward, he believes both the property development and construction sectors will remain challenging and that the exploration of business opportunities overseas will help insulate the company against market downturns.