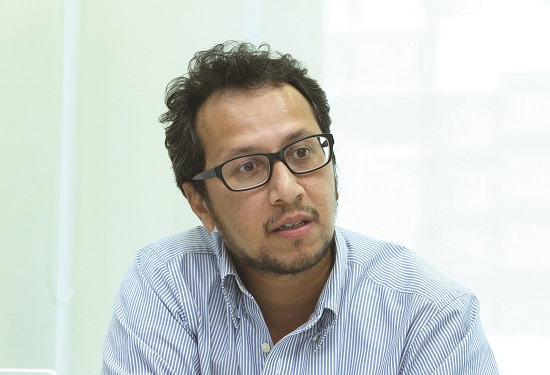 KUALA LUMPUR (Nov 16): The Ministry of Finance said in the Economic Report 2015/16 that household debt rose to 88.1% of nominal gross domestic product (GDP) in August from 86.8% at the end of last year, though it noted at the time that it grew at a more moderate rate than years prior, and assured that total household financial assets are still more than double the debts.
Time and again, Bank Negara Malaysia (BNM) highlighted that it had capped the household debt service ratio, or the percentage of loan obligations to take-home pay, to 30%.
However, Khazanah Research Institute (KRI) (pictured) director of research Dr Muhammed Abdul Khalid said this will not deter the low-income group from getting deeper into debt, as they can still turn to informal channels to borrow for consumption, like getting an "ansuran mudah" (easy payment) scheme to buy durable goods.
According to KRI's State of Household Report, borrowings by this method to buy things like television sets, refrigerators or washing machines is expensive as the total interest paid over prices is as high as 162%. "This is very high, and it's not captured by the data."
"BNM said [the household debt level] is not much to worry about because aggregate-level household assets are more than loans. I suspect it is true for the higher income, not the lower income," said Muhammed, who was also formerly head of economics at the Securities Commission Malaysia, in a recent interview with The Edge Financial Daily.
Economic Planning Unit data showed the top 20% households in the rural and urban parts of Peninsular Malaysia made up nearly half of the income share last year, at an average of 44.3%.
In an article published by KRI, entitled "Antara Dua Darjat", it was shown that investment growth between Amanah Saham Bumiputera's (ASB) top and bottom investors went in different directions. While total deposits grew by 13% from 2012 to 2014, the average deposit of the bottom 6.16 million investors — which made up 72% of ASB investors — fell by 12.3%.
As their deposits were miniscule, these investors' average dividend was just RM45 in 2014 — or RM3.75 a month. "That's only enough to get a breakfast of roti canai and teh tarik once a month," said the article.
While the government debt level gets heavy scrutiny, there is comparatively less attention on Malaysia's household debt, Muhammed said. Why is that, when Malaysia's economy is heavily anchored on domestic demand, he questioned. Private consumption this year made up 52.71% of GDP this year, according to the Economic Report.
"The public debt limit of 55% of GDP is a self-imposed one. What happens when you break it? Nothing, although there will be some cost. Now, we are borrowing about RM630 billion, so an additional one basis point is just RM630 million — that is the extra cost. But household debt is much higher [at RM940.4 billion as at end-2014]," said Muhammed.
The Department of Statistics showed that the median monthly salary and wage in 2013 were just RM1,500. Last year, it was RM1,575.
"Meanwhile, Selangor's median wage was RM2,000 last year, from RM1,980 in 2013. This means in the richest state, people get only RM20 extra per month. But count how much the increase is when divided by 30 days. And toll hikes for, say, [the] MEX highway, went up by RM1; [the] SILK highway by 80 sen. So, of course they feel [the pinch] when prices go up," said Muhammed.
He disagreed with the perception that Malaysia's consumer price index (CPI) is skewed due to inclusion of controlled items, as only few items in the entire 512 goods in the CPI basket are price-controlled items, and even then, they are only controlled during festive seasons. The CPI went up by 10% between September 2010 and September 2014. "We tend to get confused about [the] CPI; it captures the rate of change of prices, not the level of prices," he added.
"But if you look at other big-ticket items, high-rise properties went up by 54%, terrace house 61%. Even [everyday goods] like ginger was up by 57%, kailan by 20% and sawi by 10% during the same period. People remember this. And people remember that toll prices [have] gone up as well," he said, before adding that houses are not included in the CPI. Only rents are.
For low-income earners, Muhammed said it is normal for them to borrow for consumption. With many items' prices increasing, this could just delay the low-earning people's purchases of homes.
BNM's Financial Stability and Payment Systems Report 2014 showed that total household loans were primarily mortgages (45.7%), while personal financing made up 15.7%. However, households which earned RM3,000 or less had a debt-to-income ratio of seven times, even though their total loan share was only 26.7%.
Apart from easy-payment schemes, Muhammed said low-income earners could turn to personal acquaintances or worse — loan sharks — to obtain credit. Forget the fact that ah longs charge exorbitant rates, Muhammed said these numbers are not included in official data. "So, we won't know how much debt came from these informal sources," he said.
Muhammed said these loans were usually for consumables or not backed by assets. The younger ones borrow to study, while the older ones for medication.
Former CIMB Investment Bank Bhd regional head of economic research Lee Heng Guie, meanwhile, said many in their 40s tend to borrow from loan sharks for their businesses' short-term financing.
"Sometimes, these people need quick cash to help with their cash flow. Going to banks requires a lot of requirements and a longer process. So, these small business owners just go to the ah longs and use their possessions as collateral," he said.
Both Lee and Muhammed agree that Malaysia's household indebtedness will not be reduced anytime soon. "It will take a dramatic fall in loan growth or a sharp GDP rise to reduce the ratio," said Lee.
Muhammed suggested that easy- payment schemes be disallowed from advertising low daily repayments and instead display the actual annual percentage rate (APR).
"Then, when people want to buy, say, those consumer durables that I mentioned earlier, they would know they are paying [a] total APR of more than 40%. So, they would then think twice. This can easily be done. It wouldn't require cabinet decisions or to be tabled in Parliament. Ministers can just go and make an announcement that it's banned beginning tomorrow."
Do not ask your sister-in-law about the value of your home. Click here at The Edge Reference Price to find out.
This article first appeared in The Edge Financial Daily, on Nov 16, 2015. Subscribe to The Edge Financial Daily here.