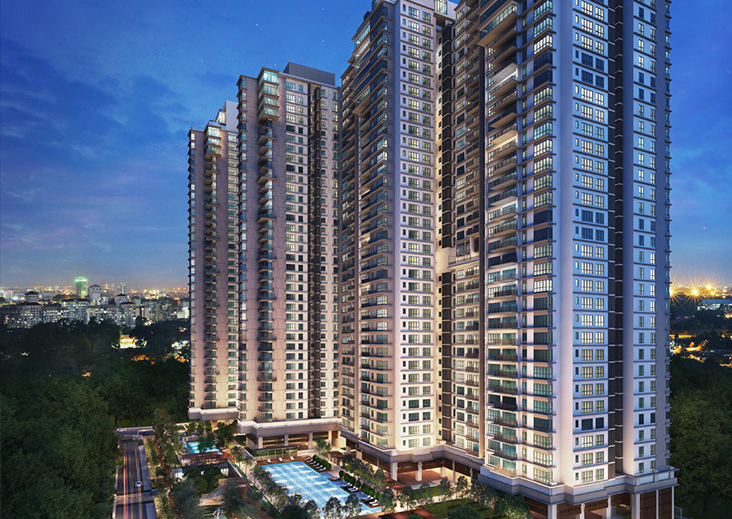 MONT'KIARA will soon welcome another residential development by UEM Sunrise Bhd. The developer, which is no stranger to the posh high-rise enclave, is offering a condominium called Residensi Sefina with a beach retreat theme.
UEM Sunrise central region project director Ang Kee Ping tells City & Country that Residensi Sefina will bring a cruise ship concept to Mont'Kiara. "It promises a vibrant lifestyle, combining luxury with adventure," he says.
Residensi Sefina has an estimated gross development value (GDV) of RM300 million and comprises a 34-storey tower with a man-made beach. It is coming up on a three-acre freehold parcel in Jalan Kiara 3 — next to Mitraland Group Sdn Bhd's Kiara 1888 — on the border of Mont'Kiara and Kampung Segambut Dalam.
"A monsoon drain cuts across the site, making planning quite a challenge but we took it as an opportunity to come up with the development's concept [of a beach retreat]," says Ang.
The drain divides the land into two unequal parcels, so the condominium is being built on the bigger one and the beach — called Sandy Island — on the other.
The tower houses 245 condos with built-ups of 1,300 to 1,700 sq ft. Prices start at RM1.1 million or RM830 psf.
There are eight condos per floor and of these, the corner units have a built-up of either 1,500 or 1,700 sq ft and the rest 1,300 sq ft.
Acting chief marketing officer for the group's property division, Zadil Hanief Mohamad Zaidi, says with such sizes, Residensi Sefina is targeting young professionals with families. But parents looking for homes for their children are also showing keen interest, he adds. "Our buyers are a mixture of young professionals and parents but they are mainly from the city and current residents of Mont'Kiara."
Residensi Sefina features a facility floor designed like the deck of a cruise ship. Called Star Deck, it houses a lap pool, secret garden, sun deck, Jacuzzi, yoga deck, sauna, reading pavilion, multipurpose hall and gymnasium.
Residents also get to enjoy a spice garden, beach campfire site, therapeutic path, beach volleyball court, cabana, wellness garden, hammock garden and children's playground.
"True to its design concept, Residensi Sefina ensures a 'getaway' for its residents while living in the city," says Zadil. "The beach has a volley ball area while the deck offers swimming pools and other facilities."
Residensi Sefina was opened for registration earlier this year and about 1,000 people have expressed interest in the project, he adds.
The project was soft-launched on May 23 and will be officially unveiled by end-July, when the show unit is ready. Earthworks have already begun and the development is due for completion in 2019.
When it comes to amenities, residents of Residensi Sefina will find a number of malls and commercial areas — 1Mont'Kiara, Publika, Solaris Mont'Kiara, Plaza Mont'Kiara and Sri Hartamas — just 10 minutes away by road and the Garden International School and Mont'Kiara International School nearby.
The disadvantage
Despite the luxury developments in Mont'Kiara, its roads are narrow, creating a gridlock during peak hours. The road to Residensi Sefina is also steep, which slows down traffic further. But, explains Ang, Dewan Bandaraya Kuala Lumpur is working to widen the road to six lanes from four now for better flow.
The 4.2km road widening project is divided into three phases: Section A stretches from the Segambut KTM station to Taman SPPK Segambut (completed in 2013) while the addition to Section A and Section B, which will continue to Jalan Kiara 4, are still in the tendering, design refinement and engagement with current residents stage. The completion dates of these sections have yet to be confirmed.
On the outlook for Mont'Kiara, Zadil is optimistic that its properties will continue to do well as the area remains a real estate hot spot in the Klang Valley. "There are mixed views on the state of the property market in Malaysia with some areas, such as Penang and parts of KL, doing well and others, such as Iskandar Malaysia, being a bit slow. But we are positive about the overall market, particularly Mont'Kiara, which is strategically located. Thus, we believe Residensi Sefina with its new design concept will be well received by the market."
Ang points out Mont'Kiara's accessibility via the Penchala Link, New Klang Valley Expressway (NKVE) and Duta-Ulu Klang Expressway (DUKE). "Mont'Kiara will become even more popular in the future as we continuously see high demand for properties in the area."
Moving forward, UEM Sunrise will be selective about the products it offers in the central and southern regions where its focus lies. "While every development will have its respective challenges, we are being selective about the type of products we launch, especially this year. For example, we are launching landed properties in Iskandar Malaysia as there is an abundance of high-rises there," explains Zadil.
"We have a few projects in the pipeline that we hope to launch this year, although not in the immediate term. Investors can look forward to some developments in Iskandar Malaysia and Bangi. If we offer the correct product, it will fare well in the market."
However, Zadil declines to comment on remarks by UEM Sunrise managing director and CEO Anwar Syahrin Abdul Ajib in a recent Bloomberg article that the developer would dispose of some of its land in Iskandar Malaysia and use the proceeds for landbanking elsewhere.
Mont'Kiara
Sonia Hartono, property adviser for Hartamas Real Estate Sdn Bhd, opines that Residensi Sefina's location in Mont'Kiara and the built-ups and prices of its units make it a good investment.
"Prices are rising everywhere. Some high-rise residences are already at RM750 psf while in KLCC, they are at RM1,900 psf. So, what Residensi Sefina is offering in Mont'Kiara is acceptable. In fact, prices in similar developments, like Kiara 9 by Mitrajaya, that were at RM800 psf three years ago, have now risen to RM1,000 psf," she says.
Lynette Seet, director of Full Homes Realty Sdn Bhd, however, says though Mont'Kiara and North Kiara are considered high-end, prospective buyers of Residensi Sefina units may be put off by the nearby Kampung Segambut Dalam. "Still, I believe buyers should not be too concerned about the wooden houses as these will be cleared for future developments.
"Property prices in Mont'Kiara and North Kiara are fair due to the location factor and the facilities offered by the developments there, which basically attracts the high-income earners and expatriates."
Seet believes Residensi Sefina is worth looking at as no other development in the area offers similar facilities. "It will be popular among those seeking a luxurious lifestyle and decent built-ups."
She says projects with unique offerings by reputable developers will continue to win over homebuyers. "Due to the many developments coming up in Mont'Kiara and its surroundings, developers are becoming more competitive in their design concepts and offerings. To the younger generation, a product without a concept is dull. They can find ordinary products on the secondary market."
This article first appeared in City & Country, The Edge Malaysia Weekly, on June 22 - 28, 2015. Subscribe for your personal copy here.