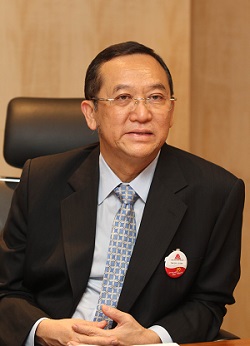 KUALA LUMPUR (Jan 28): Bank Negara Malaysia's move to reduce the statutory reserve requirement (SRR) by 0.5% is timely, as this will make more fund available for lending to the first time house buyers, said Mah Sing Group Bhd's managing director Tan Sri Leong Hoy Kum (pictured).
"This (reduces the SRR by 0.5%) definitely will help in the liquidity side. We welcome what the Bank Negara have done. We think this is timely, because it will help those genuine first time house buyers to purchase the house, there are more funds for them," Leong told reporters, after the property group's EGM this morning.
Last week, the Central Bank reduced the SRR to 3.5% from 4%, effective Feb 1. SRR is the amount of funds that a bank are required to keep in with the central bank. This is an instrument to manage liquidity.
The group highlighted in a presentation to the media that one of the key issues faced by the house buyers is getting a loan from the bank. In the period of January-September 2015, housing loan approvals had dropped by 12%.

However, Mah Sing pointed out that the annual demand for housing stood at 300,000-400,000 units, which outnumbered the supply of 70,000 completed units delivered by the developers in a year.
While Mah Sing is also scaling back its launches together with other developers in view of a weaker market in 2015, Leong said the group would be launching six new projects this year, spreading in Klang Valley, Johor and Penang, with a combined gross development value of RM2 billion.

These products would be catering for the mass market with affordable housing, with price ranging from RM350,000 to RM400,000 and above.
The group has achieved a sales of RM2.3 billion in 2015, and has set a same amount of sales target for 2016.
Today, Mah Sing's shareholder passed the resolution to vary the usage of the balance of RM363.4 million, that was previously allocated to the proposed land acquisitions in Seremban and Puchong which have been rescinded.
Leong said that the proceeds will be used for future land acquisition, property development activities, the redemption or repurchase of the convertible bonds, as well as working capital.
He said the group will continue to scout for more land but it is not in hurry to buy more lands.
"We have 46 projects that will last us for the next eight years. So, we still have about RM30.6 billion remaining GDV and unbilled sales.
"There is no hurry, we are still looking. If the price is so attractive and it meet our requirements and in the meantime, also a price that we cannot resist," Leong added.
Before mid-2016, Mah Sing will hand over its Icon City located at Kelana Jaya, MCity located along Jalan Ampang. The group has also reserved a tower in the Icon City for leasing.
Leong said that the group plans to move towards the direction of starting its Real Estate Investment Trust (REIT) in the future, with the group keeping some of its assets for this purpose. -- theedgemarkets.com
Interested in property investments in Kelana Jaya after reading this article? Click here to check out the properties there.