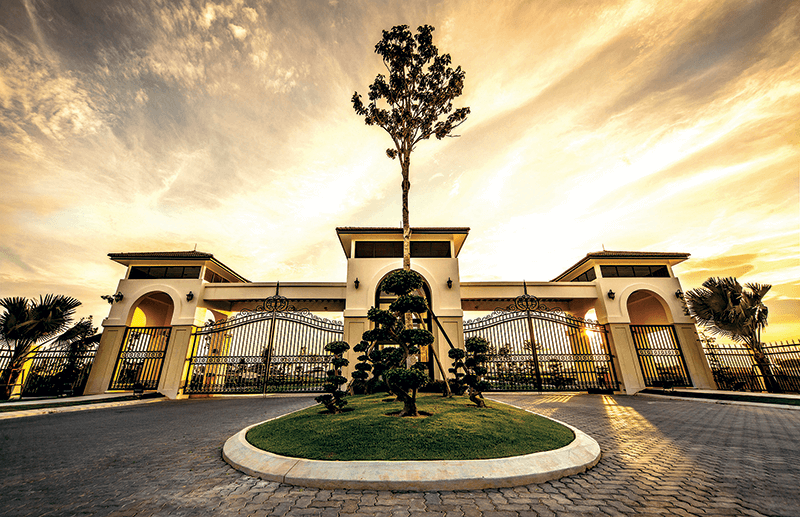 I'm a competitive person. To put it in a local context, I'm very 'kiasu'," says Datuk Chang Khim Wah with a hearty laugh.
No doubt, this "kiasu" spirit has helped the president and CEO of Eco World Development Group Bhd in his career.
Chang is one of two recipients of The Edge Malaysia Outstanding Property CEO Award 2015. The new award was conceptualised to recognise CEOs or professionals who have successfully taken the company to an exceptional level under his/her leadership.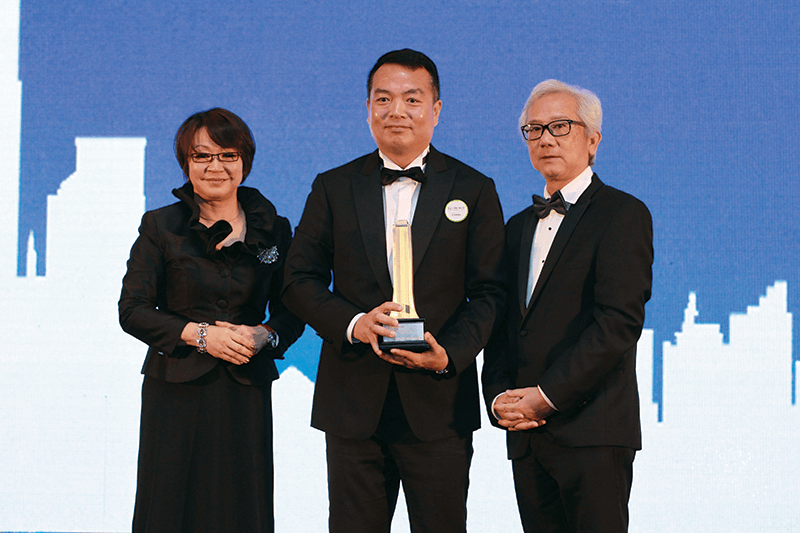 Considering EcoWorld's first launch (Eco Botanic in Nusajaya, Johor) was just a little over two years ago, its achievement has been impressive.
In its financial year ended Oct 31, 2014 (FY2014), EcoWorld achieved sales of RM3.186 billion, which was more than its initial target of RM2 billion. It has set a sales target of RM3 billion in FY2015 and RM4 billion in FY2016. As at Aug 31, it had already achieved year-to-date sales of RM2.37 billion.
EcoWorld presently has about 7,443.9 acres of landbank with a total gross development value of RM81 billion. The developer has a presence in the Klang Valley, Iskandar Malaysia and Penang with 17 projects in total, including Eco Majestic in Semenyih and Eco Spring in Johor Baru. Its product ranges include affordable, upgrader and luxury homes, integrated high-rise developments and green business parks.
EcoWorld has also managed to build a strong brand in a short period of two years. Much of its success can be attributed to Chang.
In his younger years, the Kuala Lumpur born and bred Chang never thought that he would be heading a major company. He graduated with a bachelor's degree in civil engineering from Australia in 1989 and worked for a couple of years as a consultant civil engineer in Australia before moving back to Kuala Lumpur.
In 1994, he joined Syarikat Kemajuan Jerai Sdn Bhd (SKJ), which was set up by EcoWorld chairman Tan Sri Liew Kee Sin. SKJ was bought over by S P Setia through a reverse takeover exercise in 1996. "I joined Liew at the end of the development of Bukit Indah Ampang, before we started in Pusat Bandar Puchong. I spent over a year with Liew in Puchong before he transferred me to Johor Baru to start the development of Bukit Indah Johor in 1997," says Chang.
He eventually became S P Setia executive vice-president of the Southern and Northern property divisions. He remained in Johor Baru for more than 15 years until EcoWorld came calling.
When he was asked to head the new company, he said "yes" without hesitation. Chang and a group of his longtime S P Setia colleagues joined EcoWorld and were instrumental in the rise of the company.
"It was an opportunity for the team and me to start again, but with more knowledge than when we first started. Rarely do you get a chance to start afresh with a clean slate," says Chang.
Of course, being a competitive person, the lure of new challenges was too good to pass up.
"I think it's not just me, but the team as well. We were eager to tackle these new challenges and, maybe, even set new benchmarks. These things excite us. Even though I'm heading a new company, I believe we can compete with the best in the market if the team is right and the landbank is right."
Keeping the team together
With an ambitious sales target and pressure to excel, how does Chang motivate and hold the team together?
"This job has two extreme ends; it's one of the toughest jobs in the industry and it is also one of the easiest. The easy part is that we have Liew at the helm, and he has provided his entrepreneurship and his guidance. I have with me one of the most experienced teams in the industry.
"At the same time, we have a good portion of young talent. They are energetic, eager, very tech and social media savvy. So we have a good blend of people and the teamwork is superb."
On the flip side, having an experienced team can have its own pitfalls. With the team's reputation, expectations were in place right from the start.
"The hardest part was having to tap our experience and detach ourselves at the same time. We had to keep the principles we learnt but create a new look, image, quality and service standards. If we repeat ourselves, we can only be second best.
"To be able to achieve our sales target of RM5 billion in two years (2014 and 2015) is hard but I believe, with this team, we can do it. I can't tell you if this is the ideal job — there are both hard and easy parts — but I think we have the best of both worlds," says Chang.
However challenging it has been, he is proud that the team, including the senior management and Liew, have never faltered at any stage.
"There will always be challenges in any business, whether they are big or small. Every single challenge that came our way, we have overcome and even benefited from them. In the beginning, the challenge was to buy strategic landbank, then it was how to convert the land and launch [projects] as soon as possible."
The biggest challenge today, says Chang, is the overall market sentiment and shrinking market.
"It's a new challenge; how to maintain our sales momentum and continue to grow in a shrinking market. We will have to continue to innovate to overcome these challenges. So far so good, we are still looking good to meet our sales target this year."
While EcoWorld has done well under his leadership, Chang can't say he is completely satisfied, as satisfaction, to him, means perfection and perfection doesn't exist.
"Things are never perfect. We are still learning and there are still many things we could have done better. Having said that, I think we have done a lot in less than 1,000 days. We have acquired more than 7,000 acres in landbank, we are listed on Bursa Malaysia, we have launched 10 projects and part of EcoWorld has gone international.
"We have not done all this carelessly, but with proper planning in great detail. The intention is to create a product of quality and value to all our customers. In that sense, I think we are happy with what we have achieved, but to be truly satisfied, everything has to be perfect."
The most important thing Chang has learnt in his role as a CEO is how to optimise the potential of the team.
"Our team has a lot of potential, and I believe they can still go much further. You must assemble the right team and make sure you have the right job for the right person. Then you have to encourage and motivate them, and get them to create new ideas and learn new things.
"Everyone has the opportunity to express themselves and contribute. I think that is one of the keys to our success so far. There have been sweat, tears and blood. Nothing would have happened if the team didn't put in their all, and the team can only put in their all if they have faith in the management and themselves."
The man who does not sleep
Life has changed for Chang since he took on the role of CEO.
"Work has taken up quite a lot of my time in the past two years. Luckily, my family is understanding. It helps that they can see I enjoy my work. Of course, it's not all about work — I still find time to spend with my family and friends, and exercise."
Despite the heavier workload and higher stress, Chang enjoys his work more now than in his previous position.
"Before this, I was looking after Iskandar Malaysia, so it was more project-based. It is more challenging being the CEO. I think it makes me more rounded. I get to meet more people, there are many more things to learn and new challenges to overcome. That, to me, is more enjoyable."
A day in Chang's life starts early, at 6am, and most of the time he is in the office by 8am.
"I have been known not to sleep. My SMSes would fly almost 24 hours a day, which I know is a very bad habit," Chang chuckles.
"I like to start early because I spend a lot of time having meetings outside the office, so I try to catch up with work in the office in the morning. I try to visit each project at least once a week, and I meet Liew and some of the senior management once or twice a fortnight."
He also tries to have lunch in the office cafeteria so he can spend some time with the staff. EcoWorld caters lunch for the staff. Most days, he calls it a day at 9pm to 10pm.
He attributes his success as a CEO to Liew's guidance and the support of the team.
"My competitiveness has helped push me as well. I love jumping into a lot of things and I don't like to dilly dally on issues. So when problems come to us, we make it a point to resolve them immediately or as soon as possible."
Chang has no plans to take a break anytime soon.
"We have accumulated more than 7,000 acres of land. Going forward, we will continue to launch what we have and aim to do each new phase better than the last. We are looking for more strategic land that will give us new catchments.
"Projects like the RM8.7 billion Bukit Bintang City Centre (BBCC) and the RM10 billion Eco Marina will not only give us more sales but also reinforce our brand."
BBCC is a joint venture between EcoWorld, Uda Holdings Bhd and the Employees Provident Fund and will be built on the site of the former Pudu jail. Eco Marina in Penang is a project EcoWorld is buying from Penang Development Corp.
It looks to be another long, busy day for Chang, but as we part ways, he says with a grin, "Every day is full of something, there's never a dull moment." TEPEA 2015
Do not ask your BFF about the value of your home. Click here at The Edge Reference Price to find out.
This article first appeared in City & Country, a pullout of The Edge Malaysia Weekly, on Dec 7, 2015. Subscribe here for your personal copy.