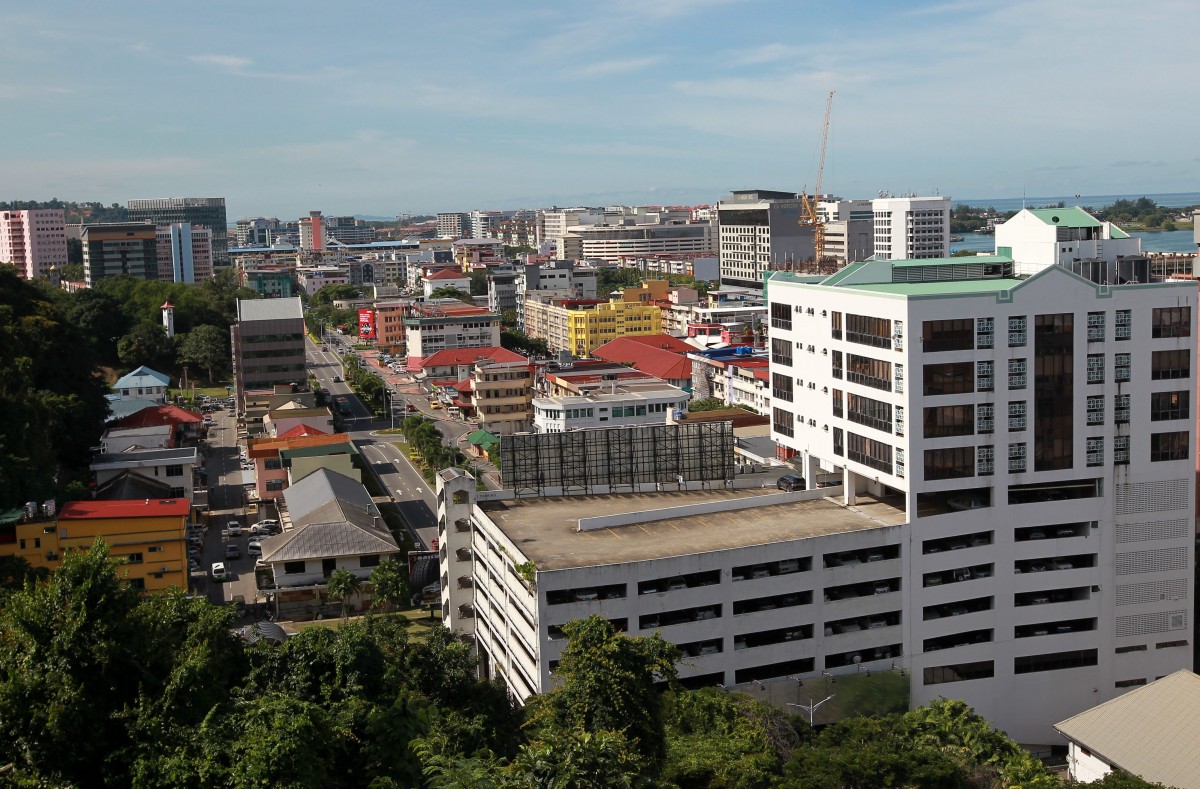 THE Kota Kinabalu property market continued to be cautious in 3Q2015 with residential property values in selected segments remaining stable.
In presenting The Edge/Rahim & Co Kota Kinabalu Housing Property Monitor for 3Q2015, Rahim & Co Sabah branch manager Max Sylver Sintia says most buyers were selective and careful with their purchases.
"Investors were wary of the state of the economy and its effect on their property investment portfolio and strategy as well as the property market in general," he says.
"Developers have become more cautious with their new launches, and no significant new developments were launched during the quarter under review."
He attributes the market sentiment to the country's rising cost of living, the weaker ringgit, the current political situation, the cooling measures and tight lending regulations, among others.
Until the lending conditions improve, Sintia expects property transactions to remain low in the next quarter. However, he is optimistic that residential property prices in Kota Kinabalu will be stable in both the medium and long terms.
"While the slide of the ringgit against world currencies is anticipated to draw more foreigners to buy residential properties in Kota Kinabalu, they may be more cautious and selective in their purchases, knowing that our property market is facing difficult times," says Sintia.
Nonetheless, affordable residential properties, priced mostly below RM500,000, are still seeing high demand, although actual transactions are hard to materialise due to the difficulty in securing loans, he notes.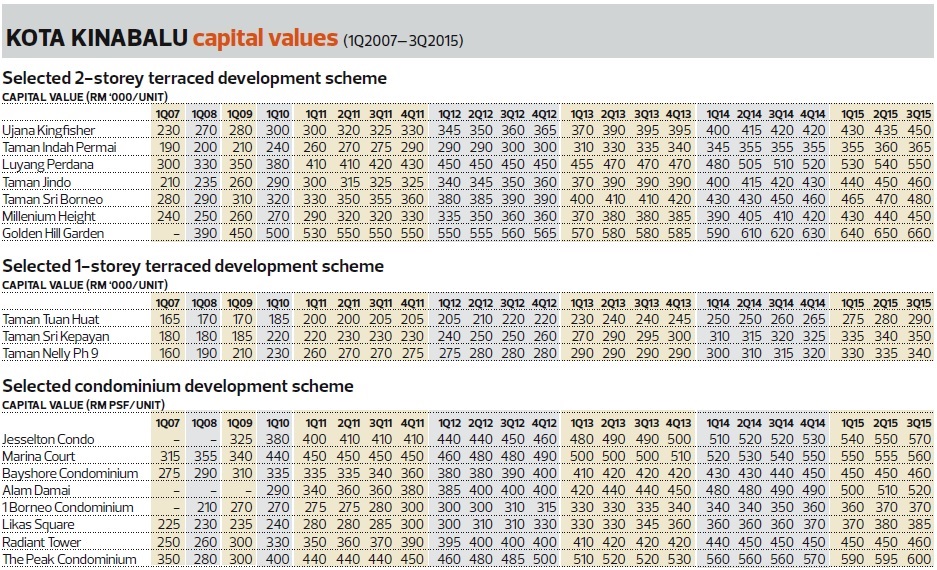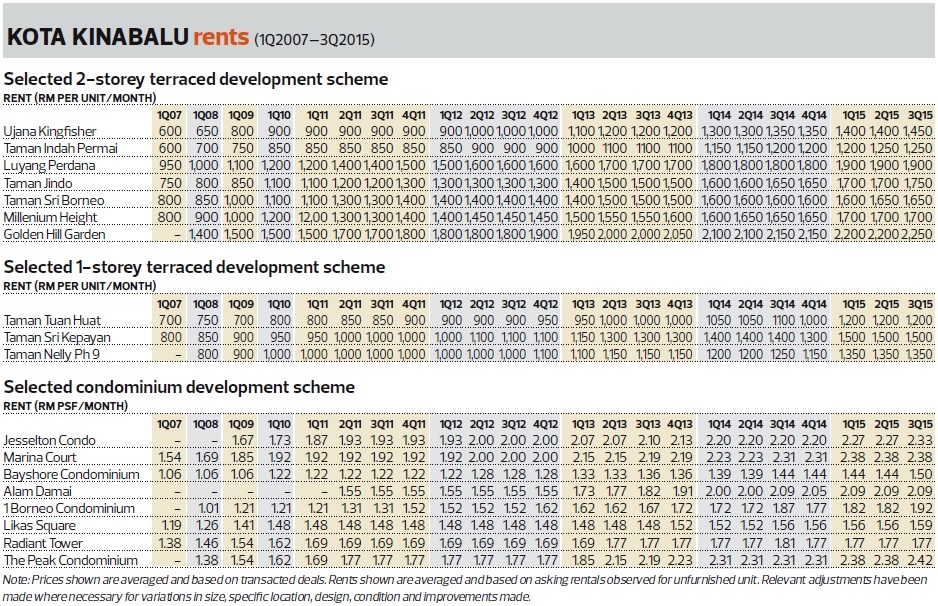 Developments moving to the fringes
Due to the scarcity of suitable land in the Sabah capital, Sintia says developers are looking to the fringes of the city. The proposed acquisition of a 16.57-acre parcel in Lok Kawi by Taman Bestari Sdn Bhd is one indication of that, he adds.
Taman Bestari, a wholly-owned subsidiary of AGB Properties Sdn Bhd, which in turn is wholly owned by Asian Pac Holdings Bhd — the developer of Imago Mall, Karamunsing Capital and KK Times Square — had on Sept 10, 2015, entered into a conditional sales and purchase agreement for the land for a consideration of RM21.8 million.
A catalyst for the rapidly growing Lok Kawi area is the upgrading of Jalan Donggongon up to the Jalan Papar Spur junction — where the said parcel is located — and Jalan Petagas, which will improve connectivity. Being part of the Pan Borneo Highway, these highways are the main arteries connecting Sabah and Sarawak, Sintia says.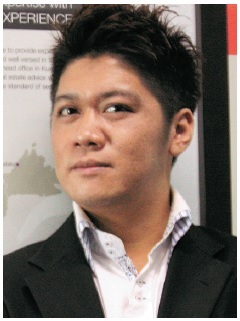 A notable development in the northern fringe within the Menggatal area of Kota Kinabalu is Villa Mutiara by Nadi Properties Development Sdn Bhd. The recently launched project comprises 308 townhouses with built-ups of between 1,262 and 1,400 sq ft that are slated for completion in 2018. Their selling prices start at RM311,000.
Meanwhile, Hap Seng Properties Development Sdn Bhd is developing high-rise condominiums — Kingfisher Inanam at the northern corridor of Kota Kinabalu and Kingfisher Putatan in Ketiau, Putatan.
To be launched in the first quarter of 2016, Kingfisher Inanam is a 24-storey condominium comprising 739 units with an average selling price of RM440 psf. Kingfisher Putatan is a 15-storey block comprising 120 condos with an average selling price RM400 psf.
According to Sintia, another condominium project, known as [email protected], is also expected to be launched in the same quarter. Located next to Wisma Wanita, the development will consist of three blocks — a 26-storey tower with 208 units, a 21-storey tower with 147 units and a 16-storey tower with 128 units. The built-ups will be between 900 and 1,003 sq ft. The developer started selling the units early last year and they are currently 60% sold.
Strong performance by the secondary market
Double-storey terraced houses have always been a popular choice in Kota Kinabalu, particularly those located in established areas with public facilities and good infrastructure. Prices of such homes in the secondary market have been climbing steadily over the years.
"This is evident in the stronger growth of almost 10% year on year recorded, based on our selected samples in the established residential areas of Jalan Bundusan and Jalan Lintas," says Sintia.
One significant transaction recorded in the quarter involves a 2-storey intermediate terraced house in Taman Kim Leng in the mature Damai area. The house was transacted at RM810,000, indicating that such homes in established areas are solid investments in the long run, he notes.
Due to the scarcity of land in the city, developments offering 2-storey terraced houses are moving to the southern and northern fringes of the city such as Kepayan, Putatan, Lok Kawi, Kinarut, Penampang, Papar, Sepanggar, Inanam, Menggatal, Telipok and Tuaran.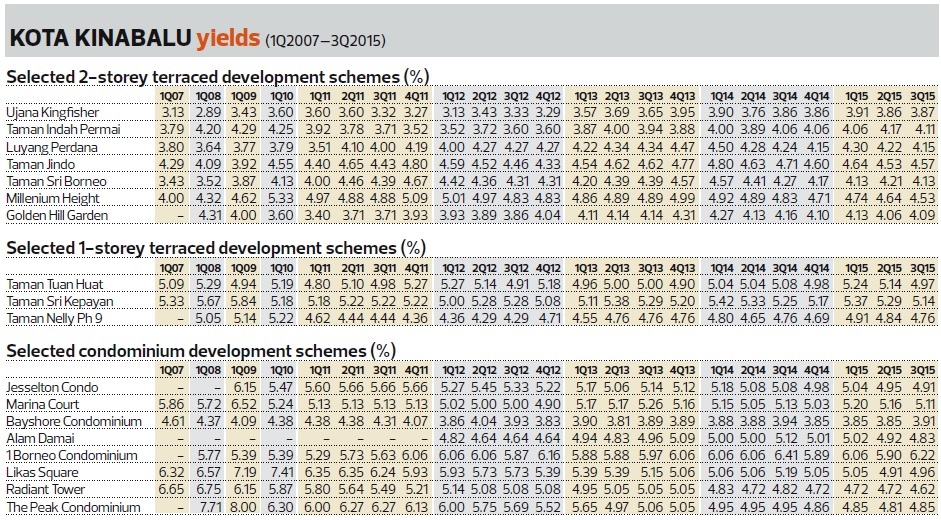 Sintia says older 2-storey terraced houses located in these areas will provide homebuyers an affordable option. He adds that they will also get to enjoy the spillover effect of higher prices in the primary market. He notes that the demand for this type of property will remain healthy as it is usually the first option for first-time house buyers and upgraders.
Furthermore, the upgrading of Jalan Petagas has boosted the demand for and prices of older 2-storey houses in Putatan and Lok Kawi.
Double-storey terraced houses saw an average price growth of 7.17% or RM31,000 y-o-y in 3Q2015 — a 0.41% drop from the previous corresponding quarter.
Taman Millenium Height recorded the highest y-o-y price growth — 9.76% to RM450,000 in 3Q2015. This was followed by Taman Jindo (9.52%), Luyang Perdana (7.84%), Ujana Kingfisher (7.14%), Taman Sri Borneo (6.67), Golden Hill Garden (6.45%) and Taman Indah Permai (2.82%).
Q-o-q price growth for 2-storey terraced houses was at 2.12% or about RM10,000, up 0.45% from 2Q2015.
The highest q-o-q growth was recorded at Ujana Kingfisher (3.45%), followed by Millenium Height (2.27%), Taman Jindo (2.22%), Taman Sri Borneo (2.13%), Luyang Perdana (1.85%), Golden Hill (1.54%) and Taman Indah Permai (1.39%).
"In the light of the relatively small difference of less than 1% in y-o-y and q-o-q growth rates, we can conclude that the price growth remained stable during the period," says Sintia.
For 1-storey terraced houses, he says their prices remained stable in 3Q2015, except for those in the Kepayan Ridge area, which appreciated strongly due to high demand. "Demand for 1-storey houses remains strong, especially from first-time homebuyers and those seeking to upgrade from stratified apartments to landed properties."
He says the prices of 1-storey terraced houses depend on their condition, as these are mostly older properties with some built more than 30 years ago.
While those with renovations and extra land may see further appreciation in value, he notes that there are people who do not mind buying poorly maintained units at lower prices as they would renovate them after the purchase.
Single-storey terraced houses sampled saw an average growth of 9.62% y-o-y or RM28,000 in 3Q2015, up 1.14% from 3Q2014.
The highest y-o-y growth was recorded at Taman Tuan Huat, at 11.54% — up RM30,000 from RM260,000. This was followed by Taman Sri Kepayan (9.38%) and Taman Nelly Phase 9 (7.94%).
Q-o-q price growth of 1-storey terraced houses was 2.67% or about RM8,000. The highest q-o-q growth was recorded at Taman Tuan Huat (3.57%), followed by Taman Sri Kepayan (2.94%) and Taman Nelly Phase 9 (1.49%). To compare, 3Q2014 saw a q-o-q growth of 2.4%.

Prices of high-rises up
Prices of condos in the secondary market continued to rise in 3Q2015 but at a slower rate compared with the previous quarter.
Sintia is of the opinion that condo prices will remain stable due to the strong demand for developments with good facilities, security systems and accessibility. "The strong demand for high-rise residential properties in the secondary market has also been attributed to their affordability, especially the smaller units, compared with landed properties."
He says while the asking price for 2-storey terraced houses is currently above RM450,000, high-rise units with a built-up of 900 sq ft and a price tag of RM400,000 would offer homebuyers another option.
Condo prices in Kota Kinabalu rose to RM491 psf in 3Q2015 from RM464 psf a year ago. The highest y-o-y price growth in the quarter under review was seen at Jesselton Condo — up 9.6% to RM570 psf. This was followed by The Peak Condominium (7.1%), Likas Square (6.9%), Alam Damai (6.1%), 1Borneo Condominium (5.7%), Bayshore Condominium (4.5%), Marina Court (3.7%) and Radiant Tower (2.2%).
This segment also saw a 1.64% q-o-q price growth — outperforming 3Q2014 and 2Q2015 by 0.48% and 0.25% respectively.
The highest q-o-q growth was recorded at Jesselton Condo (3.6%), followed by Bayshore Condominium and Radiant Tower (both at 2.2%), Alam Damai (2%), Likas Square (1.3%), Marina Court (0.9%) and The Peak Condominium (0.8%). There was no price growth at 1Borneo Condominium.
Rental performance
Rents for 2-storey terraced houses grew an average of 4.86% y-o-y. Ujana Kingfisher registered the highest growth rate, at 8.7% — up RM100 from RM1,350 per month — followed by Taman Jindo (6.06%), Luyang Perdana (5.56%), Golden Hill Garden (4.65%), Taman Indah Permai (4.17%), Taman Sri Borneo (3.13%) and Taman Millenium Height (3.03%).
For 1-storey terraced houses, rents rose an average of 8.08% y-o-y, with Taman Tuan Huat registering the highest growth of 9.09% or RM100 from RM1,100 per month, followed by Taman Nelly Phase 9 (8%) and Taman Sri Kepayan (7.14%).
The average gross yield for 2-storey terraced houses was 4.21% (-0.10% from 3Q2014) while for 1-storey terraced houses, it was 4.96% (-0.07% from 3Q2014).
Condos saw an average rental growth rate of 5.45% y-o-y (+1.34%) while the average gross yield stood at 4.93% (-0.01%).
According to Sintia, the improvement in condo rents was due to better facilities and security systems offered compared with landed properties.
The condominium with the best yield was 1Borneo Condominium (6.22%), followed by Marina Court (5.11%). Other condos sampled registered yields of between 4.62% and 4.96%, except for Bayshore Condominium, which had a yield of only 3.91%.
Do not ask your boyfriend about the value of your home. Click here at The Edge Reference Price to find out.
This article first appeared in City & Country, a pullout of The Edge Malaysia Weekly, on Jan 11, 2016. Subscribe here for your personal copy.