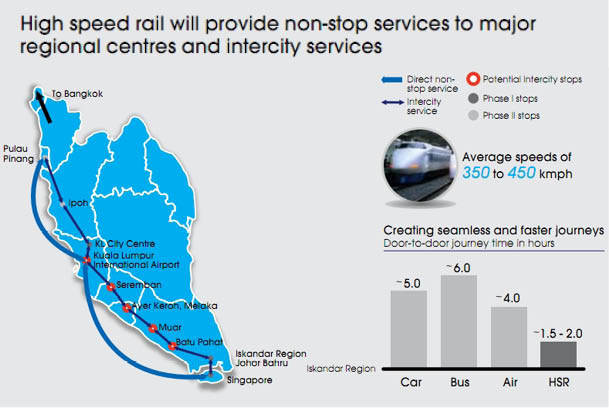 Construction sector
Maintain "overweight": A local business daily reported that the Kuala Lumpur high speed rail (HSR) project will commence operations in 2027 from its initial target of 2020. The procurement process, which could start by early 2017 is anticipated to take about two to three years once a bilateral agreement between the Malaysian and Singaporean governments is signed by the end of this year.
This would be followed by the construction of the HSR line, which is expected to take more than seven years. Measuring a total of 350km with seven stops, the HSR line involves a double track on standard gauge to move trains that can run at speeds of more than 300kph. At least 60 four-car trains worth around RM5 billion are required to service this line.
Earlier, the daily had reported that the construction works on the project could kick off in early 2018 on a budget of about RM60 billion to RM65 billion. This was based on the current estimated cost of US$10 million (RM38.8 billion) per kilometre for the systems and track works. The civil works portion is estimated to cost three times more. We understand that MyHSR Corp Sdn Bhd, the project delivery vehicle representing Malaysia, issued a request for a proposal for technical advisory services a fortnight ago. The deadline to submit bids is early next month. This was to be quickly followed by the signing of a memorandum of understanding, which is set to be inked by the middle of this year.
Based on the above, there appears to be more efforts to push through the Kuala Lumpur HSR, signifying more rail-related projects in the offing. However, more details on the project components would likely only be revealed once the procurement process starts. For now, the immediate spotlight would be on the second phase of mass rapid transit 2 and third light rail transit (LRT 3) projects. We expect more contracts to be dished out within the next one to two quarters for the former, including eight more viaduct packages that are likely to cost over RM1 billion each.
Similarly, we expect investor interest to reignite on the LRT 3 project once the project delivery partner agreement is firmed up. Contracts are tipped to roll out towards the latter part of the second half of 2016. For construction or construction-related stocks within our universe, we remain "buy" on Gamuda Bhd, IJM Corp Bhd, Hock Seng Lee Bhd, KKB Engineering Bhd, Sarawak Cable Bhd, Kimlun Corp Bhd, Ikhmas Jaya Group Bhd, Econpile Holdings Bhd, Sunway Bhd and Malaysian Resources Corp Bhd. We also envisage multi-year benefits for the building materials sub-segment (Lafarge Malaysia Bhd, Ann Joo Resources Bhd) once these projects take off the ground. — AmInvestment Bank Bhd, April 25
Do not ask your taxi driver about the value of your home. Go to The Edge Reference Price to find out.
This article first appeared in The Edge Financial Daily, on April 26, 2016. Subscribe to The Edge Financial Daily here.
Stay on top of trending Narratives
Use Location Scan to view project options and price trends near your preferred location, including MRT3 stations
Check your loan eligibility on LoanCheck, or use LoanReport to get a FREE credit report