Hua Yang Bhd (May 20, RM1.82)
Downgrade to market perform with a lower target price (TP) of RM1.94: At its briefing, Hua Yang Bhd's management highlighted that financial year ended March 31, 2016 (FY16) sales were slower than expected owing to the poor property market sentiment as homebuyers adopted a wait-and-see stance coupled with high loan rejection rates, which prompted the company to delay some initial planned launches to focus on clearing inventories worth a gross development value (GDV) of RM370.7 million from previously launched projects.
While management is seeking to launch up to RM721 million worth of projects — Astetica (GDV: RM368 million), landed residential project in Johor (GDV: RM33 million); Bandar Universiti Seri Iskandar, Perak (GDV: RM100 million); and Prai, Penang (GDV: RM220 million) — it did not rule out potential delays should the poor property market sentiment remain. However, management sounded confident of Astetica and Prai projects as these two particular developments received fairly good response from previous roadshows.
Despite the weak sales performance in FY16, management is targeting RM500 million worth of sales for FY17 backed by planned launches worth RM721 million and unsold projects of RM370.7 million. However, we think that management's target is slightly too ambitious given the current market condition coupled with potential delays in future launches. Hence, we opt to maintain our FY17 estimate (FY17E) sales of RM409.2 million.
Post briefing, we downgrade Hua Yang to "market perform" with a lower TP of RM1.94 based on a wider revised net asset value (RNAV) discount of 45% (FY15 average discount) to its RNAV of RM3.52, due to unattractive dividend yields coupled with the challenging property market scene. The 45% discount is lower compared with the sector's average of 56% due to its positioning in the affordable segment, which still provides property projects priced at a range of RM500,000. Our TP implies FY17E/FY18E price-earnings ratios of 4.8 times/5.3 times. Among the risks to our call include: i) weaker-than-expected property sales, ii) higher-than-expected sale and administrative costs, iii) negative real estate policies, iv) tighter lending environment, and v) higher-than-expected dividend payouts. — Kenanga Research, May 20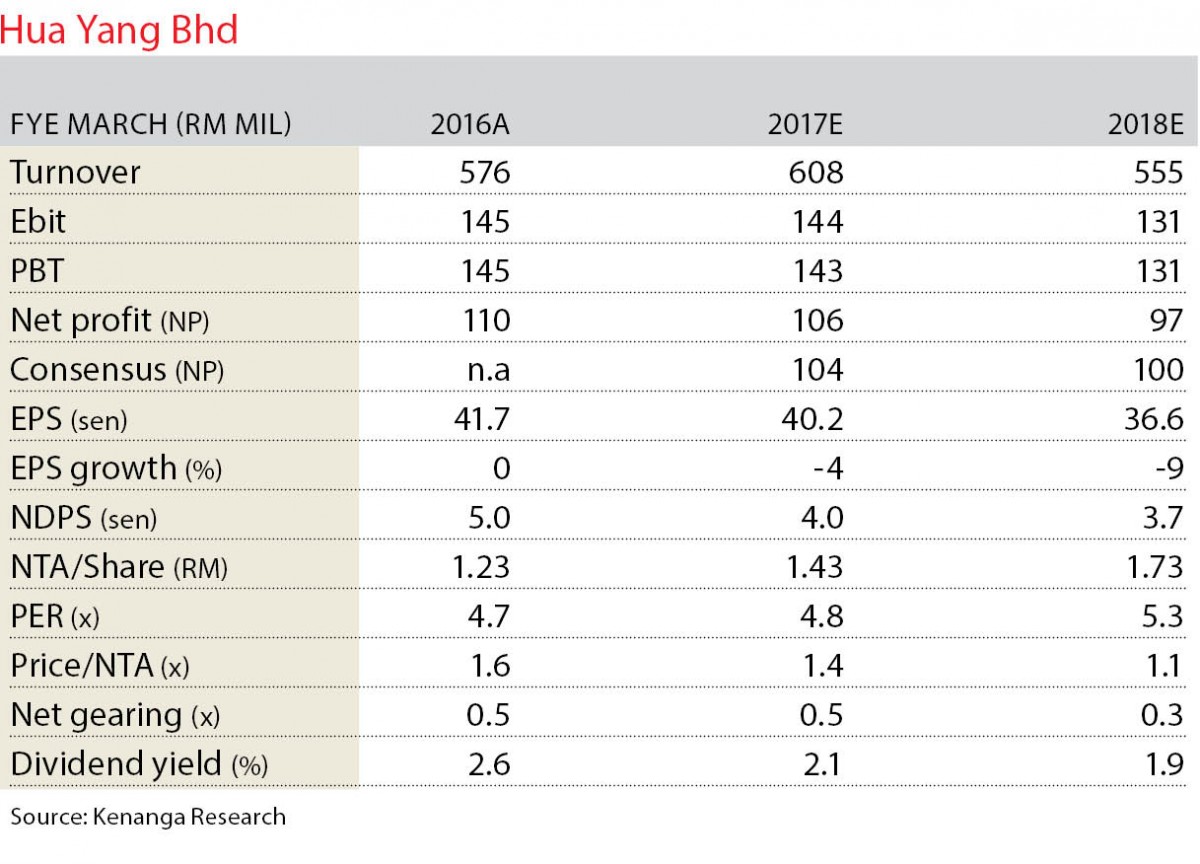 Do not ask your uncle about the value of your home. Click here at The Edge Reference Price to find out.
This article first appeared in The Edge Financial Daily, on May 23, 2016. Subscribe to The Edge Financial Daily here.