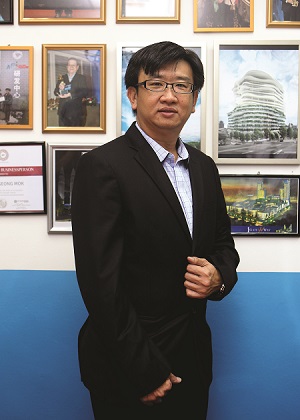 KUALA LUMPUR (Jan 15): Instacom Group Bhd has signed a heads of agreement (HoA) with PT Kharisma Kemingking, an Indonesian oil palm plantation company, to develop a port that has a project value of RM2 billion.
"The HoA is a non-binding agreement, and the feasibility study for the project is still being conducted, so it is quite preliminary at this stage," the group's executive director Choo Seng Choon (pictured) told The Edge Financial Daily in an interview.
Under the HoA, Instacom and Kharisma will form a consortium, to jointly develop the project, dubbed Kharisma Port, on the latter's plantation land that spans 2,155.52 hectares (ha). The land is located in Jambi, Indonesia near Palembang.
Instacom, soon to be renamed Vivocom Intl Holdings Bhd, will be the leader in the consortium tasked with seeking an international partner to fund the project.
"We will try to secure a partner from China to fund this project, but we have not identified the investor yet," Choo said.
Under the HoA, the project consists of three phases, namely the infrastructure, port, and commercial section.
Phase one covers the project's infrastructure such as the jetty, roads and relevant power supply plant and water absorption area.
Phase two involves the expansion of the jetty to cover 500ha, construction of the cold room, cold terminal, palm oil and rubber industry production support facility, apartments, rental flats, employee housing and sport facilities.
Phase three involves the development of commercial, miscellaneous industries, a hotel, golf course, Islamic centre and religious worship centre.
Choo said Instacom is required to formulate the design of the project, which he believes would take approximately six months, and will enter into a definitive agreement with Kharisma within a year.
"Construction will most probably begin in 2017, but that also has to depend on whether we can get the funding partner. The entire construction for the three phases would take up about five to 10 years," he said.
Last October, Instacom diversified into construction and aluminium manufacturing from the telecommunication tower construction business.
In its third quarter ended Sept 30, 2015 (3QFY15) result, the group posted a net profit of RM6.74 million, against a net loss of RM2.02 million a year ago, while revenue almost doubled to RM22.23 million, from RM11.81 million.
For the nine-month period (9MFY15), net profit rose 48.08% to RM6.21 million from RM4.19 million a year ago.
Since the diversification, Instacom has secured three construction contracts with a combined value of RM346.69 million.
Notably, these contracts were awarded by CRCC Malaysia Bhd, the Malaysian branch set up by China Railway Construction Corp Ltd.
Apart from that, Choo revealed that Instacom is keen to participate in a forest healthcare tourism development project on a piece of land measuring 1,679.85ha in Huzhou City, China.
The first phase of the project is worth some 900 million yuan (RM600 million), he said. However, details about Instacom's role in the project is not finalised yet.
Instacom closed unchanged at 28 sen yesterday, giving it a market capitalisation of RM693.1 million.
Do not ask your gardener about the value of your home. Click here at The Edge Reference Price to find out.
This article first appeared in The Edge Financial Daily, on Jan 15, 2016. Subscribe to The Edge Financial Daily here.