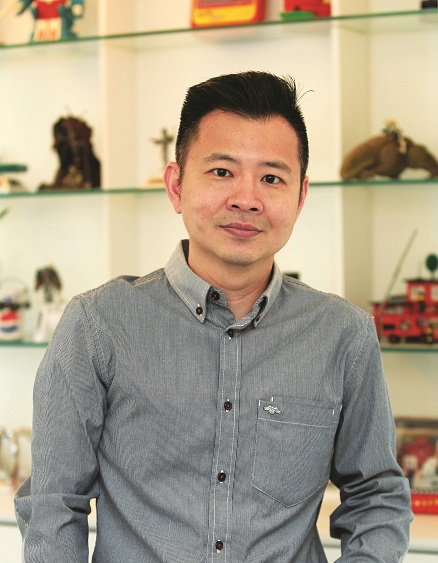 IN 1995, Alex Lee graduated from an advertising course from a local college but, he has never worked a day in the advertising industry.
"My parents were very concerned about our (Lee and his siblings) education. After finishing A-levels, my parents told me to further my studies and get an academic certification, and then I could be free to do whatever I liked to do," says the founder and director of Tech Realtors Sdn Bhd and Tech Real Estate Sdn Bhd.
"I chose advertising, because I thought I won't have to read a lot," he adds.
By chance, Lee was offered on-the-job training as a HTML programmer right after he graduated. He took the offer as he was interested in new technology as HTML was still very new to the Malaysian market.
"I enjoy being ahead of others. I love to try new things. So I thought, why not?" he says of his decision then.
However, Lee found himself unsuited to the industry after nine months of trying. He then quit and followed his father's footsteps as a real estate negotiator. That was in 1997, the year of the Asian Financial Crisis.
"It (property market) was really quiet at that time but looking back now, it was good training for me. As the Chinese saying goes, 'you taste the bitter before the sweet'. I am fortunate to have tasted the bitter at the beginning of my career so I clearly know that this is not an easy job," Lee says.
That difficult start told Lee that communication skills, hard work and creativity are three of the most important elements to suceed in this industry.
"I started by making phone calls to get business. It sounds easy but bear in mind that that was in the 1990s, agencies did not have easy access to data like today.
"Do you know the White Pages, the public phone directory? What I did was I keyed-in all the information into an excel file and categorised them by areas. It helped me to search a particular area's phone numbers with a click and saved a lot of my time. That was my first database."
Lee set up his agency in Petaling Jaya some 10 years ago. The first problem he faced was dealing with the inefficiencies of placing newspaper classified advertisements.
"We (real estate agents) were very much dependent on print advertisements to get business at that time. However, putting in the correct advertisement was difficult. The publication might have read your handwritten information wrongly, or your agency's admin could have forgotten to fax the advertisement to the newspaper," Lee said.
Therefore, he decided to create an e-filing system to link the publication to the agency, so that his agents could send their advertisements accurately and efficiently with a click. The publication began to use an advertisement e-filing since then.
'My agents are my soldiers'
Today, Lee owns three branches (Petaling Jaya, Cheras and Subang) with over 200 agents, from the not more than 10 agents he started with.
"I always believe that if you take care of them (agents), they will take care of you too. I never treat them as my employees. In fact, they are my boss, they should be recognised!" Lee quips.
"There were three things that I noticed in some real estate agencies that I wasn't happy with. First, the boss wasn't there for negotiators, second, there was not enough admin support and, finally, the boss took his time in calculating the commissions. So I told myself that I would minimise all these problems if I ever became a boss one day," he says.
Besides being there for his agents, Lee makes sure that there are at least four administrators in each of his branch offices. He has also customised an accounting system to avoid delays in commission payments.
"I realised that my job satisfaction comes from the agents when they thank me for helping them in solving their problems or when they say they enjoy working with me," Lee notes. This results in a low staff turnover rate while the team continues to grow.
"Most of them (agents) joined because we have established a name for ourselves. I believe the agents are the best ambassadors of the company," he says.
When there are problems with real estate agents, one must look at their leader.
"It is important to know what kind of person the leader is and how he or she trains and educates their agents. Newbies may not know anything when they first join. They will follow what they are taught to do to close deals even if they are wrong. The leader is one of the key reasons for bad agents," Lee says.
He believes it is important to have a good company culture because it will help attract good agents.
"If an agent just wants to earn easy and quick money without ethics, he or she will not be comfortable staying in our agency," Lee explains.
He doesn't have huge plans to expand the business. I only hope that this company will continue to grow slowly but steadily with a good reputation while providing a good platform for agents to carve their careers in this industry.
"I will do my best to train up as many agents as possible to carry on the company culture. This is what success means to me," Lee concludes.
Do not ask the taxi driver about the value of your home. Click here at The Edge Reference Price to find out.
This story first appeared in TheEdgeProperty.com pullout on May 13, 2016, which comes with The Edge Financial Daily every Friday. Download TheEdgeProperty.com here for free.