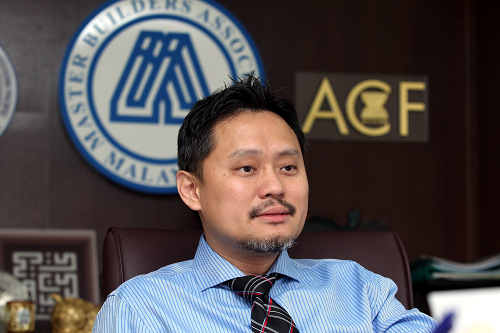 KUALA LUMPUR (June 3): The Master Builders Association Malaysia (MBAM) has voiced opposition to safeguard measures on steel products, arguing that without the free flow of imports, prices of steel bars may be uncontrollable.
"The price of steel bars has increased from about RM1,500 per tonne in January 2016 to about RM2,500 per tonne at present.
"[The] MBAM believe that the sudden rise in steel prices over such a short period is not justified even with the greater demand from China," said MBAM president Matthew Tee (pictured) in a statement yesterday.
Tee said a comparison between the prices of steel in Malaysia with those in neighbouring countries strengthens the claim that the sudden rise in steel prices is unprecedented and unwarranted.
"For example, in Singapore, NatSteel is selling at around RM1,700 per tonne. In fact, the prices of steel bars in Malaysia are currently the highest, compared with other Asean countries.
"Besides that, steel mills in Malaysia enjoy subsidy on electricity tariff[s], therefore they should not sell higher than the region," said Tee.
The government recently issued a notice of initiation of investigation for the determination of safeguard measures with regard to several categories of steel products imported into Malaysia.
The investigation is aimed at determining whether the increased steel imports into Malaysia are having a negative impact, and to study the need for safeguard measures.
Tee said the government should look at a sustainable long-term plan to address this issue, as local producers are not supposed to be protected if they are unable to be competitive even when the government has provided the industry with numerous protection measures.
"The financial health of the steel industry has suffered from inefficient production, fuelled by [the] government's support of high-cost local capacity and market intervention in the form of quotas, subsidies and tariffs.
"Although [the] MBAM is not against profit making by the steel millers, [the] MBAM hopes that they will not engage in excessive profiteering that can jeopardise other industries, including the construction industry," said Tee.
He said the government should study the potential impact of safeguard measures on steel and how it will impact other industries, including the construction industry, which is supposed to grow by 8.4 % this year.
Sometimes, even the value of your home can be a mystery. Go to The Edge Reference Price to find out.
This article first appeared in The Edge Financial Daily, on June 3, 2016. Subscribe to The Edge Financial Daily here.