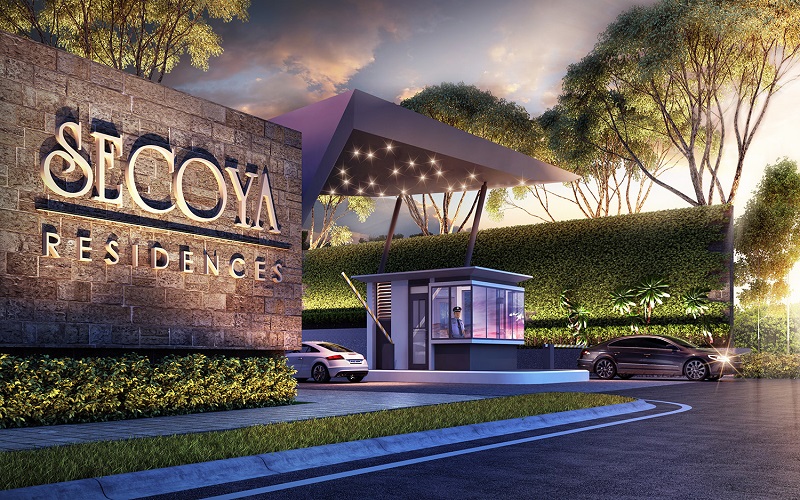 THERE is a sleek, polished sensibility about the design of IJM Land Bhd's Secoya Residences. The development's façade boasts sharp but organic lines, as its name suggests. "If you observe the building's entrance, the columns of Secoya Residences are six storeys high, just as tall as sequoia (redwood) trees," says Edward Chong (pictured, below), managing director of IJM Land Bhd.
The glossy condominium is IJM Land's latest offering in Bukit Kerinchi. Coming up on a 3.47-acre (1.4ha), 99-year leasehold plot, the condominium complex will offer 243 units in two 41-storey towers, with built-ups ranging from 1,050 to 1,670 sq ft.
Scheduled to be launched on Sept 12, units are priced from RM821,800, translating into a gross development value (GDV) of RM290 million.
"The spacious units range from 2-bedroom to 4-bedroom apartments, allowing us to cater for a wider demographic of young families, upgraders, retirees and empty nesters. Empty nesters tend to forego their larger landed homes in exchange for a more practical and low-maintenance apartment unit, and I believe Secoya has the components for this group of people. The units are perfect for those who travel a lot as well," Chong says.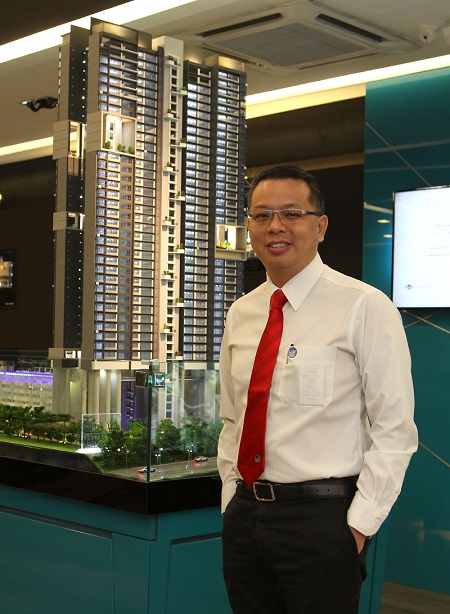 "Typically, apartment units are squarish, but we would like to offer our buyers something different. In terms of the layout, the units are designed to be long and rectangular, with shallow floor plates to promote energy saving and sustainable living. This shallow floor plate permits each unit to have more natural lighting, especially in the common areas such as the living room and bedrooms. The units also have large windows, allowing our buyers to experience panoramic views of the city or the forest reserve."
Secoya's north tower faces KLCC and the south tower faces the adjacent 200-acre Bukit Kerinchi forest reserve.
"The Bukit Kerinchi forest reserve is also connected to Bukit Gasing. Half of the forest reserve is in Selangor while the other half is in Kuala Lumpur. There is a 1.5km linear forest walk that will allow our buyers direct access to the reserve. However, we do not wish to add more features near the reserve to maintain its nature," Chong says.
He believes the appeal of the forest reserve will help increase the value of Secoya in the long term, as more urbanites seek lush greenery in Kuala Lumpur. "It is rare to find a development that offers both natural tranquility and accessibility to the city. For example, [values of] developments surrounding the iconic Hyde Park in London have skyrocketed over the years. Although the feel of a park and tropical forest reserve are different, the basis [of the appreciation] is still the same," he says.
In line with its attached reserve, Secoya offers green-themed features. One of the project's main attractions is its landscape, themed "The Rainforest Garden".
"We have a cascading waterfall, a beautiful lake and a playground to blend in with the development's green surroundings," Chong says, adding that facilities include an infinity swimming pool, amphitheatre, jacuzzi, gym, basketball court, multi-purpose halls, function rooms and game/reading rooms.
Secoya Residences is the second phase of IJM Land's Pantai Sentral Park (PSP) township in Bukit Kerinchi, which has a GDV of RM2.5 billion. The 58-acre township has 13 phases — seven of which are residential and six commercial — and is slated to be completed in 10 to 15 years. Launched in June 2014, the township's first phase, Inwood Residences, is 75% sold. PSP is a joint venture between IJM Land and Amona Development Sdn Bhd.
"Secoya Residences is already open for registration, having attracted about 3,500 registrants. We have had 20,000 registrations for the whole township, so far," Chong reveals.
A strategic location
"I think our main selling point is the location, which I trust is the most important criteria in any development. Secoya is strategically placed in Kerinchi, which is easily accessible to other areas such as Petaling Jaya, Bangsar and Old Klang Road. Secoya is only 2km from Mid Valley Megamall. Other nearby areas include Bukit Jalil (5km), Bukit Damansara (5km), Bandar Sunway (6km), Petaling Jaya (6km), Kuala Lumpur city centre (8km) and Cheras (9km)," says Chong.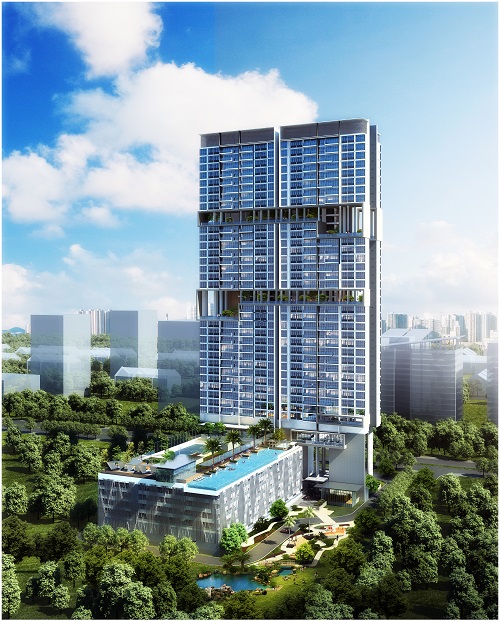 The development is also accessible via major highways such as the New Pantai Expressway (NPE), Federal Highway, the Damansara-Puchong Expressway, Kuala Lumpur-Putrajaya Expressway, Middle Ring Road 2, Jalan Kerinchi, Jalan Templer and Jalan Pantai Dalam.
"We will build a ramp from the NPE to PSP [for RM50 million]," he says. "This ramp, which we aim to complete in 2018, will give residents of the township an alternative route to major highways and more access to Sungai Besi, Subang and Mid Valley, without having to go through the nearby kampung areas," says Chong.
NPE is operated by New Pantai Expressway Sdn Bhd, a subsidiary of IJM Corp Bhd. "Currently, we are in the process of figuring out the [land] acquisition, as there are a few housing areas where the ramp will be built."
Chong believes the property market in Bukit Kerinchi will grow. "I believe we have seen tremendous growth in Bangsar South (initiated by UOA Development Bhd). I think PSP will continue this trend. Today, buyers are willing to pay about RM1,000 per sq ft for high-rise homes in Old Klang Road because of its proximity to the city centre. The distance between your property and the Kuala Lumpur city centre makes all the difference in the pricing. I believe the prices for our township can only appreciate due to its location," he says.
Jaclyn Yee, probationary real estate agent with Carey Properties, acknowledges Secoya's exceptional location, saying the development is near Kuala Lumpur's city centre yet surrounded by jungle.
Chief operating officer of Henry Butcher (M) Sdn Bhd Tang Chee Meng concurs. "PSP is being promoted as the only urban forest city in KL, being next to a 200-acre forest. This unique feature means residents can enjoy a green environment close to the city centre, and this would attract urbanites who enjoy the excitement of city life but yearn for a more peaceful living environment," he says.
"Some of the pros of living in Kerinchi would be the close proximity of shopping amenities such as Mid Valley and office areas such as Bangsar South and the upcoming KL Eco City," he says. "On the other hand, among the cons of living in Kerinchi is the traffic congestion along Jalan Pantai and the Federal Highway during peak hours."

Gerard Kho, group CEO and president of Reapfield Academy Sdn Bhd, agrees. "Traffic can be heavy at times as there are only two lanes into and out of the area currently."
According to Kho, condominiums are the best-selling properties in Kerinchi. Yee says the target market for Kerinchi would mostly be the middle to upper income group due to a spillover from its neighbour Bangsar.
"If you are buying for own stay, then now is a good time to shop around as the market is subdued and you would likely be able to get some good value as most developments are priced reasonably in view of the tight credit situation," says Eddy Wong, managing director of DTZ Malaysia, adding that buyers and investors in Kerinchi should take a longer-term view.
The current average rental yields for condominiums in Kerinchi are 4% to 6%, but yields of medium-cost apartments can go as high as 7%. Older apartments such as Pantai Hill Park have average asking prices of RM450 to RM500 psf while newer condominiums such as Camellia Serviced Suites have asking prices from RM800 to RM1,000 psf, says Yee.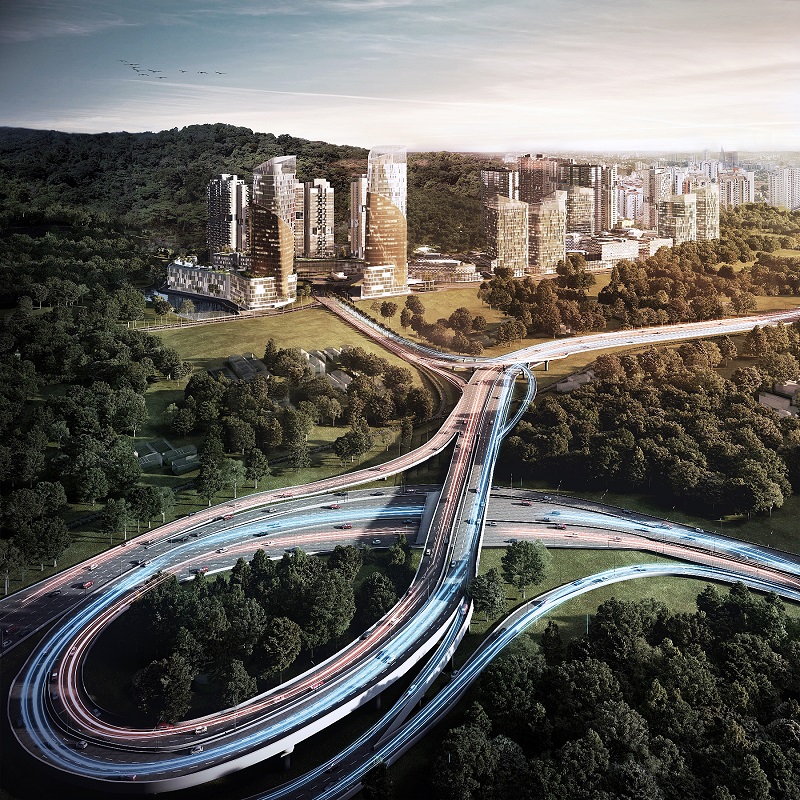 Seeking global opportunities
Moving forward, IJM Land plans to alter its upcoming launches to address current market challenges and the weakening ringgit. "I think market conditions have impacted most developers. We are holding back certain launches. In the current economy, it is a matter of balancing our sales and cash flow," says Chong. "It is an unprecedented time for our country ... big ticket items will certainly be affected, so typically developers would hold back these launches," he says.
However, IJM Land does not rule out the possibility of launching certain niche products. "We have always been conservative in managing our cash flow and launches. Nonetheless, if the product is exceptional, and we believe there is room for it to survive in the market, then we may proceed," he says.
The group's sales target of RM2.2 billion for the financial year ended March 31, 2014 has been revised to RM1.8 billion for FY2015, with unbilled sales of RM1.7 billion (as at March 2015), in light of market uncertainties. "For the upcoming year, we have not determined our sales target yet, but we hope to meet last year's target, or a marginally lower figure," says Chong.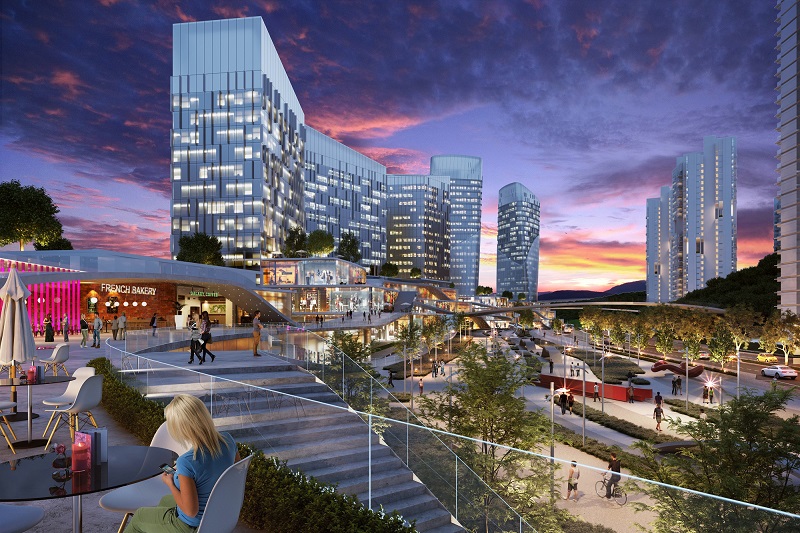 He adds that although IJM Land has sufficient undeveloped landbank and GDV to proceed with more projects, the developer does not wish to do so now. "Currently, our portion of undeveloped landbank is about 4,000 acres, with a GDV of about RM30 billion. Combined with our joint ventures, our total undeveloped landbank would be about 6,000 acres, with a GDV of about RM40 billion.
"Our plan is to have a clear direction, stay focused, execute our launches faster, and just stay healthy throughout this tumultuous period. We will try our best to keep afloat and maintain a certain profitability as the group prepares for the next market up-cycle," says Chong, adding that the group is analysing what the market can handle. "The key is to make our products more compact and sell within demand. We are looking at launching apartments in the RM300,000 to RM500,000 range to make it more affordable for our buyers. I believe we do have the flexibility to do this as most of our townships have a wide range of mid to high-end products," he says.
IJM Land's upcoming launches for the next financial year include phase two of The Light Waterfront mixed development in Penang, Senjayu landed homes in Seberang Prai, a residential development at The Address, Penang, terraced houses and shops at Bandar Rimbayu near Kota Kemuning, Kalista 2 apartments in Seremban 2, super-link homes in Rimbun Vista, Negeri Sembilan and landed homes in Sebana Cove and Austin Duta, Johor.
Overseas, IJM Land plans to launch the second phase of Royal Mint Gardens in London. Chong says 90% of phase one has been taken up. "We plan to launch the second phase next year, with a GDV of about £200 million (RM1.3 billion)," he says, adding that the group has a couple of commercial projects in Changshun, China and Ho Chi Minh City, Vietnam.
He also says the group will be reassessing launches for its higher-end markets and overseas projects.
"For the long term, we would like our overseas projects to be a significant component of our revenue and profit. We would like to develop this component within the next 10 to 15 years, as we are taking a longer-term position on this," says Chong. At present, about 95% of its revenue and profit are from local products.
"We have been sending our staff overseas to learn more about the international market," he adds. "Timing is everything when it comes to overseas projects. We are mindful of this and we may not launch anything anytime soon, considering the foreign exchange [rate] and currency. We plan to study the market carefully before proceeding," he says.
Meanwhile, IJM Land hopes to make PSP one of its flagship projects. "We are striving for PSP to not just be a self-contained township, but also to create a lasting community. There will be plenty of retail and food and beverage spaces in this township. In fact, we are contemplating putting the new IJM Land headquarters in the township. We are still looking at the viability of doing this," Chong concludes.
This article first appeared in property, a section of the digitaledge WEEKLY, on Sept 7, 2015. Subscribe here.