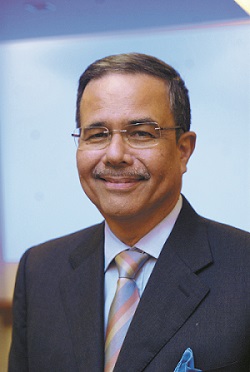 MALAYSIAN real estate investment trusts (MREITs) may step up acquisitions this year as the rental reversion cycle peaked in 2014, which helps with asset valuations said Malaysian REIT Managers Association chairman Datuk Stewart LaBrooy (pictured).
"Channel checks indicate that prime retail asset valuations are trending closer to more realistic cap rate values of above 6% from 5.5%, while industrial cap rates are fetching better rates of 7% to 8%, as evident from Axis REIT's recent acquisitions and letters of offer," he told The Edge Malaysia.
LaBrooy, who will be speaking at the 9th Malaysian Property Summit (9MPS) 2016, to be held at the Sime Darby Convention Centre in Bukit Kiara on Jan 20, will present a paper on the REIT market, its performance and outlook. The Edge Malaysia and TheEdgeProperty.com are media partners of the event.
LaBrooy, who is also a former CEO of Axis REIT Managers Bhd, also notes that MREITs may have the opportunity to buy properties from companies seeking to monetise their assets to recapitalise their balance sheets given the economic slowdown.
However, he said the challenge lies in buying yield-accretive assets. He also observes a gradual tightening of credit, which may crimp lending and growth.
On the US Federal Reserve's interest rate hike, LaBrooy says he expects a repricing of MREITs as uncertainty over the global central banking system's next move has been resolved and the ringgit's volatility has subsided.
"However, there is a strong possibility that these [rate] increases could continue well into 2016 and put pressure on the ringgit," he said.
"We need to keep an eye on the volatile bond markets as that will determine if Bank Negara [Malaysia] would raise the overnight policy rate in 2016. However, the view is that it will hold it this year at 3.25%."
According to LaBrooy, as MREITs' fundamentals are backed by steady organic earnings growth such as positive rent reversions, space reconfigurations and stable occupancy rates as well as healthy balance sheets with gearing ratios of 0.14 to 0.44 times, their good valuations could shield investors from a sudden surge in bond yields.
"For investors looking for yield in these markets, they are increasingly turning to dividend stocks for security — and what better way than in REITs. This is reflected by the stable unit prices REITs have displayed in the current volatile stock market," he said.
"However, I believe that we will see a muted REIT performance from an earnings and capital growth perspective, as rental gains will be flat unless tenancies are pegged to automatic reversions upon renewal.
"Fixed deposit rates are rising as banks compete to attract funds (some are offering 4% to 5% per annum). They are tantalisingly close to REIT returns.
"For the MREIT market, buy on price weakness and hold. The dividends and capital growth will never disappoint in the long run."
LaBrooy's top picks include REITs with long contractual leases in offices such as KLCC Stapled REIT and MRCB-Quill REIT, industrials with strong portfolios such as Axis REIT, and retail types with "five-star assets" such as Pavilion REIT, Sunway REIT, IGB REIT and CapitaLand Malaysia Mall Trust. "They will ride the current market volatility with ease," he says.
Click here for more details on 9MPS and to download the registration form.
This story first appeared in The Edge Property pullout on Jan 15, 2016, which comes with The Edge Financial Daily every Friday. Download The Edge Property here for free.