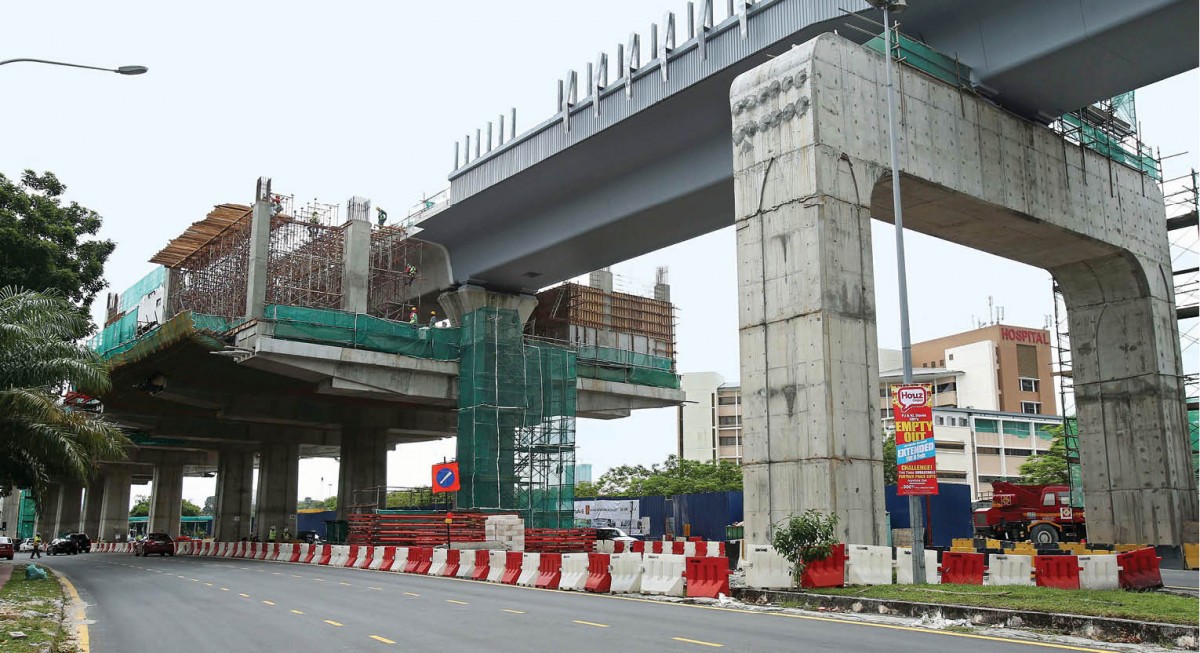 THE recently announced tender schedule for the estimated RM30 billion Mass Rapid Transit Sungai Buloh-Serdang-Putrajaya Line (SSP Line), or MRT2, promises exciting times for the construction sector over the next few months.
The schedule lists seven packages that are currently under evaluation — one viaduct guideway package, two depot work packages, three system works packages and one package for police quarters with a multi-storey carpark podium.
There are five packages in the tender process, comprising one viaduct guideway package for which tender submissions closed last Thursday and four more system works packages with submission dates in April and May.
Presently, two out of the 10 viaduct guideway packages, which are for the northern side of the MRT2, have been awarded. Sunway Construction Group Bhd bagged one package worth RM1.2 billion and Ahmad Zaki Resources Bhd (AZRB) bagged the other, worth RM1.4 billion.
Sunway Construction's share price shot up a week before the award was announced on March 28, climbing 15.2% to RM1.67 on March 28, from RM1.45 on March 22. After the announcement, the counter fell 4.8% to RM1.59 last Wednesday.
AZRB's share price has been climbing since March 9. Between March 9 and March 25, when the award of the viaduct guideway package was announced, the counter shot up 30% to 74 sen from 57 sen. Since the announcement, the stock has been trading at between 71 sen and 76 sen.
Analysts opine that the two remaining viaduct guideway packages for the northern side will likely go to players like Gadang Holdings Bhd, IJM Corp Bhd and Mudajaya Group Bhd, which were involved in the construction of the viaduct guideway for MRT1.
Besides Sunway Construction and AZRB, other public-listed winners of the various MRT2 packages so far include MMC-Gamuda KVMRT (T) Sdn Bhd, which won the tunnelling work package worth RM15.4 billion — the largest work package for MRT2 — and Kimlun Corp Bhd's subsidiary SPC Industries Bhd, which sealed a RM170 million contract for the supply and delivery of segmental box girder packages. Both of these companies bagged MRT1 packages as well.
Analysts opine that construction companies like Naim Holdings Bhd and TSR Capital Bhd could also stand a chance to win MRT2 packages, given their involvement in the first project. Hence, it would not come as a surprise if those that won MRT1 packages emerge as winners of MRT2 packages as well.
"Companies involved in MRT1 would stand a higher chance of winning MRT2 packages since they would pre-qualify for the tender process. They would have the equipment ready for MRT2, given that they have been involved in the MRT1 project. They would also have the necessary experience, unless they were so bad in their jobs that they had to be booted out," says an analyst.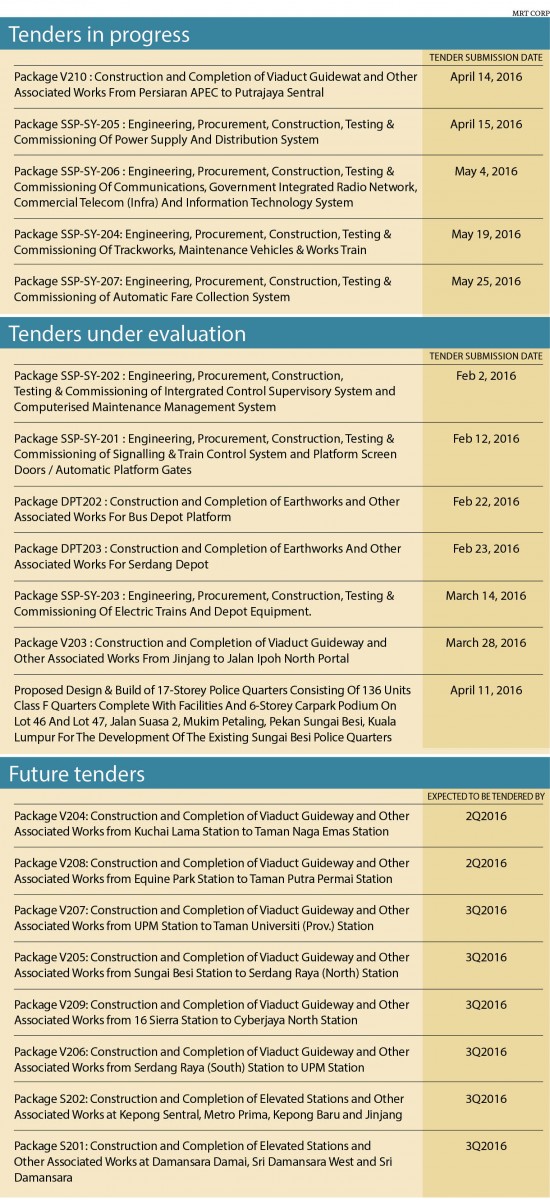 Year to date, Naim Holdings' share price has been hovering between RM2.24 and RM2.73. Last Thursday, it closed at RM2.43. TSR Capital's share price has not moved much, hovering between 50 sen and 60 sen apiece during the same period. The counter closed at 53 sen last Thursday.
Piling companies like Ikhmas Jaya Group Bhd and Econpile Holdings Bhd would also benefit from the MRT2 project, says AmInvestment Research in a recent report. The research house says suppliers of building materials, such as Lafarge Malaysia Bhd and Ann Joo Resources Bhd, also stand a chance to be beneficiaries.
Nevertheless, industry observers say companies that were not involved in MRT1 will also want a piece of the action this time. Bina Puri Holdings Bhd was reported as saying last year that it would be tendering for infrastructure works for MRT2. Sources say that Mitrajaya Holdings Bhd will be tendering for some MRT2 packages as well.
It may be because many believe that the margins will be better this time around, after contractors suffered losses from the MRT1 project.
"Everybody who undertook MRT1 suffered losses, so I believe everybody will be pricing better this time around. Based on the awards for MRT2 so far, the margins are in the region of double digits, after having underpriced the MRT1," says an industry expert.
Affin Hwang analyst Loong Chee Wei adds that margins will also be better this time because of the less competitive landscape, given the numerous projects in the pipeline.
"The contractors were very aggressive in bidding for MRT1 [as] there were not many projects around at that time, but it is different now. There are many major infrastructure projects in the pipeline, like the Pan Borneo Highway, the Sungai Besi-Ulu Klang (SUKE) highway and the Damansara Shah Alam (DASH) expressway. There is no shortage of work in the industry," he says.
With a flow of infrastructure projects unfolding, analysts are generally "overweight" on the sector. Kenanga Research says in a report that Kimlun Corp Bhd remains its top construction pick because it believes the construction and engineering company will be the front runner for the MRT2 tunnel lining segment contract, besides the fact that it has been outperforming earnings estimates. It adds that it is the first Peninsular Malaysian contractor to win a job under the Pan Borneo Highway project.
In early March, Kimlun and its joint venture partner Zecon Bhd were awarded a RM1.46 billion contract to build and upgrade Phase 1 of the highway in Sarawak.
Shortly after, Kimlun was appointed the designated supplier for segmental box girders to certain packages of MRT2 worth RM199.9 million.
Kimlun's share price has surged 40% since the beginning of the year, reaching RM1.93 last Thursday from RM1.38 on Dec 31, 2015.
An analyst with a local research house says his top picks for the mid-cap sector are WCT Holdings Bhd and Mitrajaya because of their good track record and ability to get an array of jobs.
"The individual jobs may not be significant wins but they all add up to a significant number," he says.
Year to date, WCT's share price has gained 5.6% to RM1.70 last Thursday while Mitrajaya rose 7.5% to RM1.29 apiece during the same period.
The SSP Line is 52.2km in length, of which 13.5km will run underground. It will have 37 stations — 11 of them underground.
In total, there are 66 work packages being tendered for the construction of the SSP Line. They include 10 viaduct guideway packages, one underground works package, two depot work packages, 10 station work packages, and 15 multi-storey park and ride work packages.
Do not ask your neighbour about the value of your home. Click here at The Edge Reference Price to find out.
This article first appeared in The Edge Malaysia on April 18, 2016. Subscribe here for your personal copy.
Like our content? Check out
Narratives
– where we curate stories based on topics to keep you well and broadly informed about Malaysian real estate.
Looking for property? Check out
Location Scan
, where we summarize all available options and facts you need in a few clicks. We have updated the tool to include MRT3 stations too.
Curious how much you can borrow? Use
LoanCheck
to get your maximum loan eligibility from various banks, or
LoanReport
to get a FREE CTOS/CCRIS credit report.