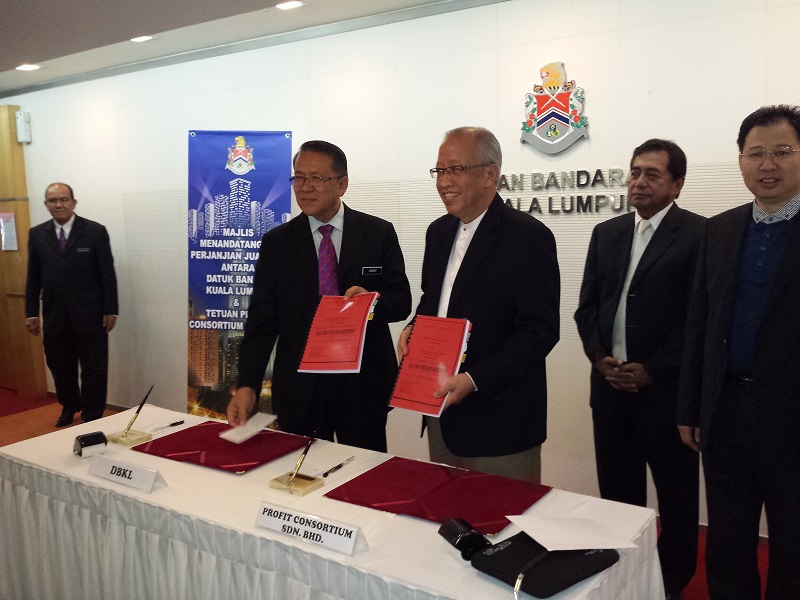 KUALA LUMPUR (Oct 30): Profit Consortium Sdn Bhd will soon meet with the 211 Plaza Rakyat buyers to discuss compensation for the lots they purchased 20 years ago for the now defunct development.
Profit Consortium Sdn Bhd lawyer Derek Fernandez said the company had paid Kuala Lumpur City Hall a RM70 million deposit today for the purchase of Plaza Rakyat.
"As for the compensation for the buyers, Federal Territories Minister Datuk Seri Tengku Adnan Tengku Mansor pointed out in Parliament yesterday that, even thought there might not be legal basis for their claims, the buyers will receive some form of compensation," he said, after attending the sale and purchase agreement (SPA) signing ceremony between City Hall and Profit Consortium Sdn Bhd this morning.
The Malaysian Insider reported yesterday that City Hall was selling the land for the abandoned Plaza Rakyat project to Profit Consortium Sdn Bhd for RM740 million.
Profit Consortium is a privately held company linked to Major (R) Anuar Adam, who controls Tadmax Corp Bhd.
Tengku Adnan had told Parliament: "The selling price (of Plaza Rakyat) is RM740 million, of which RM700 million is for the outright sale of the land and RM40 million for the consortium to resolve the issue with the 211 buyers."
He said agreeing a deal with the buyers was one of the terms included in the SPA.
"Actually, the 211 buyers do not have rights, because they purchased the property from Plaza Rakyat Sdn Bhd, which has gone bankrupt," he had said.
Fernandez said that Profit Consortium had just taken over the project and it had to process compensation claims fairly.
"We will first have to set up a registry of buyers with their information. Then we will advertise in the media, as well as check with the City Hall database, and compile a list of buyers.
"The individual buyers will be contacted and they will have to present their documentation. The documents will then be assessed and owners will be categorised according to those who have legal grounds and those who don't.
"Even so, those who don't have legal grounds but will still be considered for compensation," he said.
Fernandez said that Profit Consortium Sdn Bhd was expected to meet with the buyers early next year to discuss compensation.
"It is an obligation under the agreement to handle the legal claim of the buyers. We will follow the directives of the government and handle the compensation process.
"First, we need to get the names of all the buyers, then we can proceed from there," he said.
Lot owner Steven Yong, 78, hoped Profit Consortium would look into the plight of the lot owners.
"We have been suffering for 20 years. We hope that Profit Consortium doesn't drag this out but look into the buyers' benefit," he said.
Yong also said the owners would wait and see what Profit Consortium had to offer before accepting any agreement. -- The Malaysian Insider